Soft Pretzel Rolls
Out of the oven these soft pretzel rolls are perfectly puffy and wonderfully salty and chewy. They look like they come from a gourmet bakery!
So I know I tend to be a bit dramatic about food, but I kid you not, these soft pretzel rolls are one of the best breads to ever come out of my kitchen.
And I've made a lot of bread over the years.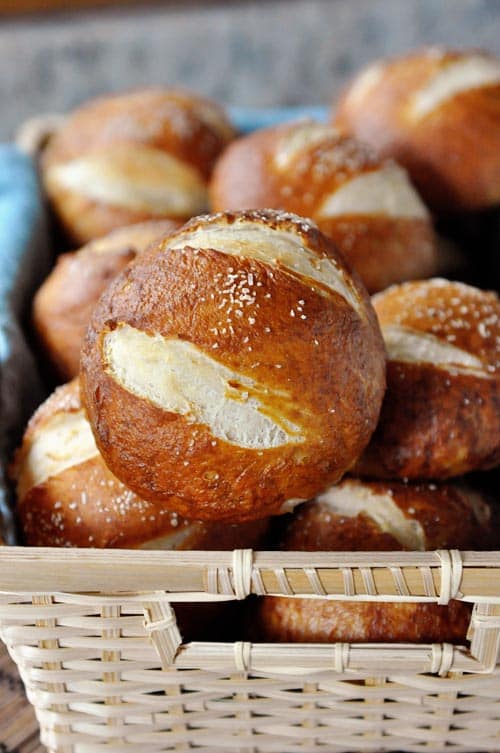 Brian didn't even believe I actually made these (rude!) because they look like something that would come from a gourmet bakery or fancy restaurant, neither of which happen to be in big supply in my cute little town.
In his defense, I do have to admit that even I let out a real, live squeal of joy when I first made these and they came out of the oven looking like, well, pretzel rolls!
Rich, dark brown color, perfectly puffed and wonderfully salty and chewy. I promise that not only are these absolutely makeable (not nearly as hard as you think, I promise!), they will solidify instant rockstar status. I'm not kidding…just look at them.
I just looked and now I want to eat 50 right this minute.
I've included a step-by-step below for anyone a little hesitant about delving into the world of pretzel rolls (don't be hesitant!).
Boiling the dough in a baking soda water bath prior to baking gives the pretzel rolls a delightfully chewy texture and helps crisp up the outside of the roll while baking.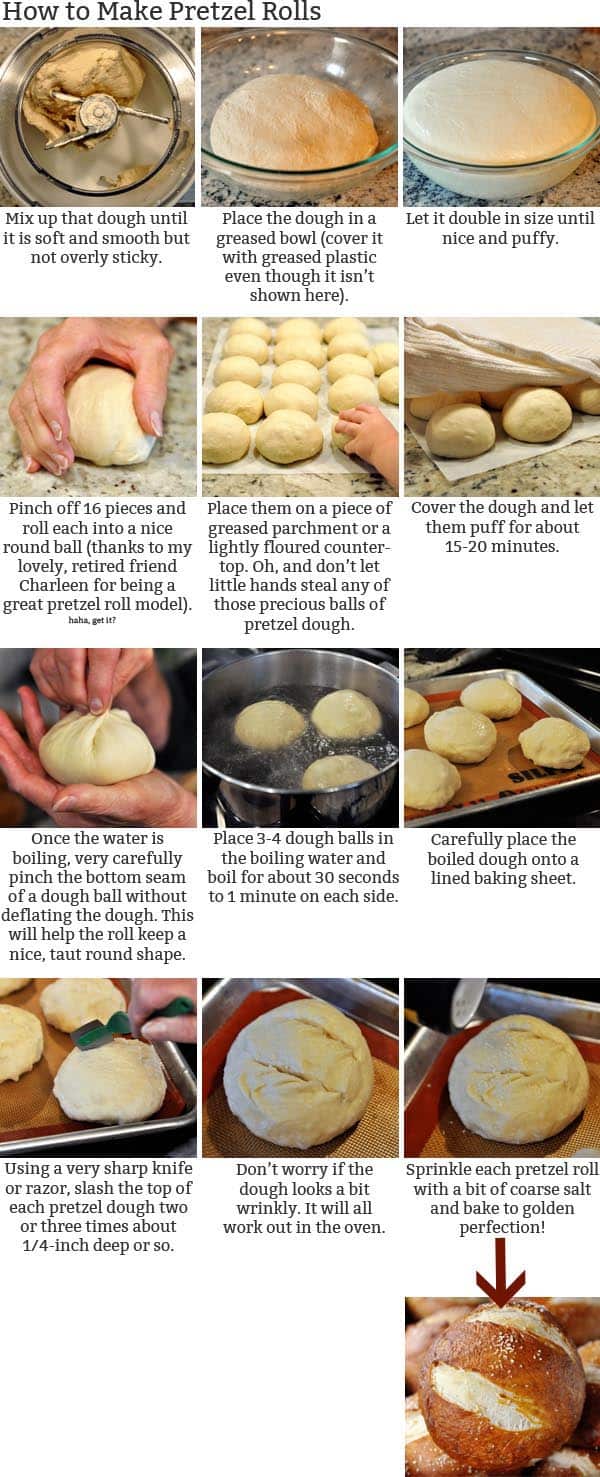 And can I just emphasize again for the sake of emphasizing that: oh my heavens, these rolls are amazing.
Through the many revisions of this recipe, we've enjoyed these babies with everything from soup to spaghetti to buns for sandwiches and grilled hamburgers.
Well, that's when any of the rolls actually make it to mealtime. Most often, we gobble these perfectly perfect pretzel rolls up after they exit the oven and our favorite way to enjoy them is slightly warm with a thick wedge of sharp cheddar cheese.
Rockstar status, baby, rockstar status.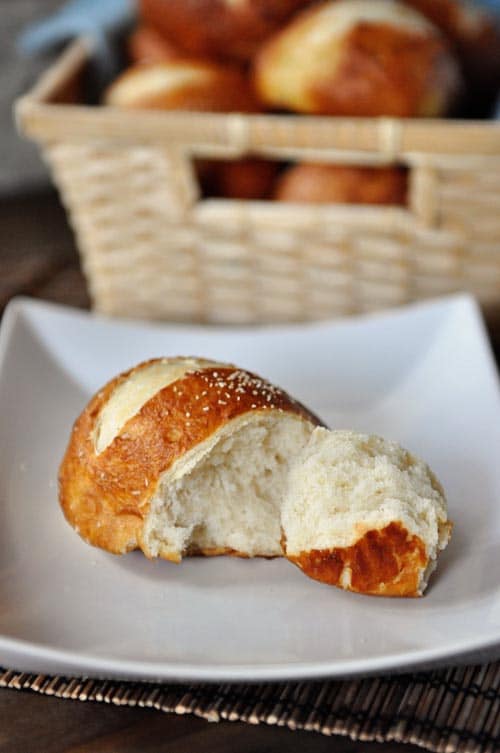 One Year Ago: Glazed Chocolate Chip Scones
Two Years Ago: Hearty Turkey and Bean Chili
Three Years Ago: Autumn Minestrone Soup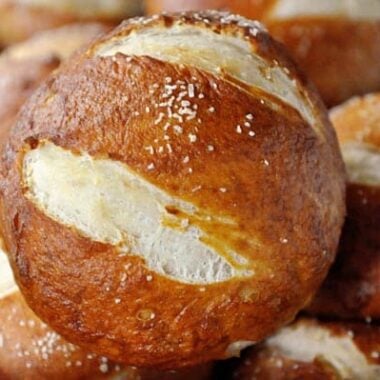 Amazing Soft Pretzel Rolls
Ingredients
Dough:
1

tablespoon

instant yeast

2

tablespoons

canola or vegetable oil

2

cups

warm milk

,

about 100-110 degrees F

1 ½

cups

warm water

,

about 100-110 degrees F

2

teaspoons

salt

6 ½ – 8

cups

unbleached all-purpose flour
Water Bath and Extras:
3

quarts

water

1

tablespoon

sugar

¼

cup

baking soda

Coarse salt for sprinkling
Instructions
In the bowl of an electric mixer (or you can do this by hand in a large bowl), stir together the yeast, oil, milk and water. Add the salt and two cups of the flour. Add the rest of the flour gradually until a soft dough is formed and knead for 3-4 minutes. You may not need to use all the flour depending on many different factors (see the note) – add the flour until a soft dough is formed that clears the sides of the bowl. It is similar in texture to bagel dough and should be slightly more stiff and less sticky than, say, roll dough, but definitely still soft and not overfloured.

Transfer the dough to a lightly greased bowl, cover it with greased plastic wrap and let it rise until doubled in size (1-2 hours).

Portion the dough into 16 pieces and roll each piece of dough into a lovely little round ball.

Here's a great tutorial

on how to do that quickly and efficiently.

Lay out the rolls on lightly greased parchment or a lightly floured counter. Make sure the dough balls won't stick! Let them rest for 15-20 minutes.

While the dough rests, bring the water, sugar and baking soda to a boil in a large 5-6 quart saucepan.

Working with one piece of dough at a time, carefully take it off the parchment or counter, flip it over in your hand and pinch the bottom to form a little pucker and help the dough form a nice, taut ball. Take care not to deflate the dough; you should pinch just the very edge of the dough.

Place 3-4 dough balls in the boiling water and boil for 30 seconds to 1 minute on each side (the longer you boil, the chewier the baked pretzel roll will be).

With a spatula, remove the dough from the boiling water and let the excess water drip off into the pan. Place the boiled dough balls onto lined baking sheets (lined with lightly greased parchment or a silpat liner).

Preheat the oven to 425 degrees F.

Using a very sharp knife or razor, slice 2-3 cuts into the top of each unbaked roll about 1/4-inch deep or so. It's important to use a very sharp blade so that it cuts the dough without deflating it. It's ok if the dough looks wrinkly and kind of funny. It will work itself out during baking. Lightly sprinkle each dough ball with coarse salt.

Bake for 20-22 minutes until the rolls are deep golden brown. These rolls definitely taste best the same day they are made; however, lightly warmed in the microwave for a few seconds will do wonders for pretzel rolls 1-2 days old.
Notes
Flour Amount:
as with all yeast doughs, I never use the flour amount called for in the recipe as a hard fast rule (unless a weight measure is given and then I pull out my kitchen scale). Because humidity, temperature, altitude and a multitude of other factors can impact how much flour you need in your yeast doughs, I always judge when to quit adding flour by the texture and look and feel of the dough rather than how much flour I've added compared to the recipe.
Yeast:
this tutorial on yeast may help identify how a perfectly floured dough should be. For this pretzel dough, you are going for a slightly stiffer dough than regular roll dough (but it should still be soft and not overfloured).
Serving:
1
Roll
,
Calories:
237
kcal
,
Carbohydrates:
44
g
,
Protein:
7
g
,
Fat:
3
g
,
Saturated Fat:
1
g
,
Cholesterol:
3
mg
,
Sodium:
828
mg
,
Fiber:
2
g
,
Sugar:
2
g
Follow @MelsKitchenCafe on Instagram and show me the recipes you are making from my blog using the hashtag #melskitchencafe. I love seeing all the goodness you are whipping up in your kitchens!
Recipe Source: Mel's Kitchen Cafe (originally inspired by many versions online that made me decide to create my own variation; I wanted more milk in the dough than water, different amount of salt and instant yeast, simpler method for mixing the dough, among many other factors)
Disclaimer: I am a participant in the Amazon Services LLC Associates Program, an affiliate advertising program designed to provide a means for me to earn fees by linking to Amazon.com and affiliated sites. As an Amazon Associate I earn from qualifying purchases.