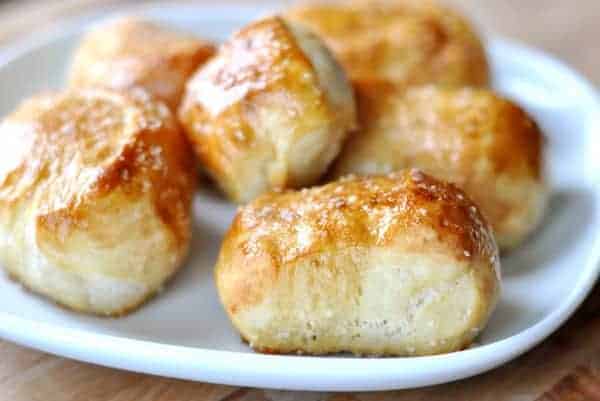 Listen, I make a lot of bread. We all know that. And I'm not shy about my love for carbs.
But these pretzel bites are hands down the most ethereal, glorious little morsels I have ever eaten. I've made the classic pretzel version a million times but they don't hold a candle in chewy softness to these pretzel bites.
We ate these for dinner one night, dipped in this (heaven help me!) and with a little spinach and fruit smoothie on the side so I didn't feel so guilty about the carb overload.
I ate more than my age in pretzel bites and that is about all I'll admit. And needless to say, my kids looooved them.
See below the recipe for a few step-by-step photos since I changed the recipe method a bit to accommodate the change from loopy pretzels to bites.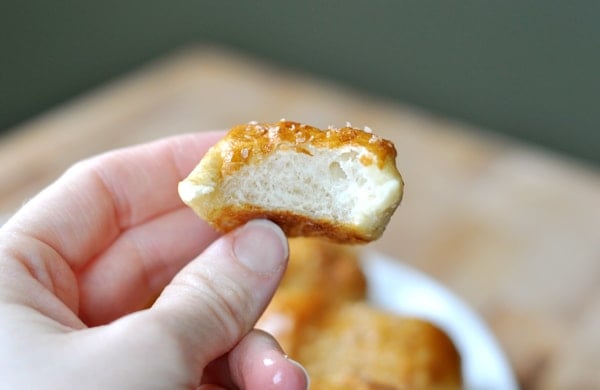 One Year Ago: Smoked Turkey Brie and Apple Panini
Two Years Ago: Loaded Peanut Butter Cup Cookies
Three Years Ago: Macadamia Crusted Chicken with Mango Salsa
Yield: 2 dozen pretzel bites

Prep Time: 20 minutes

Cook Time: 8 minutes

Additional Time: 47 minutes

Total Time: 1 hour 15 minutes
Ingredients
Dough:
2 1/2 cups (10 1/2 ounces) all-purpose flour (see note)
1/2 teaspoon salt
1 teaspoon sugar
2 1/4 teaspoons instant yeast
1 cup (8 ounces) very warm water
Topping:
1/2 cup (4 ounces) warm water
2 tablespoons baking soda
Coarse salt (optional)
3 tablespoons butter, melted
Instructions
In a large bowl or the bowl of an electric mixer, place the flour, salt, sugar and yeast. Mix to just combine. Add the water and mix well, adding more flour, as needed, a bit at a time to form a soft, smooth dough that clears the sides and bottom of the bowl. Knead the dough, by hand or machine, for about 5 minutes, until it is soft, smooth and quite slack. The goal is to get a really soft dough that isn't overly sticky. Lightly flour the dough and place it in a plastic bag; close the bag, leaving room for the dough to expand, and let it rest for 30 minutes or up to 60 minutes.
Preheat your oven to 500°F. Don't be afraid of the high heat! This is what will help those pretzels to brown up perfectly and stay soft on the inside. Prepare two baking sheets by lining them with parchment paper or lightly greasing them (I've learned it helps to coat the parchment paper with cooking spray).
Transfer the dough to a lightly greased work surface, and divide it into about four strips of equal length. Allow the pieces to rest, uncovered, for 5 minutes. While the dough is resting, combine the 1/2 cup warm water and the baking soda in a liquid measuring cup (deep enough to dip the pretzel bites into). Make sure the baking soda is thoroughly dissolved. Sometimes I have a hard time getting the baking soda completely dissolved, so I just lightly stir up the mixture right before adding each pretzel.
Cut each strip of dough into about 6-8 pieces, about 1 to 1 ½ inches in width. You don't have to be completely exact, just eyeball it. Dip each pretzel bite in the baking soda solution (this will give the pretzels a nice, golden-brown color), and place them on the baking sheets. Sprinkle them lightly with coarse, kosher, or pretzel salt. Allow them to rest, uncovered, for 10 minutes.
Bake the pretzels for 7-8 minutes or until they're golden brown. Bake one sheet at a time – it won't hurt the other pretzels to chill out for a little longer.
Remove the pretzels from the oven, and brush them thoroughly with the melted butter. Keep brushing the butter on until you've used it all up; it may seem like a lot, but that's what gives these pretzels their ethereal taste. Eat the pretzels warm, or reheat them in an oven or microwave on low heat.
Notes
If using active dry yeast, increase the yeast to 1 tablespoon. Proof the yeast in the warm water and sugar (let it bubble and foam – maybe about 5 minutes) before adding it to the flour and salt.

I often use half to 3/4 finely ground white whole wheat flour with good results - and sometimes I get crazy and use 100% whole wheat flour (always finely ground white wheat) but the bread is a bit more dense with 100% whole wheat flour. If using part or all whole wheat flour, add a few minutes to the kneading time to help develop the gluten.
Recommended Products
As an Amazon Associate and member of other affiliate programs, I earn from qualifying purchases.

Recipe Source: adapted from this version
*Click on the collage below to see a larger view. A new browser window will open with the step-by-step pictures. Click on the image again in the new browser (your mouse should be a magnifying glass) to make it even larger.