Classic. Simple. Utterly Delicious. Perfect any time of year, but especially when apples are in season. Apple crisp, of course!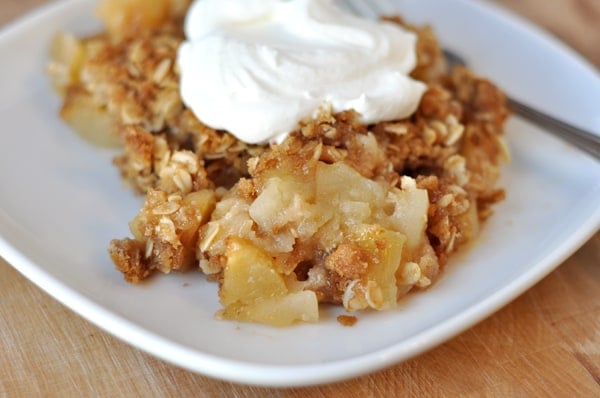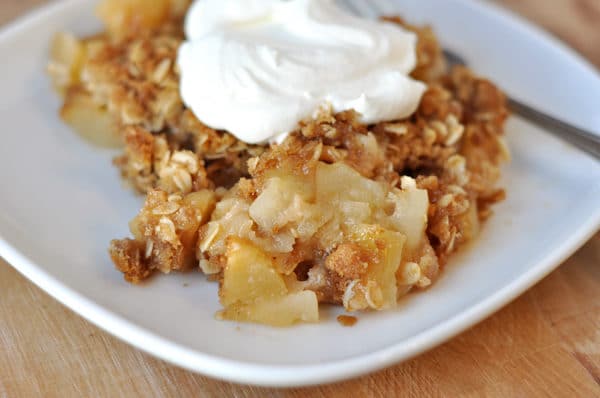 Classic. Simple. Utterly Delicious. Apple crisp, of course.
Sweet, juicy, tender apples are topped with a crunchy, golden streusel and finished off with a scoop of vanilla ice cream or a dollop of whipped cream.
The entire concoction is perfect for any time of year!
Well…that is if you make sure not to neglect chocolate desserts of course. For a fruit dessert, it's pretty awesome.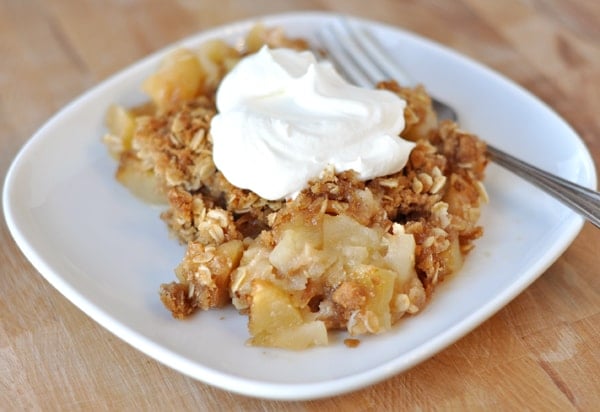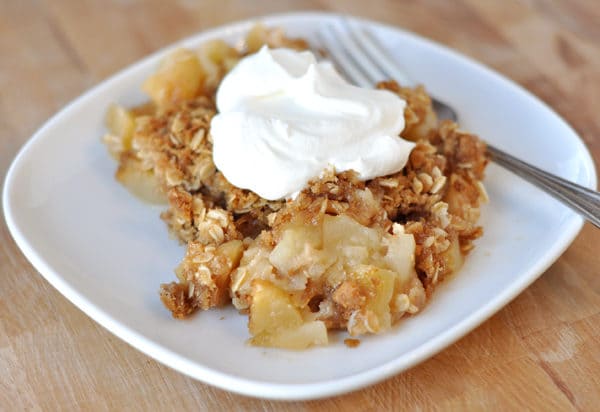 One Year Ago: Creamy Orzo with Chicken, Peppers and Mushrooms
Two Years Ago: Black and White Cheesecake Squares
Three Years Ago: Ultimate Beef Stroganoff
Yield: 6-8 servings

Prep Time: 20 minutes

Cook Time: 40 minutes

Total Time: 1 hour
Ingredients
7 tart apples, peeled, cored and cut into chunks or slices
1 tablespoon lemon juice (freshly squeezed or bottled)
1/2 teaspoon vanilla
1/2 cup all-purpose or whole wheat flour
1 cup rolled oats
1 cup brown sugar
1/2 teaspoon ground cinnamon
8 tablespoons (1 stick) butter, softened to room temperature
Instructions
Preheat the oven to 375 degrees F. In a medium bowl, toss the apples with the lemon juice and vanilla. Pour the apples into a 9X13-inch baking dish, spreading evenly to the edges. It doesn't matter if the apples are slightly overlapping.
In a medium bowl stir together the flour, oats, brown sugar and cinnamon. Using a pastry blender, two forks or two knives, mix the butter into dry ingredients until lumpy and coarsely mixed. Most of the dry ingredients should be incorporated with the butter to form large crumbs. Sprinkle the mixture evenly over the apples.
Bake for 35-40 minutes, until the apples are tender and the topping is browned and crunchy.
Let cool 10-15 minutes before serving warm with ice cream or a dollop of whipped cream.
Notes
For the Apples: I like to use a combination of Granny Smith, Honeycrisp and/or Gala. Firm, tart and sweet apples work the best for apple crisp – feel free to experiment with different varieties, depending on what you like (or can find at the store!).
Recommended Products
As an Amazon Associate and member of other affiliate programs, I earn from qualifying purchases.

Recipe Source: Mel's Kitchen Cafe