Baked Brown Rice
This baked brown rice is a cinch to throw together, is much healthier than white rice, and it is downright delicious. It turns out perfect every time.
Don't hate me because I cook with white rice.
I know it isn't nutritious and definitely is not en vogue with the healthy eaters of the world. But I swear to you, every time I have tried to make brown rice, it has been absolutely terrible.
I feel these faint twinges of guilt every time I put white rice on the table but it hasn't been enough to get me past the pain and gag-quality of failed brown rice.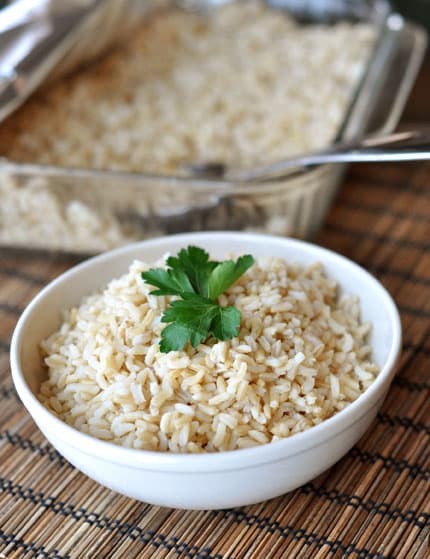 However, last week, my friend, who happens to be an extremely healthy eater and who I am sure wonders how she found herself to be stuck with me, coerced me into trying this baked brown rice concoction she had made.
And wow. I mean wow. It didn't taste remotely like any brown rice I have ever made.
I've made it four times since then and have a feeling it will be replacing our white rice from here on out.
While it takes a bit more planning since the baking time is longer, it is a cinch to throw together, and it is downright delicious.
After all these years, this brown rice has continued to be an extreme staple. Love, love, love it. I make it with low-sodium chicken broth when I have it on hand or sometimes just with water and a little extra salt. Sometimes I even get all crazy and do half broth, half water. The real key is to keep your eye on it and make sure it doesn't dry out and burn on the bottom.
I've included a few variations below the recipe that will take this simple brown rice and knock it out of the park.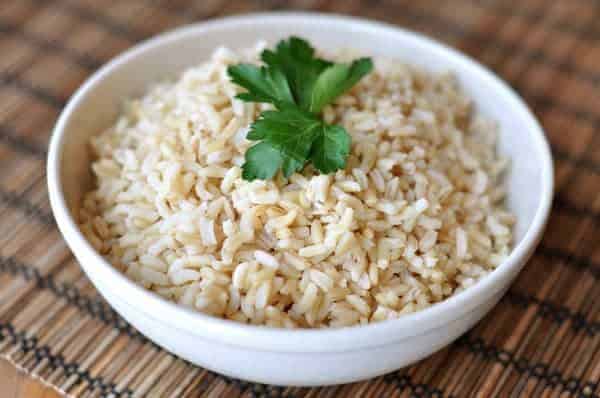 FAQs for Baked Brown Rice
What kind of rice do I need, exactly?
You want to use long grain or jasmine (basmati works, too); quick-cooking or instant rice won't work for this recipe.
Can I halve this recipe?
Yes, as a note, I would still use the same amount of time unless the rice water is in a much thinner layer in the smaller pan (in that case, you could probably cut 10 or so minutes off the baking time).
How do I double this recipe?
When I double this, I usually increase the baking time by at least 5-7 minutes.
Baked Brown Rice
Ingredients
1 ½

cups

brown rice

2 ½

cups

low-sodium chicken broth or water

,

if using water, add 1 teaspoon salt
Instructions
Preheat the oven to 350 degrees. Lightly grease an 8X8-inch or 9X9-inch baking pan. Place the rice in the prepared pan and pour in the liquid. Stir to equally distribute the rice. Cover tightly with a double layer of aluminum foil and bake for 1 hour and 10 minutes.

Remove from the oven and let sit for five minutes before removing the aluminum foil and fluffing with a fork. If your rice still has a bit of liquid on the bottom or conversely, if it is dried out, adjust the baking time up or down to make changes.
Notes
Doubling: this recipe doubles beautifully for a 9X13-inch pan. Variations: before baking, slice one small yellow onion into dices or half moons and caramelize and brown in 1 teaspoon of olive oil until golden and soft (about 10 minutes in a nonstick skillet). Stir onion into rice and broth mixture and bake according to recipe. Lemon Variation: after removing rice from the oven and letting it sit for five minutes, remove aluminum foil and stir in the zest and juice from 1 lemon, 1/2 cup grated fresh Parmesan cheese, 1 tablespoon sugar and 1/2 apple, finely diced. 
Follow @MelsKitchenCafe on Instagram and show me the recipes you are making from my blog using the hashtag #melskitchencafe. I love seeing all the goodness you are whipping up in your kitchens!
Recipe Source: my friend Jennifer S.
Disclaimer: I am a participant in the Amazon Services LLC Associates Program, an affiliate advertising program designed to provide a means for me to earn fees by linking to Amazon.com and affiliated sites. As an Amazon Associate I earn from qualifying purchases.