Delicious Caramel Popcorn
This caramel popcorn is beyond creamy, caramelly, soft and chewy. It definitely deserves its title of, The Best Caramel Popcorn!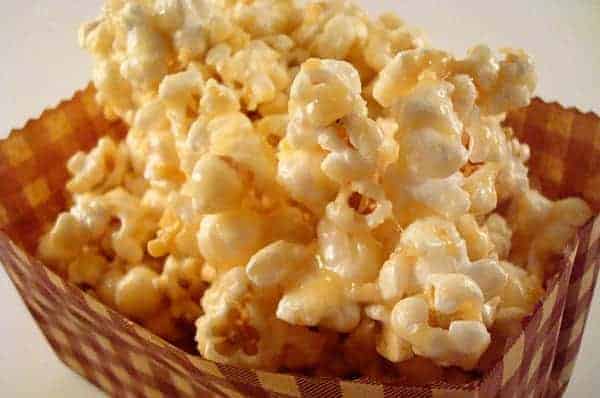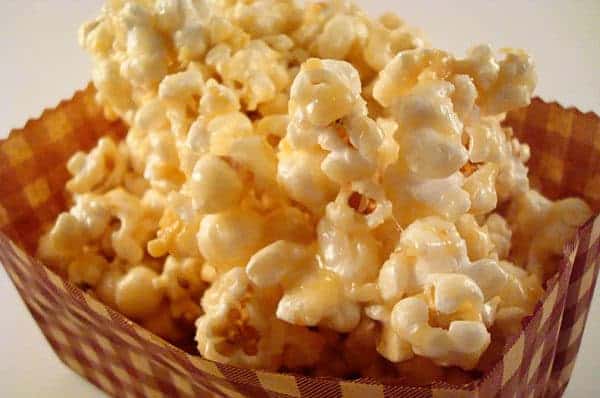 I know you are looking at the title of this post and thinking to yourself, "Well, she's wrong, that's fersure, because I happen to own the best caramel popcorn recipe out there."
And you may be right, actually, because for every caramel popcorn lover out there, there are at least 1,784 recipes that claim they are the best. That's the great thing about this ever-evolving treat: it is ever-evolving.
Now, I happen to be in the caramel-popcorn-should-be-ooey-gooey-soft-and-chewy-and-make-my-hands-a-mess camp. What about you?
While I have a fantastic recipe for a crunchy (think: Cracker Jacks) caramel almond popcorn, this particular ooey gooey version is 100 times simpler and quicker. Plus it tastes so darn fantastic, it converted me right there on the spot.
From my extremely talented Aunt Marilyn, this popcorn is beyond creamy, caramelly, soft and chewy.
Made with a rather unusual ingredient (albeit easy to find), this makes for a great conversation topic when serving it to friends: "Whoever guesses what the secret ingredient is, gets a prize!" I'll leave the prize up to you…but I'm betting most people won't guess what it is.
My husband, who considers himself The Caramel Popcorn Connoisseur of the Century, rated this the best version ever. So there you have it.
Make this. And with the leftover secret ingredient (since I've found it is cheaper to buy it in bulk), bulk up and win an arm wrestle or two for me, won't you?
One Year Ago: Sweet and Sour Meatballs
Two Years Ago: Z'Tejas Style Cornbread
Yield: 2 large bowls of caramel corn

Prep Time: 5 minutes

Cook Time: 15 minutes

Total Time: 20 minutes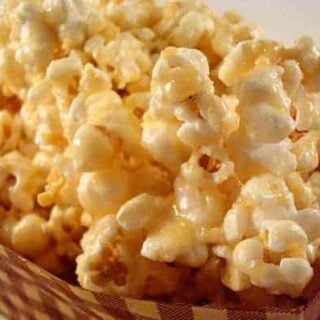 Ingredients
1 cup butter (2 sticks)
2 cups sugar
1 cup powdered vanilla whey protein (found in any health food aisle from Wal-mart to your everyday grocery store)
1/2 cup light corn syrup
1/3 cup water
1 teaspoon vanilla
1/2 teaspoon salt
3/4 teaspoon baking soda
2 large bowls of popped corn
Instructions
In a medium saucepan, combine the butter, sugar, whey protein, corn syrup and water. Cook over medium heat until the mixture barely comes to a slow boil. It should still look very light in color.
Take the pan off the heat and stir in the vanilla, salt and baking soda.
Pour the caramel mixture over two large bowls of popped corn (about 1 cup unpopped kernels that have been air popped) and mix to combine.
Recommended Products
As an Amazon Associate and member of other affiliate programs, I earn from qualifying purchases.

Recipe Source: from Aunt Marilyn
Disclaimer: I am a participant in the Amazon Services LLC Associates Program, an affiliate advertising program designed to provide a means for me to earn fees by linking to Amazon.com and affiliated sites. As an Amazon Associate I earn from qualifying purchases.