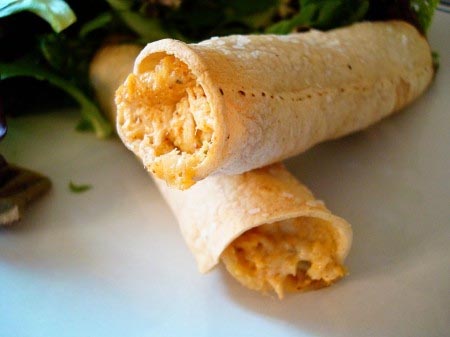 Before I talk about the recipe, first an announcement.
Last week, we found out we are moving across the country (from Utah to Wisconsin) and it will be happening ASAP (househunting next week, moving in June), which means, while I hope to continue posting semi-regularly (via scheduled posts), I may not get to all of your comments and questions as quickly as normal.
Please bear with me. I promise to return to normal (whatever that is) as soon as I can.
Now on to the recipe. These chicken taquitos were fantastic.
They were simple to prepare, came together quickly and are much healthier than the fried variety.
They reminded me a little bit of the Crispy Chicken Wraps, mostly in the ease of preparation and use of pre-cooked shredded chicken with a creamy, cheesy base.
The flavor of the taquitos is simple and delicious without a lot of spiciness and heat.
These are definitely going on our meal rotation – my kids loved the crispiness of the tortillas and my husband though they were awesome, too. Quick, delicious and definitely worth making!

Served with a light green salad and some fresh fruit and veggies (or perhaps this delicious fruit concoction) and this is a perfectly perfect meal for any night of the week!
Yield: 14-16 taquitos

Prep Time: 15 minutes

Cook Time: 20 minutes

Total Time: 35 minutes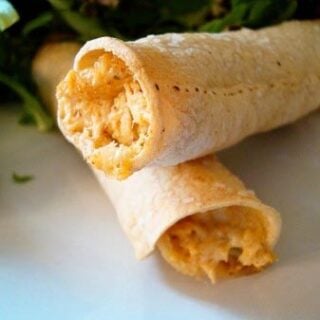 Ingredients
4 ounces cream cheese, softened
1/4 cup green salsa
1 tablespoon fresh lime juice
1/2 teaspoon cumin
1 teaspoon chili powder
1/2 teaspoon onion powder
1/4 teaspoon garlic powder
3 tablespoons chopped cilantro
1 green onion, sliced finely (white and green parts to equal about 2 tablespoons)
2 cups shredded cooked chicken (I cook large batches of chicken in my crockpot with a little chicken broth and salt, shred it and freeze it for meals like this)
1 cup grated monterey jack cheese (use pepperjack if you like a little heat)
small yellow or white corn tortillas
kosher salt
cooking spray
Instructions
Heat oven to 425 degrees. Line a baking sheet with foil and lightly coat with cooking spray.
In a medium-sized bowl, mix softened cream cheese, green salsa, lime juice, cumin, chili powder, onion powder and garlic powder. Stir to combine and then add cilantro and green onions. Add chicken and cheese and combine well.
You can prepare this step ahead of time (which I did – I made it the morning of). Just keep the mixture in the fridge.
Working with a few tortillas at a time, place 3-4 between two damp paper towels and microwave for 30-45 seconds, until tortillas are soft and pliable and don't crack while rolling. Place 2-3 tablespoons of the chicken mixture on the lower third of a soft tortilla, keeping it about 1/2 inch from the edges. Then roll it up as tight as you can. (A few of mine wanted to rebel and come unrolled so I stuck a toothpick through them to keep them right and tight.)
Place filled taquitos seam side down on the baking sheet, making sure they don't touch each other. When ready to bake, spray the tops lightly with cooking spray or an oil mister and lightly sprinkle some kosher (coarse) salt on top.
Place pan in oven and bake for 15-20 minutes or until crisp and the ends start to get golden brown. Serve immediately. Taquitos can be dipped in in salsa, sour cream, guacamole, or any other combination you can dream up (my kids liked ranch dressing – go figure).
Recommended Products
As an Amazon Associate and member of other affiliate programs, I earn from qualifying purchases.

Recipe Source: adapted from Our Best Bites