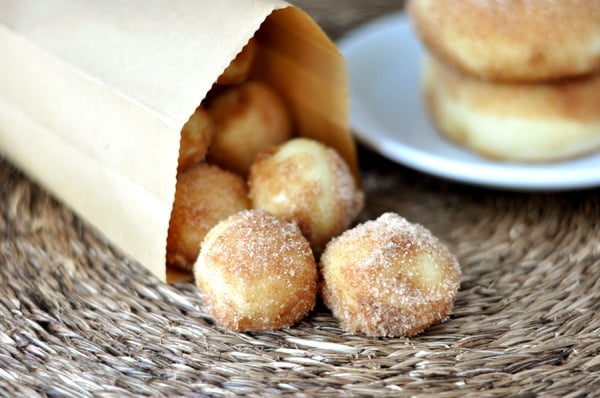 I can't go another minute without telling you that these baked doughnuts…well, they will probably change your life just like they did mine.
Imagine the fluffiest, chewiest morsel of doughnut goodness, warm from the oven and coated in a glorious butter, cinnamon-sugar mixture. And the doughnut holes? Utterly unreal.
Why is it that something so bite-sized can be so addicting?
The astounding thing is that they are baked. BAKED! Baked and not fried.
I'm not arguing that these baked doughnuts are healthy, by any means, but compared to their fried cousins – well, I'll take these soft, tender baked doughnuts any day.
I made a personal goal before baking these that I would only eat two doughnut holes. Two. You know, limiting refined sugars and carbs and blah, blah, blah, whatever, because I was powerless (powerless!) to eat less than five of the doughnut holes in order to gain a perfect perspective on whether these should be made again.
And they should. Be made again. Immediately.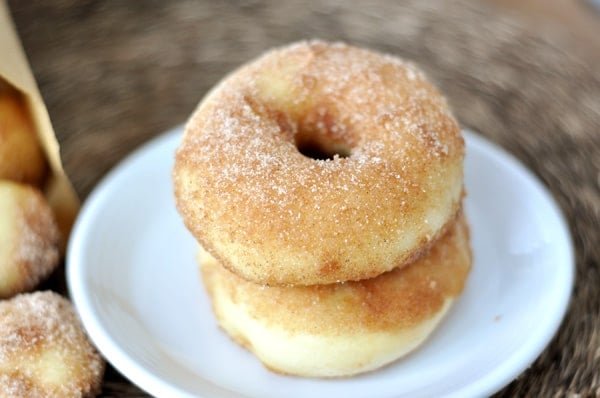 One Year Ago: Pumpkin Chocolate Chip Bread
Two Years Ago: Strawberry Cream Puff Cake
Three Years Ago: Creamy Chicken Fettuccine
Yield: 1 1/2 dozen doughnuts/doughnut holes

Prep Time: 25 minutes

Cook Time: 10 minutes

Additional Time: 1 hour 45 minutes

Total Time: 2 hours 20 minutes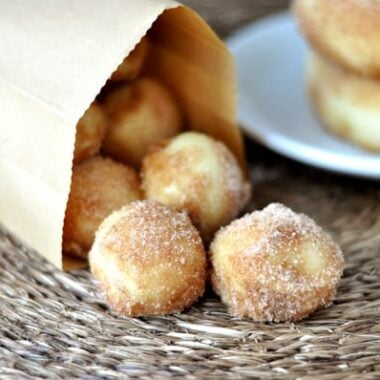 Ingredients
Doughnuts:
1 1/3 cups warm milk, 95 to 105 degrees
2 teaspoons instant yeast
2 tablespoons butter
2/3 cup granulated sugar
2 large eggs
5 cups all-purpose flour
A pinch or two of nutmeg, freshly grated
1 teaspoon salt
Topping:
1/2 cup butter, melted
1 1/2 cups granulated sugar
1 tablespoon cinnamon
Instructions
Place the warm milk in the bowl of an electric mixer. Stir in the yeast and sugar. Add the butter. Mix the eggs, flour, nutmeg, and salt. Beat the dough with the dough hook attachment (or with a wooden spoon and eventually your hands) for 2-3 minutes at medium speed. Adjust the dough texture by adding flour a few tablespoons at a time or more milk. The dough should pull away from the sides of the bowl and be very soft and smooth but still slightly sticky - don't overflour! Knead the dough for a few minutes (again, by mixer or by hand) and then transfer the dough to a lightly greased bowl. Cover the bowl and let the dough rise for about an hour or until it has doubled in size (the exact time will depend on the temperature of your kitchen).
Punch down the dough and roll it out to about 1/2-inch thickness on a lightly floured counter. Using a doughnut cutter or a 2-3 inch circle cookie cutter, cut out circles in the dough. Carefully transfer the circles to a parchment- or silpat-lined baking sheet and stamp out the smaller inner circles using a smaller cutter. Be sure to make the holes large enough that as the doughnuts rise again and bake, they don't fill in the doughnut hole with the puffiness of the dough. Cover the tray with lightly greased plastic wrap. (At this point, you can refrigerate the doughnuts overnight or proceed with the recipe.) Let the doughnuts rise for about another 45 minutes, until they are puffed and nearly doubled.
Bake in a 375 degree F oven until the bottoms are just golden, 8 to 10 minutes. Start checking the doughnuts around minute 8. They should still be pale on top, not golden and browned, and just barely baked through.
Remove the doughnuts from the oven and let cool for 1-2 minutes. Dip each one in the melted butter and toss or sprinkle with the cinnamon and sugar. Serve immediately.
Notes
These little beauties are best made and eaten the same day, preferably warm right from the oven. The great news is that you can make the dough, roll and cut out the doughnuts the night before and let them do their second rising in the fridge, covered. Remove them from the refrigerator and put them on the counter about an hour before baking.

I used instant yeast in the recipe. If you only have active dry yeast on hand, proof the yeast with 1/3 cup of the warm milk and the sugar until it is foaming before adding in the rest of the milk and proceeding with the recipe.

Recipe Source: adapted slightly from Tartlette who snagged it from 101 Cookbooks