Baked Pasta with Chicken Sausage
This baked pasta with chicken sausage is full of delicious flavors. It's perfect to take to someone and it makes a heaping 9X13 pan full.
This is my husband's favorite meal ever. Ever. Right up there with his beloved Sweet and Sour Chicken, which is saying a lot.
He. Loves. This Meal. And he requests it all the time. I think it as one of those meals that is something straight from a restaurant – a good restaurant.
This baked pasta is chock full of good stuff: tender noodles, creamy cheese, flavorful chicken or turkey sausage, hearty sauce packed with spinach, the list goes on and on.
This is a perfect meal to take to someone and it makes a heaping 9X13 pan full (in the pictures above you see an 8X8-inch dish; don't be alarmed, this is overflow from halving the recipe again).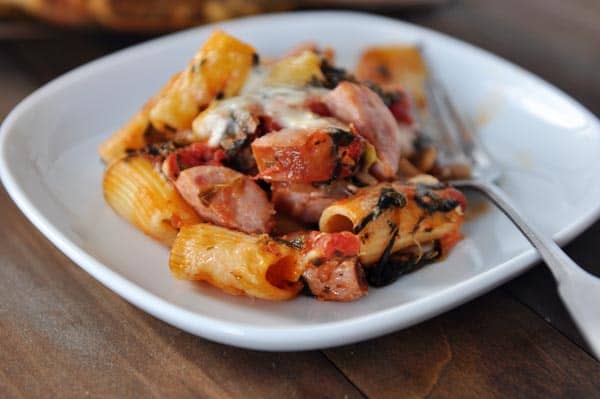 Don't be afraid of the sausage. It is delicious and we love it so much in this dish (fighting over the tender little nuggets) that I've used it in many other pasta/rice dishes because it is so versatile.
Make this. You won't be disappointed.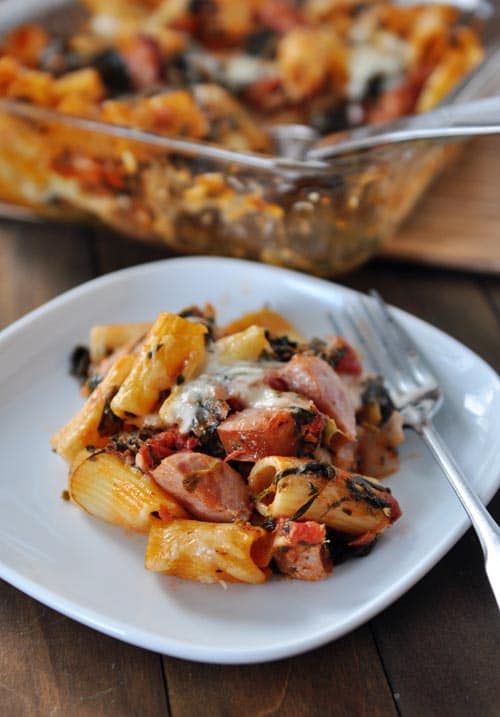 Recipe Source: adapted from Martha Stewart Everyday Food
Disclaimer: I am a participant in the Amazon Services LLC Associates Program, an affiliate advertising program designed to provide a means for me to earn fees by linking to Amazon.com and affiliated sites. As an Amazon Associate I earn from qualifying purchases.