Basil Chicken in Coconut Curry Sauce
The flavors in this basil chicken in coconut curry sauce are subtle yet blended perfectly. It is absolutely perfect over steamed rice.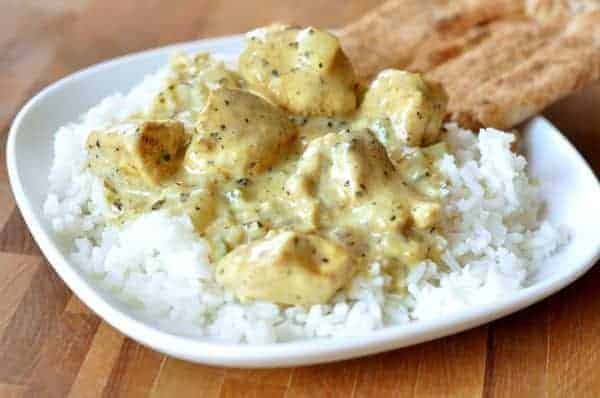 I happen to be a huge fan of curry. And I happen to be an even bigger fan of curry when combined with a coconut sauce.
For evidence, look no further than here. So it came as no surprise to me or my family when I decided to try this coconut curry variation from a recent library checkout.
The finished meal did not disappoint in the least. The flavors were so subtle yet blended perfectly.
Definitely not an overpowering dish, the tender curried chicken and coconut sauce was perfect over steamed rice and my kids couldn't get enough.
Don't be put off by the list of ingredients; after marinating the chicken for a few hours, this comes together in a snap. This proved to be a very delicious and easy meal.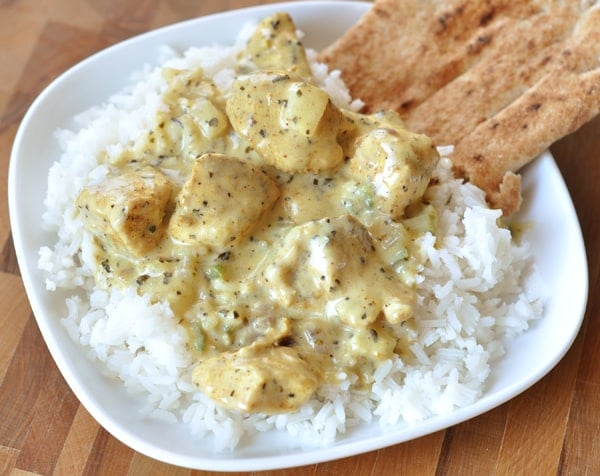 Fresh fruit or green salad
Buttery Peas with Thyme
Naan Bread
Basil Chicken in Coconut Curry Sauce
Total Time:
1 hour
25 minutes
Ingredients
3 skinless, boneless chicken breast halves
2 teaspoons curry powder
1 teaspoon salt
½ teaspoon pepper
¼ teaspoon chili powder
1 medium red onion, chopped
5 cloves garlic, minced
2 jalapeno peppers, seeded and finely chopped (by seeding the jalapeno you lose most of the spice/heat but retain great flavor)
1 tablespoon olive oil
1 14-ounce can light coconut milk
1 tablespoon cornstarch
1 tablespoon dried basil
1 teaspoon grated fresh ginger
3 cups hot cooked rice
Instructions
Cut chicken into 1-inch pieces. Place in medium bowl. Stir together curry, 1/2 teaspoon salt, pepper and chili powder. Sprinkle over chicken, tossing to coat evenly. Cover and chill for 1 to 2 hours.
In a large nonstick frying pan, stir onion, basil, garlic and peppers in hot oil over medium-high heat for 3-4 minutes, until onion is translucent. Add chicken and remaining 1/2 teaspoon salt and cook for 5-6 minutes until no longer pink.
Combine coconut milk and cornstarch and whisk well to combine. Carefully add to skillet, whisking vigorously. Cook and stir until slightly thickened and bubbly. Stir in ginger. Cook and stir for another minute. Serve over hot rice.
Notes
Curry: the type/brand of curry powder is important in this recipe since the flavor will really come through. My favorite curry powder of all time is the sweet curry powder from Penzey's spices; it's a good idea to use a curry powder that has a flavor profile you like.
Recommended Products
As an Amazon Associate and member of other affiliate programs, I earn from qualifying purchases.
Recipe Source: adapted from Better Homes and Gardens
Disclaimer: I am a participant in the Amazon Services LLC Associates Program, an affiliate advertising program designed to provide a means for me to earn fees by linking to Amazon.com and affiliated sites. As an Amazon Associate I earn from qualifying purchases.