Bean Curry
This healthy bean curry takes less than 15 minutes and it is fantastic. The black-eyed peas combined with the spices make a delightful combo.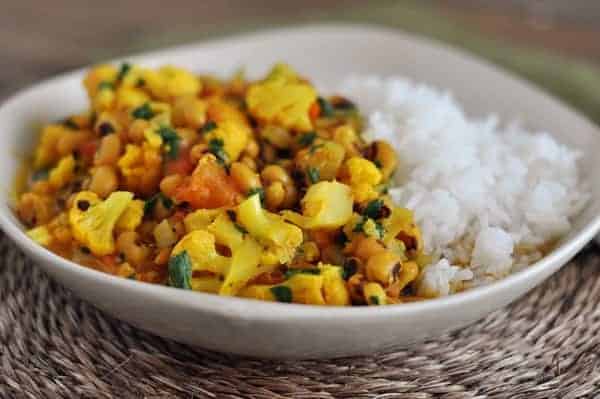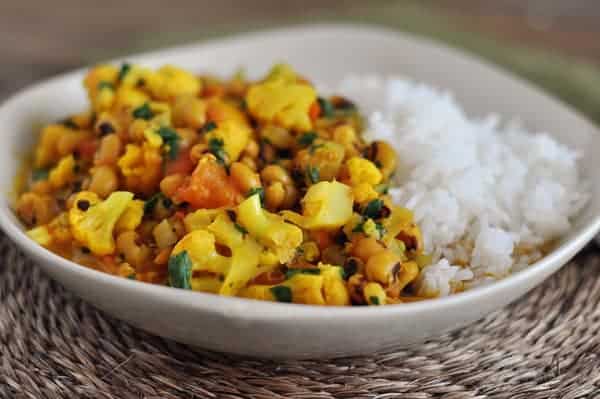 Renay, a reader, sent me this bean curry recipe. As evidenced by the number of curry-flavored dishes on my blog (Coconut Chicken Curry, Chicken with Green Curry Sauce, Basil Chicken in Coconut Curry Sauce, Shrimp Stir Fry in Coconut Curry Sauce), she thought I would enjoy it, and she was right!
To be honest, I was a little skeptical upon first viewing – I've never even eaten black eyed peas (I know, the horror!), let alone bought them to cook with, but I can't resist a good curry recipe, so try it I did. And it was fantastic.
Who knew that black eyed peas would make curry so delightfully yummy?
This meal is healthful and can be made in seriously less than 15 minutes. The best item to note, however, is the wonderful flavors brought in by the garam masala, cilantro and ginger.

I served this with naan (which is addicting in and of itself), and in my book, it was pretty nearly a perfect meal. Filling, oh so delicious, and fast. I know many of you will be skeptical, too, but I hope you try it and love it as much as we did! Thanks for the recipe, Renay!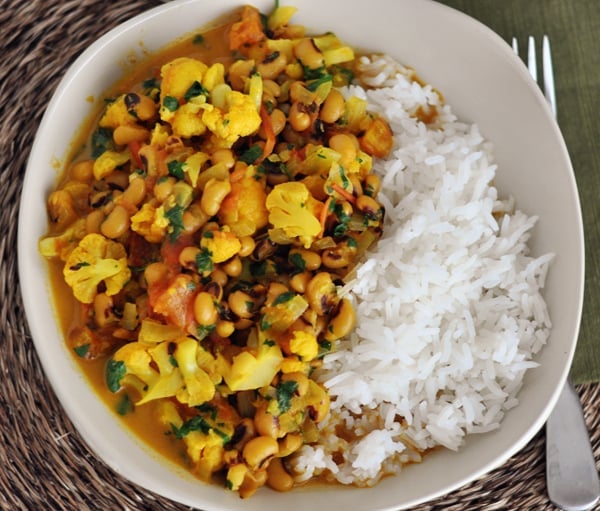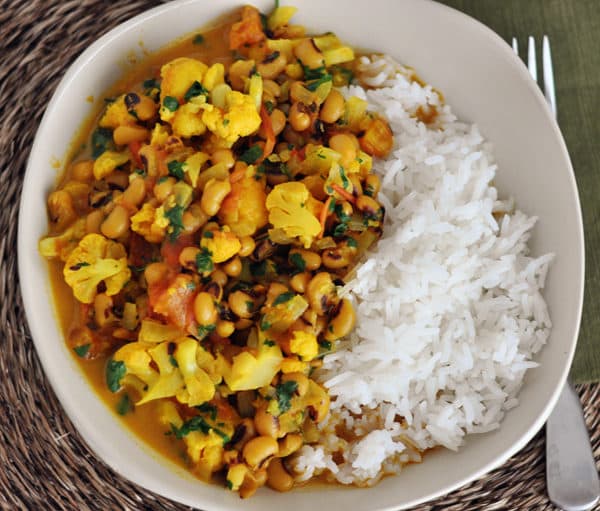 Yield: 6 servings

Prep Time: 10 minutes

Cook Time: 12 minutes

Total Time: 22 minutes
Ingredients
1 tablespoon canola oil
1 onion, chopped
3 cloves garlic, finely minced
1 teaspoon freshly grated ginger
1 large tomato, chopped
1/2 teaspoon turmeric
pinch cayenne, or to taste
1/2 teaspoon salt
1 teaspoon paprika
1 teaspoon Garam Masala
3/4 cup half and half
1 cup vegetable stock or chicken broth
1 can black-eyed peas, lightly drained
2 tablespoons chopped fresh cilantro
Instructions
Heat oil in a large skillet over medium heat. Add onion; saute 5 minutes or until translucent and slightly browned. Stir in garlic and grated ginger root; stir constantly for 30 seconds. Add tomato; cook for 2 minutes. Stir in turmeric, cayenne, salt, paprika, and garam masala; stir constantly for 30 seconds. Add half and half, stock, and black-eyed peas.
Reduce heat and simmer 5 minutes, stirring occasionally. Stir in cilantro. Serve immediately with rice, chapati, or naan.
Recommended Products
As an Amazon Associate and member of other affiliate programs, I earn from qualifying purchases.

Recipe Source: slightly adapted from Renay, a reader
Disclaimer: I am a participant in the Amazon Services LLC Associates Program, an affiliate advertising program designed to provide a means for me to earn fees by linking to Amazon.com and affiliated sites. As an Amazon Associate I earn from qualifying purchases.