Bittersweet Chocolate Pudding Pie
It is hard to put into words how decadent and delicious this bittersweet chocolate pudding pie is. If you are looking for a wow factor give this pie a try.
It's hard to adequately give some desserts their just due description. This is one of those desserts.
I don't know how to put into words how decadent and delicious this pudding pie is. If I tell you it was voted as Best Dessert of the Year would you believe me?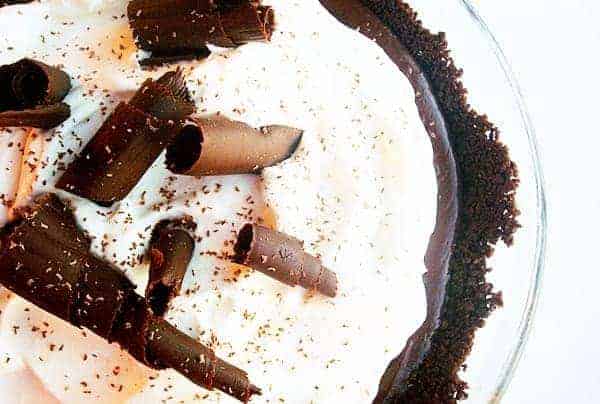 Rich, chocolate crust, topped with more delicious melted chocolate, topped with velvety, decadent pudding, topped with silky, creamy topping, topped with gorgeous, sweet chocolate curls…seriously, what's not to love?
Let me go through a few notes on this recipe.
Note #1: This is a pretty gourmet dessert, in my opinion. As in, you probably won't be making this to top off a Tuesday night dinner of Chili Mac, but when you want a stunning dessert with a real wow factor, this will not fail you.
Note #2: The recipe calls for crème fraîche, which is simply a tangy, thinner version of sour cream and is used in a lot of elite French dishes. Worried? Don't be. While crème fraîche is exorbitantly priced, it is extremely easy to make yourself (see my notes at the bottom of the recipe) and I can guarantee to you that I have never tasted anything as silky and creamy as the crème fraîche when it was whipped with the cream. Seriously. Nothing like it. It takes succulent creaminess to a whole new level and is well worth the extra step to make it yourself.
Note #3: This pie is called a *bittersweet* chocolate pie because it is rich and deeply dark and chocolatey. I read all the reviews on this recipe and made some changes that suited me and my tastes. While I am a huge lover of dark chocolate (as in I know where my stash is hidden so I can save it first in case of a fire), I don't like it so bitterly dark that it is acrid tasting. I increased the sugar in the pudding part of the pie to compensate for the dark chocolate – and I used chocolate with a 56% cocoa content (just as a reference, most semisweet chocolates are between 52 and 54%, while bittersweet chocolates are upwards of 64%).
Note #4: The crust can be made ahead, as well as the pudding (which can be made two days ahead of time). The entire pie can be assembled and refrigerated 6-8 hours before serving. So what I'm saying is that even though it may look intimidating with a lot of steps…they can transform into baby steps that can be done over the course of a few days.
Note #5: I'm done. Just trust me that this definitely lived up to the hype and quite possibly may be my favorite dessert of all time. (The other dessert giving this fabulous pie a run for it's money will be posted next week – sorry in advance for all the calories flying about. Every single one of them is worth it, my thighs can assure you of that.)
One Year Ago: Classic Baked Ziti
Bittersweet Chocolate Pudding Pie
Ingredients
Crust:
1 ½

cups

chocolate wafer cookie crumbs

,

(I used about 3/4 of a 9-ounce box of chocolate Teddy Grahams)

2

tablespoons

sugar

5

tablespoons

(

71

g

)

butter

,

melted

2

ounces

(

57

g

)

bittersweet or semisweet chocolate

,

finely chopped
Filling:
⅔

cup

(

141

g

)

sugar

⅓

cup

(

28

g

)

unsweetened cocoa powder

2

tablespoons

cornstarch

⅛

teaspoon

salt

1 ¾

cups

whole milk

,

divided

¼

cup

heavy whipping cream

4

ounces

(

113

g

)

bittersweet or semisweet chocolate

,

finely chopped

1

teaspoon

vanilla extract
Topping:
¾

cup

chilled crème fraîche (see note)

¾

cup

chilled heavy whipping cream

½

cup

(

57

g

)

powdered sugar

1

teaspoon

vanilla extract
Instructions
Crust: (can be made one day ahead of time, lightly covered with plastic wrap and refrigerated)
Position rack in center of oven; preheat to 350°F. In a food processor (or by hand in a ziploc bag with a rolling pin), blend cookie crumbs and sugar. If using a food processor, add melted butter (if using a bag, pour the crumbs into a bowl and mix in the butter); process until crumbs are evenly moistened.

Press crumb mixture onto bottom and up sides (not rim) of 9-inch glass pie dish. Bake until crust begins to set and no longer looks moist, pressing gently with back of fork if crust puffs, about 10 minutes.

Remove crust from oven, then sprinkle chopped chocolate over bottom of crust. Let stand until chocolate softens, 1 to 2 minutes. Using offset spatula or small rubber spatula, spread chocolate over bottom and up sides of crust to cover. Chill crust until chocolate sets, about 30 minutes.
Filling: (can be made 2 days ahead of time – keep covered in the refrigerator until ready to use)
Whisk sugar, cocoa, cornstarch, and salt to blend in heavy medium saucepan. Gradually add 1/3 cup milk, whisking until smooth paste forms. Whisk in remaining milk, then 1/4 cup cream.

Using flat-bottom wooden spoon or heatproof spatula, stir mixture constantly over medium heat, scraping bottom and sides of pan until pudding thickens and begins to bubble at edges, about 5 minutes.

Add chocolate; stir until mixture is smooth. Remove from heat; stir in vanilla. Pour hot pudding into crust and spread evenly.

Cool 1 hour at room temperature. Cover with a cake dome or other covering that doesn't lay directly on the pudding; chill overnight.
Topping: (Assembled pie can be made 6-8 hours ahead of time – cover with a cake dome or tall pot and refrigerate)
Using electric mixer, beat crème fraîche (see note), whipping cream, sugar, and vanilla in medium bowl just until stiff peaks form and mixture is thick enough to spread (do not overbeat or mixture may curdle).

Spread topping decoratively over top of pie, swirling to create peaks, if desired. Sprinkle chocolate shavings decoratively on the top of the pie, if desired. Cut pie into wedges and serve.
Notes
Make-Ahead: read through the recipe to see the notes about what parts of the pie can be made ahead of time. The pudding portion needs to be made at least one day ahead of time to chill overnight in the refrigerator. Substitution: also, if the crème fraîche part has you sweating bullets, you can sub the same amount of heavy whipping cream (making it 1 1/2 cups total) for the topping – but you will be missing out on a tastebud experience of silky proportions your tongue has never felt the likes of. Just sayin'. Crème Fraîche: crème fraîche is a tangy, thinner form of sour cream and is used a lot in French cooking/baking. The unique property of crème fraîche compared to sour cream is that it can be whipped to soft or stiff peaks, just like whipping cream. Crème fraîche is quite expensive to buy but the good news is you can easily make it yourself at home (which is what I did for this recipe). Here is the method I used: Filling: in a small saucepan, pour in 1 cup of heavy cream and over low heat, heat the cream until it is tepid and slightly warm to the touch (no need to overheat it – you just want to take the chill off). Stir in 1 1/2 tablespoons buttermilk. The cultures in the buttermilk are going to turn the cream into crème fraîche. Pour the mixture into a glass jar, cover it loosely and leave it at room temperature for 24 hours, stirring every 6-8 hours (don't worry about it – the cultures in the buttermilk will protect it from going bad). You'll notice it will start to thicken a bit. After 24-36 hours, put it in the fridge where it can be kept for 7-10 days. Once completely chilled, it can be used accordingly.
Serving:
1
Serving
,
Calories:
572
kcal
,
Carbohydrates:
62
g
,
Protein:
6
g
,
Fat:
35
g
,
Saturated Fat:
20
g
,
Cholesterol:
67
mg
,
Sodium:
304
mg
,
Fiber:
4
g
,
Sugar:
45
g
Recommended Products
Follow @MelsKitchenCafe on Instagram and show me the recipes you are making from my blog using the hashtag #melskitchencafe. I love seeing all the goodness you are whipping up in your kitchens!
Recipe Source: adapted from epicurious.com
Disclaimer: I am a participant in the Amazon Services LLC Associates Program, an affiliate advertising program designed to provide a means for me to earn fees by linking to Amazon.com and affiliated sites. As an Amazon Associate I earn from qualifying purchases.