Chocolate Chip Cookie Pie
This chocolate chip cookie pie might be the easiest, most delicious pie you'll ever make. Rich, ooey gooey, decadent and SO easy to make!
I was not planning on sharing a new pie recipe with you this holiday season. I'm sorry. I hope we can still be friends now that you know that.
It's not that I don't love pie. That's clearly not the case; I just have so many other recipes to share with you this month and next that I wasn't sure I'd fit in a pie recipe that would be worthy of pushing something else to the back burner. #seriousfoodbloggerworries
If you hadn't noticed, I've been posting recipes like crazy the last few weeks in order to get all the deliciousness of my "Must Share Recipes With The World File" into your grubby little hands.
All this at the risk of having a complete breakdown (posting every day is not really my jam, and I may or may not have an epically dirty house and a developing nervous twitch because of it, but again, I just can't stop until my holiday recipe work here is done).
So anyway, back to pie. It wasn't going to be a thing…
…until I was asked last week to bring pie to an event and after seeing this simple chocolate chip cookie pie in my news feed, I knew it was the one I would be making.
Not to post it. No, no. No time for pie, remember? I made it because it looked easy, kid-friendly, and it had chocolate. Perfect pie criteria in my book when it is destined to be served elsewhere.
Wow. This pie. It completely blew my mind with its deliciousness.
I'm seriously not exaggerating when I say, I think this chocolate chip cookie pie is my favorite pie of all time.
I know. I KNOW! That's such a bold statement, but I can't be stopped. It is ridiculously delicious. And yes, it made it into The Best of section.
Even though it looks and seems humble and slightly unassuming, it is a magical, decadent, confection that is begging for a place in your pie-loving heart.
That sweet, crackly, golden crust is the perfect shell for the rich, soft, gooey chocolate chip cookie filling and the absolute perfect vehicle for a scoop of ice cream (and hot fudge sauce, if you dare).
Brian and the kids (is now the time to admit it never made it to the event I was supposed to take it to in the first place?) were dying. D.Y.I.N.G. over the deliciousness of this pie. And I wasn't far behind them. This chocolate chip cookie pie, served warm, is without comparison.
However, since I cannot lie to you, the leftover piece that accidentally got shoved to the back of the fridge behind the mayonnaise and broccoli and possibly covered in a layer of bandaids (I have no idea how it got there in that condition where no one would suspect it was pie…no idea…no idea at all) and presented itself the next afternoon, was ridiculously delicious straight from the depths of the fridge with its fudgy, chilled filling and flaky, buttery crust.
I even saved a taste for my sister who came over later. She ate it at room temperature. And nearly died, too.
See? Do you see what I'm trying to tell you? This pie is perfect. I really do think it's perfect.
If you are a chocolate, decadent, let me have all my calories in pie kind of person, this pie is for you.
I know pie crust can be, like, the killer of all pie dreams.
Don't let it be! The sweet, rich filling needs the buttery, simple flavors of traditional pie crust, and homemade pie crust is doable, I promise.
This no-fail pie crust (with step-by-step pictures) is the only one I make and revolutionized the way I feel about pie crust (I even did a video about it here if you need additional visual assistance).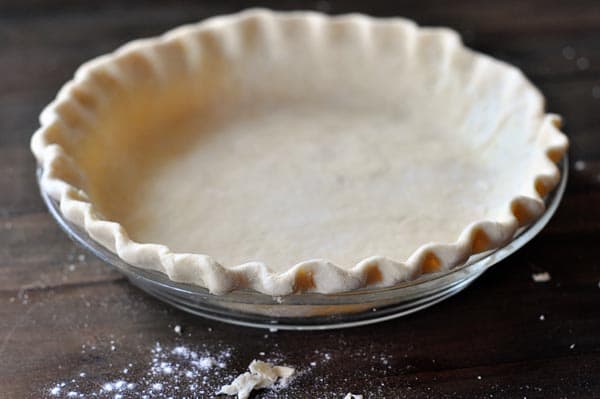 If you are a homemade pie crust first-timer, I will give you all the help you need to make it work, so comment with any and all questions.
But please remember, there is no shame in getting by with storebought crust if you just cannot even with homemade pie crust this year (and honestly, this pie might be amazing with a graham crust…I just haven't tried it).
I've given notes in the recipe below, but I highly recommend using a 9.5-inch deep pie plate instead of a regular 9-inch pie plate, since the bubbly chocolate chip cookie filling may spill over the edge, and that very thought makes my nervous twitch even more pronounced.
If you only have a 9-inch pie plate, try reducing the filling of the chocolate chip cookie pie just slightly or place the filled pie on a foil-lined baking sheet to catch any spillage.
FYI: This is the 9.5-inch pyrex pie plate I've had for at least a decade; I use it all the time (and not just for pie).
Ok, I think we've covered everything you need to know. Promise me you'll make this pie and validate me staying up until midnight to get it posted instead of cleaning my bathrooms? Thanks. I love you for that.
One Year Ago: Autumn Pear Salad with Maple Balsamic Dressing
Two Years Ago: Warm Russian Tea
Three Years Ago: Pumpkin Pie Sheet Cake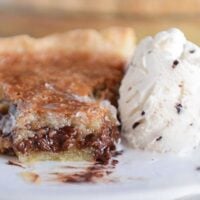 Chocolate Chip Cookie Pie
Ingredients
1

unbaked pie shell,

to fit a 9.5-inch deep dish pie plate (see note)

2

large eggs

½

teaspoon

vanilla extract

⅛

teaspoon

salt

½

cup

(

71

g

)

all-purpose flour

½

cup

(

106

g

)

granulated sugar

½

cup

(

106

g

)

brown sugar

¾

cup

(

170

g

)

salted butter

,

softened

1 to 1 ½

cups

(

170 to 255

g

)

semisweet chocolate chips

1

cup

(

120

g

)

chopped pecans or walnuts

,

optional
Instructions
Preheat the oven to 325 degrees F.

Place the unbaked pie crust in the deep dish pie plate, trim and crimp the edges. Place in the freezer while the filling is made.

For the filling, in a stand mixer fitted with the paddle or whisk attachment or with a handheld electric mixer, beat the eggs until foamy and lightened in color (pale yellow).

Add the vanilla, salt, flour, granulated sugar, and brown sugar. Mix until well-combined.

Add the softened butter and mix until combined.

Stir in the chocolate chips and nuts (if using) with a spoon or spatula. The mixture will be fairly thick.

Spread the batter evenly in the prepared pie crust.

Bake for 45-60 minutes until the top is golden in color evenly across the top and a knife inserted halfway between the edges and the center comes out clean. It's ok for the pie to still be slightly gooey in the center.

Remove from the oven and let the pie cool on a wire rack. Serve warm or at room temperature with scoop of ice cream and a drizzle of hot fudge sauce, if you dare.
Notes
Pie Plate: this pie may have a tendency to bubble over while baking if using a regular 9-inch pie plate. This is the 9.5-inch deep dish pie plate I have. If you only have a 9-inch pie plate, reduce the filling just slightly or place it on a sheet pan to catch any spillage.
Pie Crust:
here is my favorite pie crust recipe, but feel free to use a recipe you love. Store-bought works great as well!
Make Ahead: I forgot to mention this initially, but this pie is a great make-ahead option. Make it, bake it, and refrigerate it (probably up to two days). Warm it on low in the oven (maybe 250 degrees until warmed) or piece by piece in the microwave, or eat it chilled or at room temp.
Serving:
1
Slice
,
Calories:
591
kcal
,
Carbohydrates:
60
g
,
Protein:
6
g
,
Fat:
37
g
,
Saturated Fat:
20
g
,
Cholesterol:
89
mg
,
Sodium:
298
mg
,
Fiber:
3
g
,
Sugar:
38
g
Recommended Products
Follow @MelsKitchenCafe on Instagram and show me the recipes you are making from my blog using the hashtag #melskitchencafe. I love seeing all the goodness you are whipping up in your kitchens!
Recipe Source: adapted slightly from The Girl Who Ate Everything by way of AllRecipes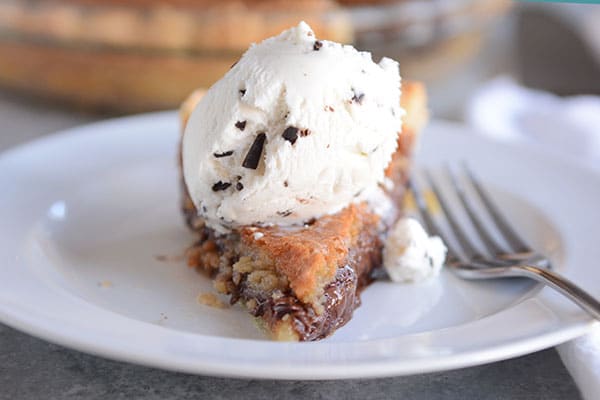 Disclaimer: I am a participant in the Amazon Services LLC Associates Program, an affiliate advertising program designed to provide a means for me to earn fees by linking to Amazon.com and affiliated sites. As an Amazon Associate I earn from qualifying purchases.