Blueberry Coconut Cake with Lemon Sauce
This blueberry coconut cake with lemon sauce is deliciously moist and light and tastes like a perfect muffin in cake form.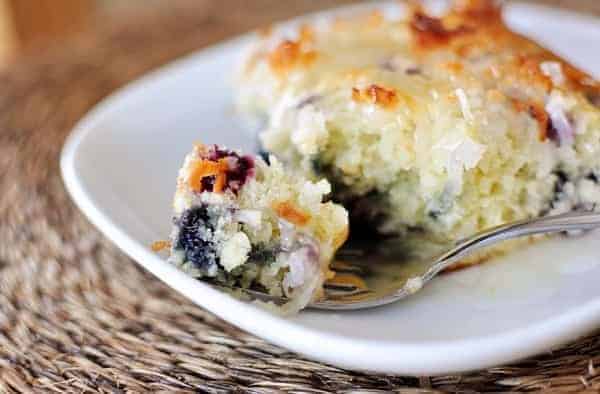 Blueberry. Coconut. Lemon.
A brilliant triple combination, if you ask me. This cake is deliciously moist and light and tastes like a perfect muffin in cake form. And the lemon sauce? Don't get me started, man.
The slightly sweet and tart sauce is wonderful drizzled on top of the coconut-crusted cake…or just enjoyed by the spoonful. Lemon sauce makes me happy.
The dreamy part of this cake is that it can be made with fresh or frozen blueberries (don't thaw those blueberries before using if they are frozen!) which makes it perfect all-year round when fresh blueberries may not be in season.
This refreshing little cake is perfect, in my book, for potlucks or upcoming summer BBQ's.
It kind of fits in the category of some of these other quick, 9X13-sheet cakes that taste out-of-this-world but come together so easily. Why does life feel so complete when such a simple cake tastes so utterly terrific?
I'll ponder that question while you head to the kitchen to make this.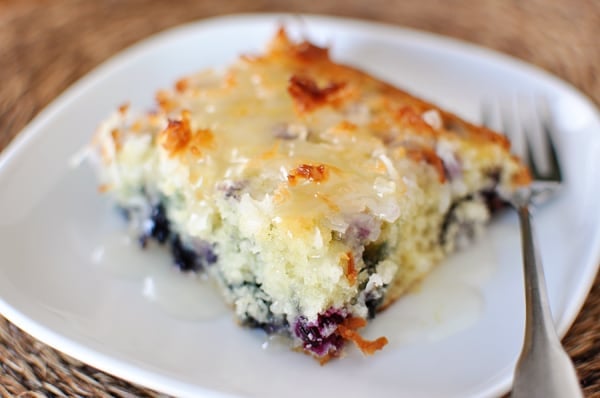 One Year Ago: Marinated Caprese Salad
Two Years Ago: Giant Cookie
Three Years Ago: Chocolate Toffee Sugar Cookies
Blueberry Coconut Cake with Lemon Sauce
Yield: 9X13-inch pan

Prep Time: 20 minutes

Cook Time: 25 minutes

Total Time: 45 minutes
Ingredients
For the cake:
2 cups all-purpose flour
1 cup granulated sugar
1 tablespoon baking powder
1/4 teaspoon salt
2 large eggs
1 cup milk
1/2 cup vegetable or canola oil
1 1/2 cups fresh or frozen blueberries (unthawed)
2 tablespoons flour
1 cup flaked sweetened coconut
For the sauce:
1/2 cup granulated sugar
4 1/2 teaspoons cornstarch
1 teaspoon grated lemon zest
1 cup water
1 tablespoon butter
2 tablespoons fresh lemon juice (from about 1 lemon)
Instructions
Preheat the oven to 350 degrees F. Lightly grease a 9X13-inch aluminum baking dish and set aside.
In a large bowl, combine the flour, sugar, baking powder and salt. In a medium bowl, whisk together the eggs, milk and oil. Stir the wet ingredients into the dry ingredients with a rubber spatula just until moistened. Toss the fresh or frozen blueberries with the 2 tablespoons flour and fold them in very gently to the batter. Don't overmix or the batter will start take on a blue-ish tinge.
Scrape the batter into the prepared baking dish. Sprinkle the top of the cake with the coconut and bake for 18-25 minutes, until a toothpick inserted in the center comes out clean. Cool the cake in the pan on a wire rack.
For the sauce, in a small saucepan, combine the sugar, cornstarch and grated lemon zest. Gradually whisk in the water until blended. Bring the mixture to a boil over medium heat, whisking often, and cook, stirring constantly, for 2 minutes at a boil until the mixture is thickened. Remove the pan from the heat and stir in the butter and lemon juice. The sauce can be used warm or at room temperature.
Cut the cake into squares and drizzle each piece with the lemon sauce. Serve.
Recommended Products
As an Amazon Associate and member of other affiliate programs, I earn from qualifying purchases.

Recipe Source: adapted from an old, old recipe card I found in my pantry (no source)
Disclaimer: I am a participant in the Amazon Services LLC Associates Program, an affiliate advertising program designed to provide a means for me to earn fees by linking to Amazon.com and affiliated sites. As an Amazon Associate I earn from qualifying purchases.