Old-Fashioned Banana Cream Pie
The end result of this homemade old-fashioned banana cream pie is beyond words. The banana lovers you bake it for will be in pie heaven.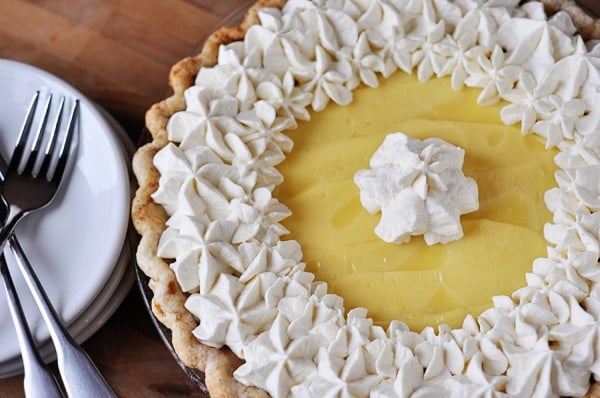 Before waxing poetic about the deliciousness of this pie, I'm going to give you a few "outs" in case you are looking at this recipe saying "there's no way I would make a pie crust from scratch" or "this is way too complicated and I'd rather stick with boxed banana pudding in a crust" or "the frilly piped whipped cream on top is unnecessary and fills me with loathing."
Here are your outs:
1) While this graham cracker coated pie crust is one of the most delectable I've tasted, I also quite enjoy cream pies (like this one) in every day graham cracker crusts so if the thought of pie crust from scratch terrifies you, simplify your life and stick with a graham cracker crust (or follow this little tutorial on pie dough). I won't judge you since I often do the same thing.
2) The homemade custard is integral to the classic, old-fashioned taste of this banana cream pie and although it may seem intimidating to make the pudding from scratch, let me assure you that if you can a) use a whisk and b) use a whisk quickly, you can conquer this. It's really that easy and doesn't take a whole lot of extra time.
3) For all you haters, no need to pipe the whipped cream on top. Just slather it on with a spatula and call it good. It will still taste fan-diddly-tastic.
That's all the caveats for now. But rest assured that this is not a complicated process. However, the end result of homemade banana cream pie is swoon-worthy.
My Aunt Marilyn and I have a long-standing joke/laugh wondering what it is with men and banana cream pie. Has anyone else noticed this? It's like Man's Favorite Pie. I swear. I wonder if there have ever been any scientific studies about male feelings regarding banana cream pie. I want in on the research. And just so I don't sound biased and gender prejudiced, women love this pie, too. And kids. And puppies, for all I know. But men, especially.
I tend to change loyalties to pie crust with the wind. I'm not a pie making expert by any means and so sometimes making pie crust terrifies me and fills me with angst but I've realized the only way I'll conquer this fear is to keep making pies.
Generally I eschew the use of vegetable shortening in just about everything (and usually use this all-butter pie dough) but I followed Cook's Illustrated recommendation this time and made their favorite pie crust for cream pies, which uses butter and shortening and then rolls the pie crust in graham cracker crumbs (brilliant!) to give a wonderful hint of crunchy sweetness to the crust.
Since the shortening didn't cause us to all immediately grow an extra nose and the crust tasted phenomenal, I hereby declare loyalty to this method for all cream pies in the future. Unless I get lazy and just want a straight-up graham cracker crust. But until then…I'm loyal, baby. The crust would have been my favorite part except that I began really tasting the luxurious vanilla custard smothering the tender slices of banana and was lost forever.
This is a good pie, my friends.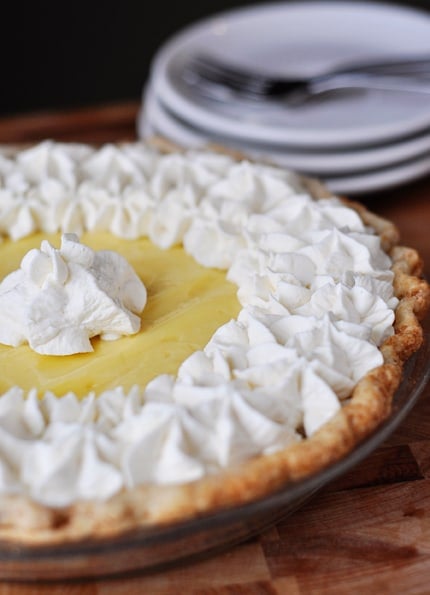 Also, if you are wanting an extra boost in pie making confidence, check out my Pie Boot Camp Series HERE! The series includes:
All About Pie Making Equipment Essentials
How to Make Pie Crust (Foolproof Recipe, Rolling Out, Crimping + Video Tutorial)
All About Blind Baking + How to Do It and Why (Bonus: Chocolate Ganache Cream Pie Recipe)
Double Crust Pies and How to Make an Easy Lattice Crust (Bonus: Printable for Easy Reference to Sum Up Pie Boot Camp)
One Year Ago: Classic Chicken Noodle Soup
Two Years Ago: Tomato Bisque Soup
Three Years Ago: White Velvet Sugar Cookies
Old-Fashioned Banana Cream Pie
Yield: 8 servings

Prep Time: 25 minutes

Cook Time: 40 minutes

Additional Time: 4 hours 25 minutes

Total Time: 5 hours 30 minutes
Ingredients
Graham Cracker Coated Pie Crust:
1 1/4 cups all-purpose flour
1/4 teaspoon table salt
1 tablespoon granulated sugar
3 tablespoons vegetable shortening, chilled
5 tablespoons butter, cut into 1/4-inch pieces and well-chilled
4-6 tablespoons ice water
1/2 cup graham cracker crumbs (about 3-4 whole graham crackers)
Banana Cream Filling:
1/2 cup plus 2 tablespoons granulated sugar
1/4 cup cornstarch
1/8 teaspoon table salt
1/2 cup half-and-half or heavy cream
5 large egg yolks, lightly beaten
2 cups milk, anywhere from 1% to whole milk
2 teaspoons vanilla extract
2 tablespoons butter
2 medium bananas
Whipped Cream Topping:
1 cup heavy cream
2 tablespoons powdered sugar
1/2 teaspoon vanilla extract
Instructions
For the crust, mix the flour, salt, and sugar in a food processor fitted with the steel blade or a medium bowl if doing this step by hand. Scatter chilled vegetable shortening over the flour mixture and process (or cut in by hand with a pastry blender or two knives) until the mixture resembles coarse crumbs. Scatter the chilled butter pieces over the flour mixture and pulse again (or cut in by hand) until the mixture resembles coarse crumbs. If using a food processor, dump the mixture into a medium bowl.
Sprinkle 4 tablespoons of the ice water over the mixture. Stir and press the dough together, using a stiff rubber spatula, until the dough sticks together. If the dough does not come together, stir in remaining ice water, 1 tablespoon at a time, until it does. Spread a piece of plastic wrap on the counter and gently press the dough into a 4-inch flattened disk on top of the plastic wrap (the dough might still be a little shaggy, which is ok - it doesn't need to be as smooth as, say, sugar cookie dough, it just needs to be able to stay mostly together in a lump). Wrap tightly in the plastic wrap and refrigerate for 30 minutes. Let it sit on the counter to soften slightly, about 10 minutes before rolling.
Preheat the oven to 375 degrees. Generously sprinkle your counter top or other work area with some of the graham cracker crumbs. Place the chilled disk of dough in the center of the crumbs. Scatter a few more crumbs over the top of the dough. Using firm, quick strokes with the rolling pin, roll the dough into a 12 or 13-inch circle, taking care to continue sprinkling additional crumbs (feel free to be heavy-handed with the sprinkling since it is better than having the crust stick and tear) underneath and on top, as necessary, to heavily coat the dough.
Loosely roll the dough around the rolling pin and gently unroll it onto a 9-inch pie plate. Instead of pulling and stretching the dough to fit, gently lift the edges with one hand while easing the dough into the bottom of the plate with the other. Trim the crust to about 1/2-inch beyond the edge of the pie plate. Fold the excess overhang under itself so the folded edge is flush with the edge of the plate. Crimp the crust with your fingers to create a scalloped pie edge.
Refrigerate the pie shell until firm, about 30 minutes. Line the chilled pie shell with a double layer of aluminum foil, covering the edges so they don't burn, and fill with dried beans, pie weights or other oven-safe weight. Bake until the pie crust looks dry and is light in color about 20-25 minutes. Remove the weights and foil carefully and continue to bake the crust until it is a golden brown, about 5-10 more minutes. Transfer the pie plate to a wire rack to cool completely while you make the pie filling.
For the filling, whisk the sugar, cornstarch, and salt together in a medium saucepan. Whisk in the half-and-half or heavy cream, followed by the egg yolks and finally the milk until the mixture is smooth. Bring the mixture to a simmer over medium-low to medium heat, whisking constantly, until the mixture thickens and becomes smooth. This could take anywhere from 5-10 minutes from start to finish so be patient if it doesn't thicken quickly. The finished texture and thickness should be that of a not-quite set pudding - very thick but not gelatinous. Remove the pan from the heat and if desired, strain the mixture through a fine-mesh strainer to get rid of any possible lumps or little bits of cooked egg; whisk in the butter and vanilla to the hot pudding (strained or not, it's your choice). Let the mixture cool until just warm, stirring often, about 5 minutes.
Pour half of the warm filling into the pre-baked pie shell. Peel and slice the bananas thinly on top of the filling and top with remaining filling. Lay a sheet of plastic wrap directly over filling surface. Refrigerate pie until it is completely chilled, at least 3 hours or up to 6 hours.
For the topping, whip the cream, sugar and vanilla together until soft peaks form. Spread or pipe the whipped cream over the top of the pie. Refrigerate until ready to serve. The pie is best made and served the same day so the banana slices don't get mushy and browned.
Recommended Products
As an Amazon Associate and member of other affiliate programs, I earn from qualifying purchases.

Recipe Source: crust and filling adapted slightly from the Cook's Illustrated Cookbook
Disclaimer: I am a participant in the Amazon Services LLC Associates Program, an affiliate advertising program designed to provide a means for me to earn fees by linking to Amazon.com and affiliated sites. As an Amazon Associate I earn from qualifying purchases.