Old-Fashioned Banana Cream Pie
The end result of this homemade old-fashioned banana cream pie is beyond words. The banana lovers you bake it for will be in pie heaven.
Before waxing poetic about the deliciousness of this pie, I'm going to give you a few "outs" in case you are looking at this recipe saying "there's no way I would make a pie crust from scratch" or "this is way too complicated and I'd rather stick with boxed banana pudding in a crust" or "the frilly piped whipped cream on top is unnecessary and fills me with loathing."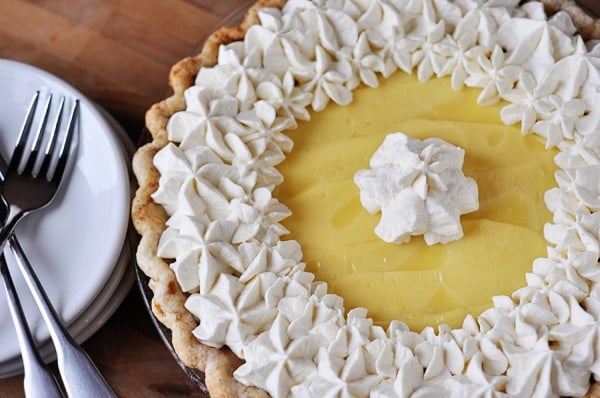 That's all the caveats for now. But rest assured that this is not a complicated process. However, the end result of homemade banana cream pie is swoon-worthy.
My Aunt Marilyn and I have a long-standing joke/laugh wondering what it is with men and banana cream pie. Has anyone else noticed this? It's like Man's Favorite Pie. I swear. I wonder if there have ever been any scientific studies about male feelings regarding banana cream pie. I want in on the research. And just so I don't sound biased and gender prejudiced, women love this pie, too. And kids. And puppies, for all I know. But men, especially.
I tend to change loyalties to pie crust with the wind. I'm not a pie making expert by any means and so sometimes making pie crust terrifies me and fills me with angst but I've realized the only way I'll conquer this fear is to keep making pies.
Generally I eschew the use of vegetable shortening in just about everything (and usually use this all-butter pie dough) but I followed Cook's Illustrated recommendation this time and made their favorite pie crust for cream pies, which uses butter and shortening and then rolls the pie crust in graham cracker crumbs (brilliant!) to give a wonderful hint of crunchy sweetness to the crust.
Since the shortening didn't cause us to all immediately grow an extra nose and the crust tasted phenomenal, I hereby declare loyalty to this method for all cream pies in the future. Unless I get lazy and just want a straight-up graham cracker crust. But until then…I'm loyal, baby. The crust would have been my favorite part except that I began really tasting the luxurious vanilla custard smothering the tender slices of banana and was lost forever.
This is a good pie, my friends.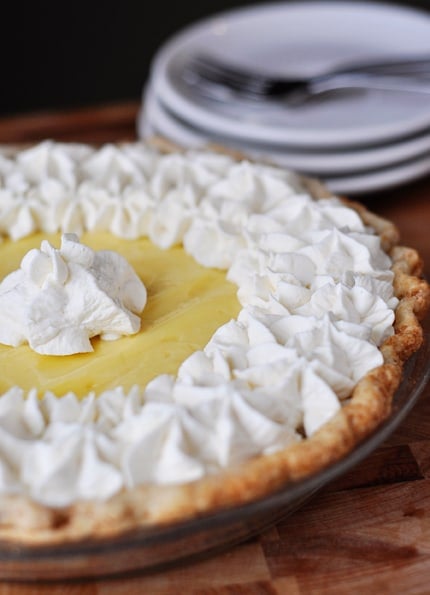 One Year Ago: Classic Chicken Noodle Soup
Two Years Ago: Tomato Bisque Soup
Three Years Ago: White Velvet Sugar Cookies
Recipe Source: crust and filling adapted slightly from the Cook's Illustrated Cookbook
Disclaimer: I am a participant in the Amazon Services LLC Associates Program, an affiliate advertising program designed to provide a means for me to earn fees by linking to Amazon.com and affiliated sites. As an Amazon Associate I earn from qualifying purchases.