Brown Sugar Spiced Pork Loin
This brown sugar spiced pork loin is a cinch to prepare yet makes an elegant, unique dinner that would be great for entertaining.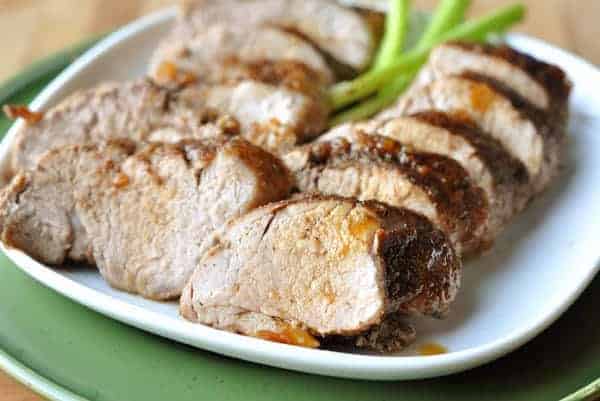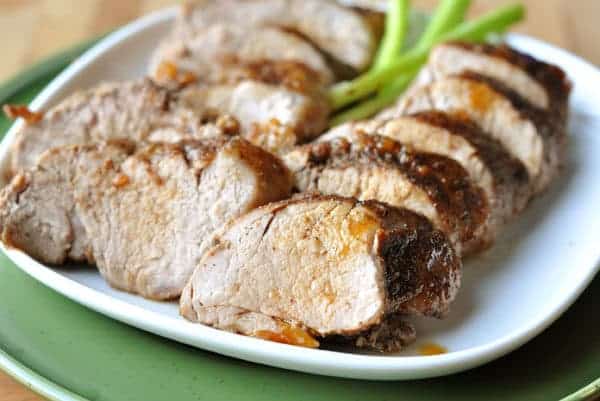 Pork tenderloin may be one of my favorite cuts of meat. It is tender and succulent and if cooked well, it can nearly melt in your mouth.
This recipe that my brother and sister-in-law sent me is far and away the best method I've ever used for preparing pork tenderloin.
Initially I was nervous about trying it because I'm not crazy about using cinnamon in savory main courses. But am I ever glad I gave in and tried it!
This dish is absolutely amazing (and not overpowering with cinnamon at all). The combination of warm spices results in perfection when rubbed on the pork loin.
And the glaze? Oh, the glaze. I could have eaten it by the spoonful.
The cooked pork is mouthwatering in it's velvety, slightly spicy, slightly sweet sauce and this has become my go-to recipe for pork.
Another great thing about this recipe is that it is a cinch to prepare yet makes an elegant, unique dinner that would be great for entertaining…or better yet, simply for a nice weeknight meal.

Served with simple baked brown rice and a steamed vegetable, and you are set for dinner.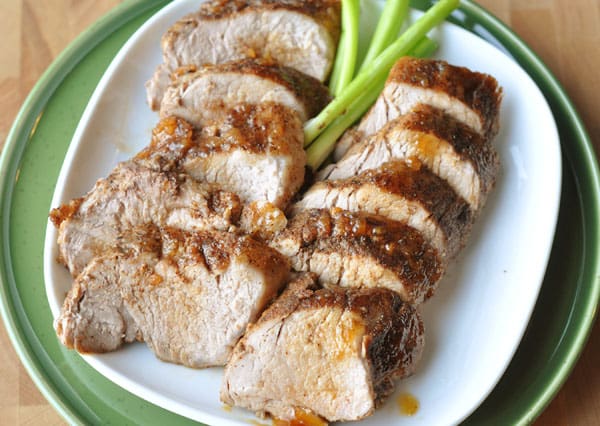 Brown Sugar Spiced Pork Loin
Yield: 8 servings

Prep Time: 10 minutes

Cook Time: 29 minutes

Total Time: 39 minutes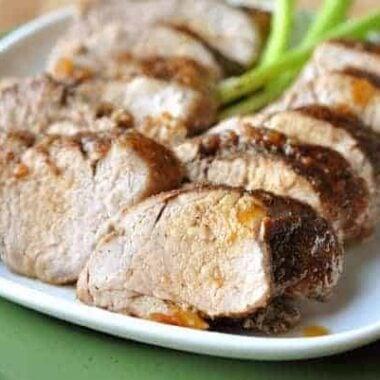 Ingredients
Rub Ingredients:
2 teaspoons salt
1/2 teaspoon black pepper
1 teaspoon ground cumin
1 teaspoon chili powder
1 teaspoon cinnamon
2 pork tenderloins (2 1/2 lb. total), each tenderloin cut into two chunks
2 tablespoons olive oil
Glaze ingredients:
1 cup packed dark brown sugar
2 tablespoons finely chopped garlic (about 6-8 cloves)
1 tablespoon tabasco sauce
Instructions
Preheat oven to 350 degrees. In a small bowl, stir together salt, pepper, cumin, chili powder, and cinnamon, then coat the pork with the spice rub. Heat the oil in an ovenproof 12-inch heavy skillet that is ovenproof (I used my cast iron skillet) over medium high heat until the oil is hot and rippling. Brown the pork, turning, about 4 minutes total. Leave pork in the skillet. If you don't have an ovenproof skillet, brown the pork in a skillet and transfer it to a foil-lined baking pan (like a 9X13-inch). I've done both and either method works great.
Stir together the brown sugar, garlic, and Tabasco and pat on top of each tenderloin. Roast in the middle of the oven until a thermometer inserted diagonally in center of each tenderloin registers 140, about 25 minutes. Let pork stand in the skillet at room temperature for 10 minutes. The temperature will rise to about 155 while standing. Slice on the diagonal and serve, spooning the sauce from the skillet on top of the pork.
Notes
Spices: I've also had good success omitting the 1 teaspoon cumin and 1 teaspoon cinnamon and substituting 2 teaspoons garam masala (a substitution in a hurry when I found I was out of cumin!).
Recommended Products
As an Amazon Associate and member of other affiliate programs, I earn from qualifying purchases.

Recipe Source: Nate and Kylie