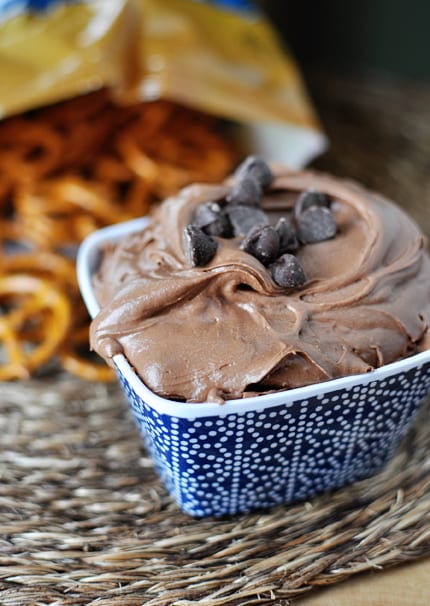 *A quick bit of housekeeping: Many of you came to my rescue on Sunday after I inquired on facebook saying you were having issues visiting my site (getting a funky pop up message that looked malicious and virusy). Thanks to your help and response and coordinating with other bloggers having the same issue, we found out it was due to one of the ads rotating on my ad space over there to the right. It was resolved quickly (Foodbuzz pulled the offending remnant ads) and all is good in the world now. You should be able to visit and browse safely and happily now. Please let me know if you have any other issues. You guys are the best!*
Um, hello. Brownie Batter Dip? Where has this been my entire life?
I'm all about the sweeter side of dips, and this brownie batter dip pretty much fits in with my life's philosophy: chocolate makes anything better. Including dip.
Seconds to whip together, this dip is perfect on anything from pretzels to strawberries, animal crackers to apples. Served with fruit of some kind, it's justifiable for an afternoon snack. Eaten with just a spoon (who me?) and it just might replace my current favorite coping skill (ahem, shoving handfuls of chocolate chips in my face while hiding in the pantry).
I'm off to drown my sleep-deprived-thanks-to-baby soul in brownie batter dip and I'm very much looking forward to it.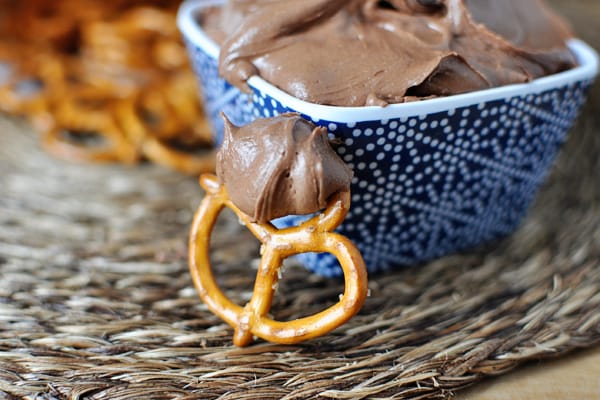 One Year Ago: Chocolate Chip Toffee Bars
Two Years Ago: Blueberry Cheesecake Pie
Three Years Ago: Blueberry Pecan French Toast
Ingredients
8 ounces cream cheese, light or regular, softened to room temperature
1/4 cup (4 tablespoons) butter, softened to room temperature
2 cups powdered sugar, plus more for a stiffer consistency, if needed
5 tablespoons all-purpose flour
5 tablespoons cocoa powder, regular or Dutch-process
2 tablespoons brown sugar
1 teaspoon vanilla
2-4 tablespoons milk
Chocolate chips for garnish (optional)
Pretzels, strawberries, graham crackers, animal crackers, apples for dipping
Directions
In a large bowl with a handheld electric mixer or in the bowl of an electric stand mixer, whip together the cream cheese and butter until light and fluffy, 1-2 minutes. Add 2 cups of the powdered sugar. Mix well. Add the flour, cocoa powder, brown sugar, vanilla and 2 tablespoons milk. Mix until fluffy and smooth. Add additional powdered sugar and/or milk, if needed, until desired consistency is reached. The dip should be soft enough to easily dip a pretzel in (without breaking the pretzel!) but not so soft that it spreads out instead of holding it's shape in a fluffy cloud of brownie batter goodness. Garnish with chocolate chips, if desired.
https://www.melskitchencafe.com/brownie-batter-dip/
Printed from Mel\'s Kitchen Cafe (www.melskitchencafe.com)
Recipe Source: as seen on Pinterest, adapted from Something Swanky