Creamy Spinach Artichoke Pizza
This creamy spinach and artichoke pizza is perfect with the spinach, artichokes, chicken and creamy herb mixture. YUM!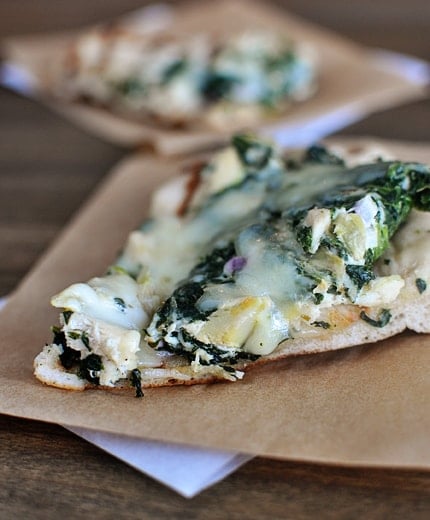 I love me some spinach artichoke dip. So why not on pizza?
This is a winning combination. Winning, I tell you. Summer-deep in hot temperatures, we are grilling our Saturday night pizza these days (see a how-to on grilling pizza here) but this pizza could easily be made the traditional way, also.
It's all about the flavor combination, and the spinach, artichokes, chicken and creamy herb mixture is perfect, especially topped with the delicious Asiago cheese.
I didn't even think about wasting this pizza on my kids. They dug into their classic pepperoni while Brian and I oohed and aahed our way through this one.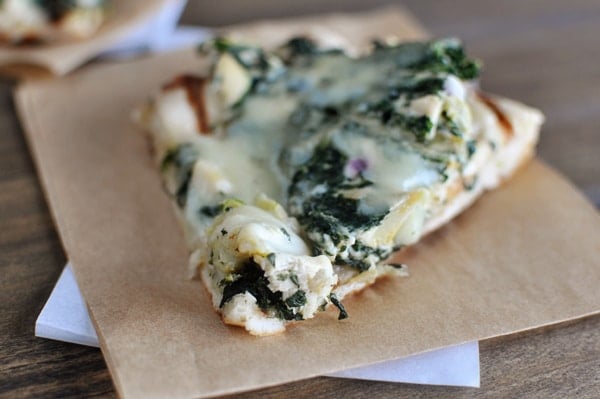 Divine Breadsticks or Cheesy Garlic Bread
Cherry Tomato Caprese Salad or a simple green salad
Fresh, seasonal fruit
One Year Ago: Turkey Burgers With Romaine Slaw
Two Years Ago: Pesto with Bowties and Cherry Tomatoes
Three Years Ago: Beach Street Lemon Chicken Linguine
Creamy Spinach Artichoke Pizza
Ingredients
1 1/2 cups shredded Asiago cheese
1 1/2 cups diced, cooked chicken
1 package Garlic and Fine Herbs Boursin cheese (5.2 ounce)
1/4 cup minced red onion
1/2 cup chopped marinated artichoke hearts
1/2 cup chopped frozen spinach, thawed and squeezed dry
2 cloves garlic, finely minced
Salt and pepper to taste
Pizza dough
Instructions
In a medium bowl, combine the chicken, Boursin, onion, artichokes, spinach, garlic, and salt and pepper to taste. Set aside.
Preheat a grill or baking stone in an oven (see this post for grilling pizza and this post for oven baking). Roll out the pizza dough for one large 12-inch pizza or two smaller pizzas. Using the method for grilling or baking, prepare the dough accordingly (on a baking sheet or parchment paper) and pre-bake one side, if needed for grilling. Spread the filling over the pizza (it's ok if it is chunky in places - this makes more of a rustic-type pizza) and top with the shredded Asiago cheese. Bake or grill until the pizza is browned and the filling is hot. Serve immediately.
Notes
Pizza: this recipe makes 1 large or 2 smaller pizzas.
Grill/Oven: we grilled the pizza but you could also bake it in a hot oven.
Pizza Dough: I used my favorite pizza dough recipe, splitting it in half - half for this pizza and half for a pepperoni for the kids.
For the Frozen Spinach: I thawed a 9 ounce frozen package and ended up adding most of it. If you want it lighter on the spinach, refrigerate the remaining spinach and use it for another meal.
Recommended Products
As an Amazon Associate and member of other affiliate programs, I earn from qualifying purchases.
Recipe Source: adapted from a calzone recipe from Cuisine At Home, August 2012
Disclaimer: I am a participant in the Amazon Services LLC Associates Program, an affiliate advertising program designed to provide a means for me to earn fees by linking to Amazon.com and affiliated sites. As an Amazon Associate I earn from qualifying purchases.