Butternut Squash and Coconut Curry Soup with Shrimp and Rice Noodles
This butternut squash and coconut curry soup with shrimp and rice noodles is beyond easy to throw together and completely delicious.
So you know how much I love the coconut curry combo, right? I was actually a bit in denial that I might have a real coconut curry addiction until I compiled this list of my favorite coconut curry recipes.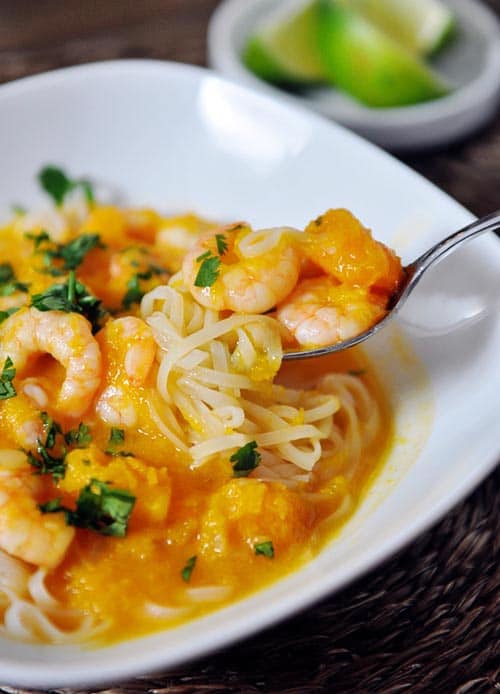 Amazingly, I discovered with the recipe I'm sharing today that coconut curry is even tastier with butternut squash.
It's hard to believe, I know, but this butternut squash coconut curry soup is crazy good and catapults right to the top of the best coconut curry recipes I've made.
The sweet butternut squash paired with the red curry paste and creamy coconut milk has only solidified the fact that coconut curry and I belong together forever.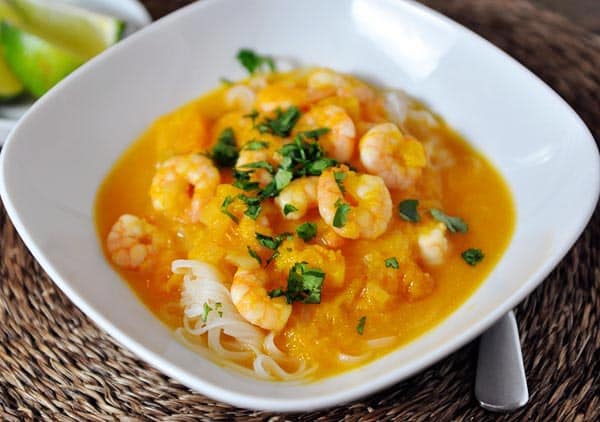 The soup is incredibly simple to put together – basically everything simmers together in a pot and as the squash slightly breaks down, the soup thickens to a silky, creamy consistency that makes it irresistible, especially with the light sweet/spicy flavor combo going on.
Luci, the lovely reader who sent me the recipe (thanks, Luci!), suggested serving it over rice noodles and that is probably the best decision I've made all year. You could certainly serve it without the noodles but they give a fabulous lift in texture and heartiness.
As a nod to my gluten-free friends, this soup is naturally gluten-free (be sure to use gluten-free broth) and righteously delicious no matter what food philosophy you follow.
One Year Ago: Mosaic Heart Jello Jigglers
Two Years Ago: The Best Broccoli Beef
Three Years Ago: Homemade Chocolate Dessert Cups
Recipe Source: adapted from Whole Foods Market (sent to me by a reader, Luci)
Disclaimer: I am a participant in the Amazon Services LLC Associates Program, an affiliate advertising program designed to provide a means for me to earn fees by linking to Amazon.com and affiliated sites. As an Amazon Associate I earn from qualifying purchases.