Butternut Squash and Coconut Curry Soup with Shrimp and Rice Noodles
This butternut squash and coconut curry soup with shrimp and rice noodles is beyond easy to throw together and completely delicious.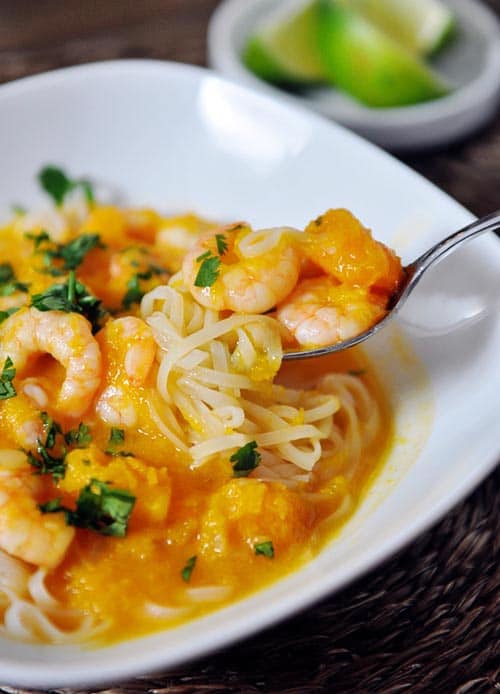 So you know how much I love the coconut curry combo, right? I was actually a bit in denial that I might have a real coconut curry addiction until I compiled this list of my favorite coconut curry recipes.
Have you made any of these? Heaven. Pure heaven, each one.
Coconut Chicken Curry
Basil Chicken in Coconut Curry Sauce
Red Coconut Curry Noodles
Shrimp Stir-Fry with Snow Peas and Coconut Curry Sauce
Grilled Lime Coconut Curry Chicken
Coconut Shrimp Curry
Chicken Coconut Curry Soup
Amazingly, I discovered with the recipe I'm sharing today that coconut curry is even tastier with butternut squash.
It's hard to believe, I know, but this butternut squash coconut curry soup is crazy good and catapults right to the top of the best coconut curry recipes I've made.
The sweet butternut squash paired with the red curry paste and creamy coconut milk has only solidified the fact that coconut curry and I belong together forever.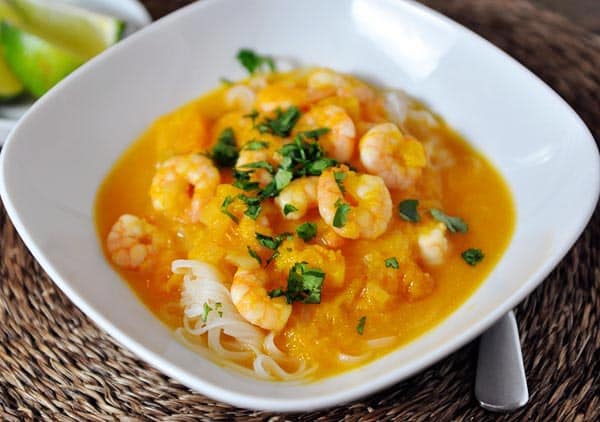 The soup is incredibly simple to put together – basically everything simmers together in a pot and as the squash slightly breaks down, the soup thickens to a silky, creamy consistency that makes it irresistible, especially with the light sweet/spicy flavor combo going on.
Luci, the lovely reader who sent me the recipe (thanks, Luci!), suggested serving it over rice noodles and that is probably the best decision I've made all year. You could certainly serve it without the noodles but they give a fabulous lift in texture and heartiness.
As a nod to my gluten-free friends, this soup is naturally gluten-free (be sure to use gluten-free broth) and righteously delicious no matter what food philosophy you follow.

Hot, cooked rice noodles
Sliced, Whole Wheat Bread
Creamy 5-Cup Fruit Salad
One Year Ago: Mosaic Heart Jello Jigglers
Two Years Ago: The Best Broccoli Beef
Three Years Ago: Homemade Chocolate Dessert Cups
Butternut Squash and Coconut Curry Soup with Shrimp and Rice Noodles
Yield: 4-6 servings

Prep Time: 20 minutes

Cook Time: 28 minutes

Total Time: 48 minutes
Ingredients
2 teaspoons canola or coconut oil
1 small yellow onion, chopped
1 clove garlic, finely chopped
2 teaspoons finely chopped fresh ginger
2 teaspoons red curry paste, more to taste, if needed
2 teaspoons light brown sugar
1/2 teaspoon salt
1 medium butternut squash, peeled and cut into 1-inch pieces, about 4-5 cups
4 cups low-sodium chicken broth
1 (14-ounce) can coconut milk
1 pound large shrimp, peeled and deveined, if needed
1/4 cup chopped fresh cilantro
6-8 ounces brown or white rice noodles, cooked according to package directions
Lime wedges, for serving
Instructions
In a 4- to 5-quart pot, heat the oil over medium heat until hot and rippling. Add the onion, garlic and ginger. Cook, stirring frequently, until fragrant and the onion is translucent, about 5 minutes. Take care not to let the garlic and ginger burn.
Stir in the curry paste, sugar and salt and cook for 1-2 minutes longer.
Stir in the squash, broth and coconut milk and bring to a boil. Reduce the heat and simmer, partially covered, until the squash is tender, 20 to 25 minutes. Add additional broth during the cooking time if you want the soup more soupy and less thick.
Stir in the shrimp and simmer just until cooked through, about 2 minutes. Stir in the cilantro and add additional salt and/or pepper to taste, if needed. Serve immediately over cooked rice noodles with lime wedges for garnish.
Notes
Chicken: Luci, the kind reader who forwarded me this recipe, says she uses chicken. If doing so, you'll want to allow more time for the chicken to cook in the simmering liquid since it takes longer than shrimp so adjust the recipe accordingly (I haven't tried it personally yet).

Butternut Squash: I often have cubed butternut squash in the freezer and it works great in this recipe; I throw it in frozen and add a few minutes to the simmering time.

Rice Noodles: you can prepare the rice noodles in a separate pot toward the end of the 20-25 minute simmering time. I prefer boiling rice noodles as opposed to soaking them (many brands give both directions) - they only take a few minutes to cook. I rinse them briefly in cold water after draining so they aren't super sticky.
Recommended Products
As an Amazon Associate and member of other affiliate programs, I earn from qualifying purchases.

Recipe Source: adapted from Whole Foods Market (sent to me by a reader, Luci)
Disclaimer: I am a participant in the Amazon Services LLC Associates Program, an affiliate advertising program designed to provide a means for me to earn fees by linking to Amazon.com and affiliated sites. As an Amazon Associate I earn from qualifying purchases.