Coconut and curry are flavors meant to be together. So why not marry them into a soup? Hm?
After seeing several variations of coconut chicken curry soup around, I decided to create my own based on the specific flavors we like in our family. The verdict?
Well, this just may be my favorite coconut and curry combination to date!
A healthy and hearty meal, thanks to layering a ladle of soup over hot, steamed rice, this soup has wonderful flavor.
The light coconut milk and touch of brown sugar lend a slight sweetness that offsets the subtle salty fish sauce and slight hint of cayenne.
Lime juice and fresh cilantro brighten up the entire concoction.
Mild enough (heat-wise) for my kids to devour and flavorful enough for my husband and I to ooh and aah over, this soup is unique and delicious. Perfect coconut curry fix for the winter weather.
Oh, wait…and did I mention this comes together in a flash? Dreamy.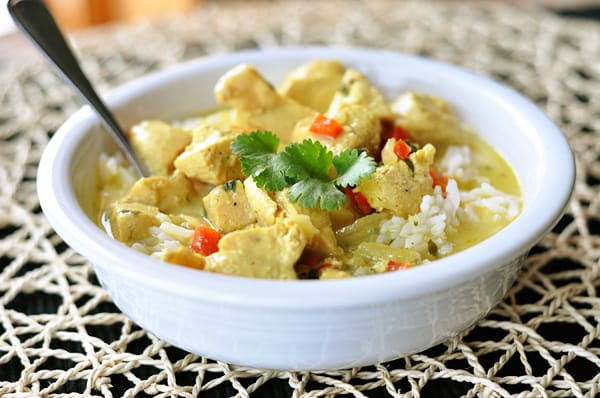 Sliced, Whole Wheat Bread
Creamy 5-Cup Fruit Salad
Green salad
One Year Ago: BLT Pasta
Two Years Ago: Naan
Three Years Ago: My Mom's Fabulous Lasagna
Yield: 4-6 servings

Prep Time: 10 minutes

Cook Time: 20 minutes

Total Time: 30 minutes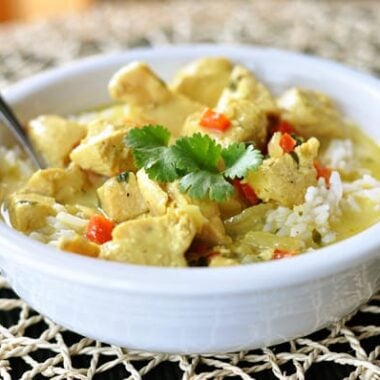 Ingredients
2 tablespoons olive oil
1 1/2 pounds chicken breasts, (about 3), cut into 1-inch pieces
Salt and pepper for seasoning
1/2 cup chopped yellow onion (about 1/2 medium onion)
1 red bell pepper, finely chopped
2 cups low-sodium chicken broth
1 can (14-ounces) unsweetened light coconut milk
1 tablespoon fish sauce
1/8 teaspoon cayenne pepper or more to taste
1 tablespoon brown sugar
½ tablespoon curry powder
1 tablespoon fresh lime juice (about 1 medium lime)
¼ cup fresh cilantro
3-4 cups hot, cooked rice for serving
Instructions
In a large pot, heat the oil over medium heat until it is hot and shimmering. Pat the chicken pieces dry with a paper towel and season them lightly with salt and pepper. Add them to the hot oil. Let the chicken cook for 1-2 minutes, stirring occasionally. Add the onions and red pepper. Cook for 2-3 minutes, until the onions and peppers are slightly softened. The chicken and vegetables don't have to be fully cooked as they will simmer and cook further in the next step.
Add the chicken broth, coconut milk, fish sauce, cayenne pepper, brown sugar and curry powder. Stir to combine. Bring the soup to a simmer and cook, gently, for 10-15 minutes. Stir in the lime juice and cilantro. Add salt and pepper to taste.
Serve a ladle or two of the soup over a scoop of rice and garnish with more cilantro, if desired.
Notes
The slight dash of cayenne pepper doesn't make the soup spicy, instead, it just enhances the overall flavor. You can add more to taste, if you like things a bit spicier. Also, if you are worried about the fish sauce, don't be! It is widely available in most grocery stores in the Asian foods section. It is relatively inexpensive and lasts a long time in the refrigerator. It adds an element of flavor you can't get otherwise, but in a pinch, you could leave it out and sub in probably 1/2 teaspoon salt (more or less to taste). If you don't know what you would use the rest of the fish sauce in, here are a few of my other favorite dishes that call for it: Shrimp Stir Fry with Coconut Curry Sauce, Chiang Mai Noodles, Red Coconut Curry Noodles, Vietnamese Spring Rolls, Authentic Egg Rolls.)

Make Ahead Instructions: Follow the recipe through the step through the first paragraph. Transfer the chicken/onions/peppers to a slow cooker. Add the remaining ingredients (except the lime juice, cilantro and rice). Cook on low for 6-8 hours. Stir in lime juice and cilantro. Serve over rice.

Recipe Source: Mel's Kitchen Cafe