Soft Chocolate Sugar Cookies
These soft chocolate sugar cookies are rich and really unbelievable. They are the perfect marriage of sugar cookie and chocolate!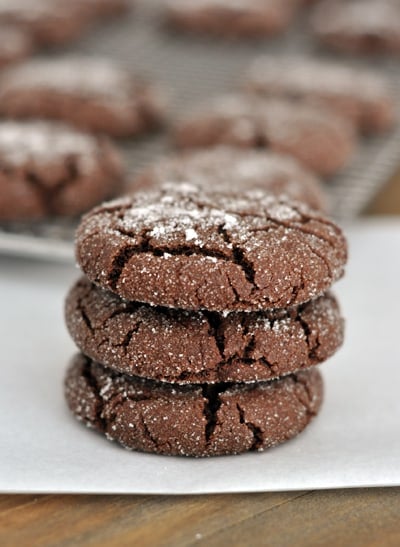 This cookie recipe showed up in my life and I had a sudden realization that all this time (we're talking 35 years here, people), I thought my life my life was fulfilled and complete and happy but really, without even knowing it, I was missing something essential.
There was a hole in my soul, if you will.
And it could only be filled by Chocolate Sugar Cookies.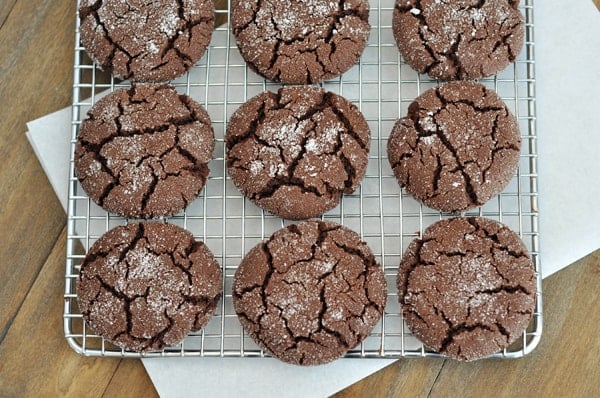 I have a deep and abiding love for sugar cookies. They are my favorite cookie of all-time. But when you adapt the beloved sugar cookie to be 100% full of chocolate splendor and eliminate the need to refrigerate, roll and cut; well, I'm undone.
I had to give these away approximately 3 seconds after baking them.
Don't worry, I ate more than would be deemed appropriate before unloading them on friends but keeping the other half of the cookies within the four walls of my small home would not be a healthy choice at this point in my life.
However, even after pawning them off on unsuspecting friends, I can truly say that now more than ever, my life really is complete.
Thank goodness it only took something as simple as cookies (and not, say, a new Ferrari or set of All-Clad pots and pans).
These cookies are rich and really unbelievable.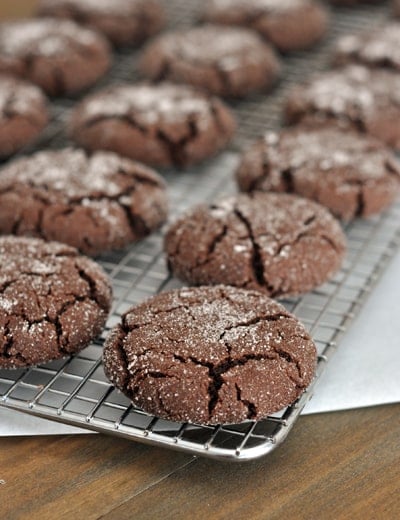 One Year Ago: Crepes, Crepes, Crepes
Two Years Ago: Homemade Maple Syrup
Three Years Ago: Homemade Taco Tortilla Bowls
Soft Chocolate Sugar Cookies
Yield: 20-24 cookies

Prep Time: 15 minutes

Cook Time: 14 minutes

Total Time: 29 minutes
Ingredients
1/3 cup (2 1/3 ounces) granulated sugar
1 1/2 cups plus 2 tablespoons (8 1/8 ounces) all-purpose flour
3/4 cup (2 1/4 ounces) unsweetened cocoa powder
1/2 teaspoon baking soda
1/4 teaspoon baking powder
14 tablespoons butter
1 3/4 cups packed (12 1/4 ounces) dark brown sugar
1 tablespoon vanilla extract
1/2 teaspoon salt
1 large egg plus 1 egg yolk
Instructions
Preheat the oven to 350 degrees F.
Pour the granulated sugar on a plate or shallow dish like a pie plate and set aside. In a medium bowl, stir together the flour, cocoa, baking soda and baking powder.
In a large bowl, melt 10 tablespoons of the butter in the microwave. Take care not to overheat; microwave the butter until just melted. Stir in the remaining 4 tablespoons butter until melted. Allow the butter to cool for 5-10 minutes (it should be about 90-95 degrees on an instant read thermometer).
Whisk the brown sugar, vanilla and salt into the melted butter until the mixture is completely smooth. Whisk in the egg and egg yolk until smooth. Stir in the flour mixture until just combined.
Roll the dough into balls, about 2 tablespoons for each cookie. Roll the balls in the granulated sugar and place on lightly greased or lined (with parchment or silpat liners) baking sheets. Using the bottom of a glass, flatten the cookies to about 1/4-inch thick, more or less. Sprinkle the cookies with a bit more granulated sugar (just a pinch per cookie).
Bake the cookies, one sheet at a time, until they have puffed and have cracks running through the top, about 12-14 minutes. Don't overbake or the cookies will be dry. Transfer the cookies to a baking rack to cool completely.
Notes
Butter: it is really important that the butter isn't too hot when you start adding other ingredients to it. If you don't have a thermometer to test temperature, let the butter sit for the full 10 minutes. It should be at warm room temperature but not hot at all.

Brown Sugar: also, if you are curious about subbing light brown sugar, do so at your own risk. I have only ever used dark brown sugar - it helps the chewy factor be even more, well, chewy.
Recommended Products
As an Amazon Associate and member of other affiliate programs, I earn from qualifying purchases.

Recipe Source: barely adapted from Cook's Country

Disclaimer: I am a participant in the Amazon Services LLC Associates Program, an affiliate advertising program designed to provide a means for me to earn fees by linking to Amazon.com and affiliated sites. As an Amazon Associate I earn from qualifying purchases.