Thai-Style Chicken and Quinoa Salad
This Thai-style chicken and quinoa salad is a quinoa game changer. It's deliciously phenomenal and really, really easy to throw together.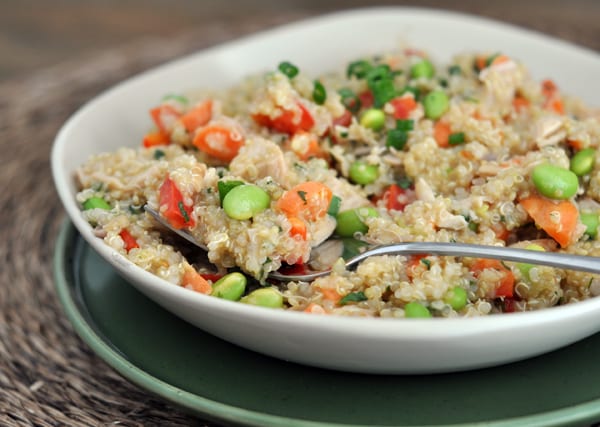 My family is halfway on the quinoa train.
My kids far prefer the quinoa patties or little ham and cheese bites to quinoa salads. Brian on the other hand would much rather have a quinoa salad but the only one he really, really loves with his soul is this mango version. Which is fine, but I like to branch out and get away from the quinoa-and-black-bean-theme once in a while.
All that quinoa history is to let you know that this Thai-style quinoa salad is a quinoa game changer.
It is hands down the best quinoa salad I've ever had and Brian literally stopped mid-shovel to tell me how incredibly awesome it is.
Then he grabbed the leftovers the next day (he has never taken quinoa leftovers in the history of ever until now) and above all that, he's asking when I'll make it again.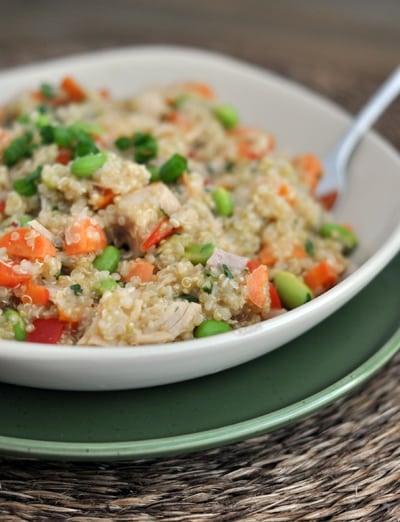 It's deliciously phenomenal and really, really easy to throw together.
The sauce is so good as to be drinkable – sweet with hints of spice and lime but it gets even better when poured over the quinoa, crunchy veggies and tender chicken. Oh, and the edamame? Don't even think about leaving it out.
Besides the sauce, it was my favorite part (I was stabbing the little green nuggets off everyone's plates).
I'd probably have a heart attack if I found fresh edamame where I live so I bought frozen, thawed the little babies and then just popped them out of their shells and into the salad.
My just-took-all-five-kids-swimming-by-myself hungry tummy could definitely use a bowlful of this goodness right now.

Soft Wrap Bread or Flatbread
A simple green salad or something like this Asian Chicken Salad
Fresh Fruit
One Year Ago: Peanut Blossom Cookies
Two Years Ago: Buttery Cornmeal Crescent Rolls
Three Years Ago: Schoolyard Cupcakes
Thai-Style Chicken and Quinoa Salad
Yield: 6 servings

Prep Time: 25 minutes

Cook Time: 10 minutes

Total Time: 35 minutes
Ingredients
Salad:
1 1/2 cups uncooked quinoa, rinsed well
2 cups cooked chicken
1/2 cup chopped carrots
1/2 cup shelled edamame
1/2 cup chopped red pepper
4 green onions, chopped
1/2 cup chopped roasted peanuts
1/2 cup freshly chopped cilantro
Salt and pepper to taste
Sauce:
4 tablespoons sweet chili sauce
2 tablespoons rice vinegar
2 tablespoons canned coconut milk
1 tablespoon packed light brown sugar
2 teaspoons creamy peanut butter
2 garlic cloves, finely minced
1 lime juiced, about 2 tablespoons
Pinch of ground ginger
Instructions
Prepare quinoa according to package directions. I usually cook quinoa in low-sodium chicken broth: 1 cup quinoa to 1 1/2 cups liquid.
While quinoa is cooking, combine all of the sauce ingredients together in a liquid measure and whisk to combine (or pulse in a blender). When the quinoa finishes cooking, scoop it into a large bowl. Stir in the sauce and mix well. Stir in the chicken, carrots, edamame, red pepper, green onions, peanuts and cilantro. Add salt and pepper to taste. Serve warm, room temperature or chilled.
Notes
Chicken: be aware that this recipe makes use of already cooked chicken so plan ahead (it's a great way to use up leftover cooked chicken and is delicious with grilled chicken or even leftover turkey).

Edamame: I can't find fresh edamame in my neck of the woods, so I bought frozen, let it thaw and popped the edamame out of the shells and right into the salad.

Amounts: also, for the most part, the amounts for the salad ingredients aren't rocket science and can just be eyeballed based on your taste preference.
Recommended Products
As an Amazon Associate and member of other affiliate programs, I earn from qualifying purchases.

Recipe Source: adapted from How Sweet Eats
Disclaimer: I am a participant in the Amazon Services LLC Associates Program, an affiliate advertising program designed to provide a means for me to earn fees by linking to Amazon.com and affiliated sites. As an Amazon Associate I earn from qualifying purchases.