Chicken Lo Mein the EASY Way
This chicken lo mein recipe is a delicious 30-minute meal perfect for a hectic weeknight. The flavors are simple, delicious and tasty!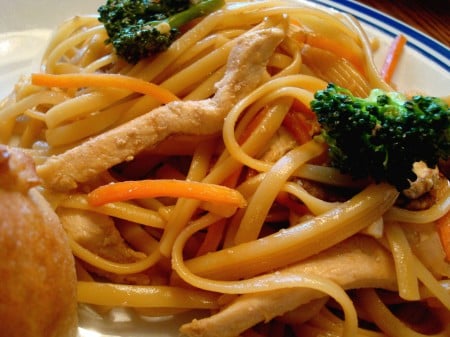 I have a cookbook, Desperation Dinners, that I pull out every once in a while when I need a meal in a hurry.
Although some of the recipe titles are eye-rolling, to say the least, the meals come together FAST and are really, really good.
Every time I use the book, I'm reminded I need to use it more! This meal, Lazy Lo Mein, is wonderful.
I love Asian noodle dishes, and this did not disappoint. The ingredients are fresh and delicious and I am definitely adding this to my meal planning rotation.
Chicken Lo Mein the EASY Way
Ingredients
STIR-FRY SAUCE
3 tablespoons soy sauce
2 tablespoons oyster sauce
1 tablespoon minced garlic
1 tablespoon rice wine vinegar or distilled white vinegar (I used white since I had it on-hand)
1 tablespoon ketchup
2 teaspoons chopped ginger (I omitted since my husband doesn't like fresh ginger)
1 teaspoon dark sesame oil
FOR THE LO MEIN:
12 ounces Chinese Lo Mein noodles or linguine pasta (I used linguine cooked until barely al dente)
2 skinless, boneless chicken breasts
1 tablespoon vegetable oil
1 large onion
1 1/2 cups shredded carrots
1 cup sliced fresh mushrooms
1 cup broccoli florets, steamed until just barely tender (they will cook longer in the stir-fry)
Unsalted dry-roasted peanut halves (optional)
Instructions
For the sauce, whisk all of the ingredients together in a 1-quart bowl.
For the lo mein, cook the noodles according to package directions. Meanwhile, continue with the recipe, and when the noodles are done, drain and set aside.
Make the stir-fry sauce and set aside. Heat the oil in an extra-deep 12-inch nonstick skillet over medium heat. Peel and coarsely chop the onion, adding it to the skillet as you chop. Stir from time to time. While the onion cooks, slice the chicken into strips about 1/4-inch wide. Add the chicken to the skillet. Raise the heat to medium-high and stir occasionally.
While the chicken cooks, add the carrots, broccoli and mushrooms and stir to mix. Stir-fry the mixture until the chicken is no longer pink. Immediately add the stir-fry sauce and noodles. Raise the heat to high and cook until the noodles and chicken are heated through and coated with sauce, 2-3 minutes, stirring constantly. Serve, garnished with peanut halves (if using - I did not).
Recipe Source: adapted from Desperation Dinners
Disclaimer: I am a participant in the Amazon Services LLC Associates Program, an affiliate advertising program designed to provide a means for me to earn fees by linking to Amazon.com and affiliated sites. As an Amazon Associate I earn from qualifying purchases.