Simple, super fast, slurpy Asian noodle dishes like this kill me. I could eat them every night of the week (which is why it's no surprise I have a lot of recipes for different versions of Asian noodles). All quick and easy, all delicious. This one is no exception. In fact, if you are really on your A-game, you could knock this one out in 20 minutes. I know! Get out.
This meal was a total lifesaver for me last week. I threw it together in between scout drop-offs and wrestling practice pick-ups and I'm happy to report that even with the making of dinner thrown in there, the max any one child had to wait for me to show up to get them was about seven minutes. A new record. Plus, they had this heap of tender noodles waiting to greet them at home so all was well.
If you aren't a fan of shrimp (hmmm, not sure how I feel about that since it's one of my favorite things in the history of ever, but we'll let it slide today), you can totally sub in chicken or leave the whole thing meatless, although I'd probably amp up the veggies or add mushrooms if it were me facing a meatless meal.
In the interest of keeping it real, I didn't have time to prepare anything other than this and only this for dinner. I contemplated slicing up an apple, but in the end, I just didn't have time so we had piles of saucy noodles and veggies and shrimp and fresh cilantro on our plates and called it good. And it was good. Very, very good.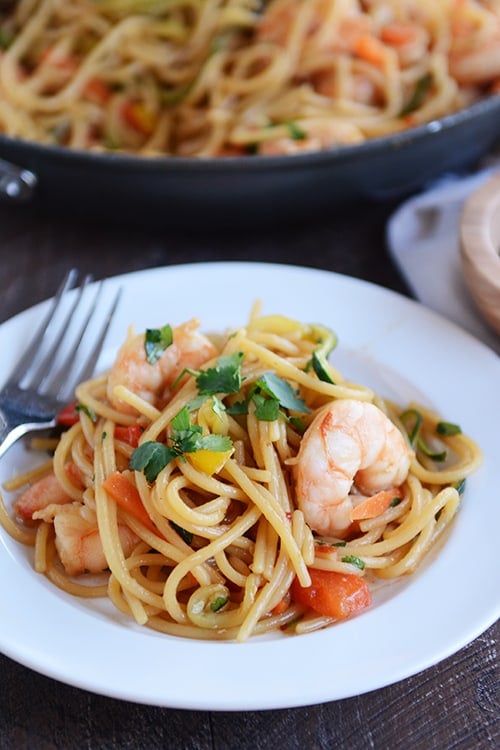 30-Minute Asian Garlic Noodles
Ingredients
12 ounces spaghetti
1 teaspoon olive oil or avocado oil
1 1/2 pounds medium shrimp or boneless, skinless chicken breasts, cubed
1 red bell pepper, diced
1 yellow bell pepper, diced
3 zucchinis spiralized or small diced
3 large carrots, cut into thin matchsticks or chopped
Chopped fresh cilantro
1/2 cup low-sodium soy sauce
1 tablespoon brown sugar
1 teaspoon chili-garlic sauce, more to taste, if needed
1/4 cup oyster sauce
1 tablespoons freshly grated ginger
2 teaspoons sesame oil
2 tablespoons rice vinegar
1/4 cup low-sodium chicken broth or water
5 cloves garlic, minced or pressed through a garlic press
2 teaspoons cornstarch
Directions
Cook the noodles in a large pot of boiling, lightly salted water according to package directions just to al dente. Drain and rinse quickly with cool water. Set aside.
While the pasta is cooking, whisk together all the sauce ingredients except for the cornstarch. Measure out 1/4 cup and set aside. Whisk in the cornstarch to the larger batch of sauce.
Heat the 1 teaspoon oil in a large, 12-inch nonstick skillet over medium heat. Season the shrimp or chicken lightly with salt and pepper and add to the skillet. Add the 1/4 cup reserved sauce. Saute until cooked through (just a few minutes for shrimp, 5-6 minutes for chicken). Remove the meat to a plate and return the skillet to the heat.
Add another teaspoon of oil, if needed, and add the bell peppers, zucchini, and carrots. Cook for 2-3 minutes until the vegetables are crisp-tender, longer for softer vegetables.
Add the cooked spaghetti, shrimp or chicken, and reserved sauce mixture. Toss to combine and cook for 2-3 minutes until heated through.
Sprinkle with chopped cilantro and serve immediately.
https://www.melskitchencafe.com/30-minute-asian-garlic-noodles-with-shrimp-or-chicken/
Printed from Mel\'s Kitchen Cafe (www.melskitchencafe.com)
Recipe Source: adapted quite a bit from this recipe at Damn Delicious (increased the proportions to feed our family, altered the sauce to suit our tastes)