Chicken with Mushrooms and Zucchini
This chicken with mushrooms and zucchini recipe is healthy, fast and delicious! It's like summery, fresh stir-fry at it's best.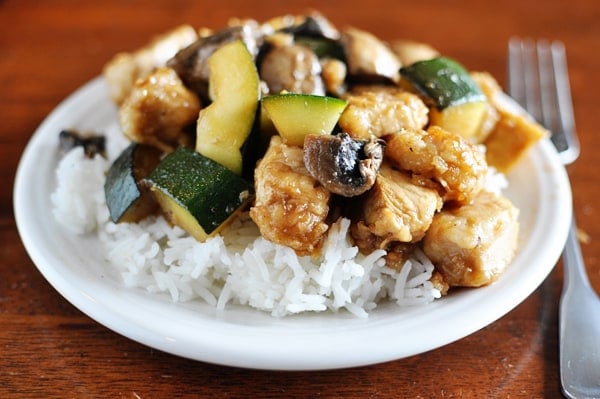 This chicken with mushrooms and zucchini is simple, quick and fantastically delicious. It's like summery, fresh stir-fry at it's best.
Make it! You'll love zucchini in a whole new way, I promise.
Chicken with Mushrooms and Zucchini
Ingredients
1 pound boneless skinless chicken breasts
cornstarch (for dusting)
1 tablespoon vegetable or canola oil
1 tablespoon sesame oil
8 ounces white button mushrooms, stems removed and quartered
4 small zucchini, cut into 1-inch chunks
2 tablespoons soy sauce
1 tablespoon balsamic vinegar
2 garlic cloves (minced)
1/2 teaspoon ground ginger or 1 teaspoon fresh ginger, finely minced
Instructions
Cut the chicken into bite-sized pieces. Toss them into a ziploc bag along with 2-3 tablespoons cornstarch. Seal the bag and toss until the chicken is lightly coated. Heat the oil and sesame oil in a large, non-stick skillet until rippling and hot. Add the chicken and cook until the chicken is browned on all sides and cooked through, 5-7 minutes. Remove the chicken to a plate.
Add the zucchini and mushrooms to the hot skillet and cook for 2-3 minutes, stirring often. Add soy sauce, vinegar, garlic and ginger. Stir to coat the vegetables and continue to cook until the mushrooms and zucchini are tender, 2-3 minutes. Add the chicken to the skillet and stir to combine and heat through. Serve over hot, cooked rice.
Notes
Zucchini: if you have larger zucchini, cut them in half lengthwise and scoop out the seedy middle before slicing into chunks.
Hoisin Sauce: also, sometimes I add a touch of hoisin sauce to round out the flavors.
Cornstarch: finally, if you want to skip the cornstarch step, this is equally delicious stir-frying the chicken without the cornstarch coating.
Recommended Products
As an Amazon Associate and member of other affiliate programs, I earn from qualifying purchases.
Recipe Source: from Blog Chef