Chocolate Chip Hazelnut Cookies
If you are looking for a delicious and unique twist on the classic chocolate chip cookie, these chocolate chip hazelnut cookies are the cookies for you.
If you are looking for a delicious and unique twist on the classic chocolate chip cookie, this is the one for you. A wonderful buttery and oaty chocolate chip cookie batter is enhanced simply with toffee bits and toasted hazelnuts.
One bite of these cookies and you'll be sitting back and pondering on the meaning of life. Seriously. They are that good and manage to evoke deep, thoughtful responses from willing eaters.
The hazelnuts add a fabulous complexity to the cookies without overwhelming the simple flavor of a classic chocolate chip cookie.
Finding the little filberts may take some shopping around but I easily found them in the every day nuts section of my grocery store and also spied them near the bulk bins of nuts and other organic goods (like quinoa, barley, etc.)
Make these. You'll love me for it, I promise.
P.S. I'm honored to be guest posting over at Eighteen25 today. Been there? Oh my, if not, you'll get sucked right in to all the wonderful ideas these sisters throw out there. I've snagged all of their summer projects for my kids and have printed off no less than four of their free Subway art prints. Love them – I've been a longtime fan and am so happy they have me as their guest today!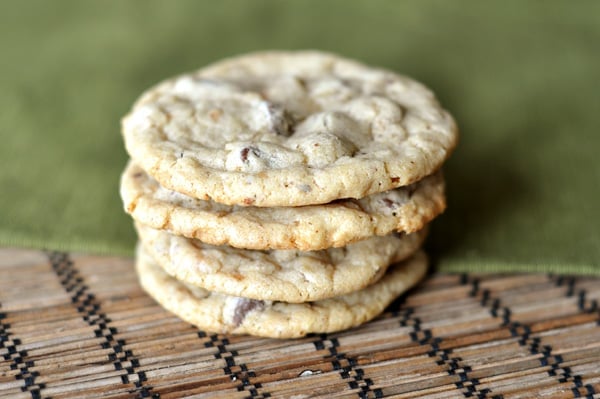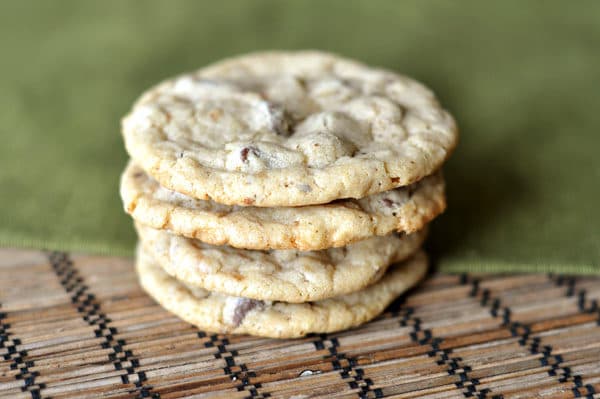 Chocolate Chip Hazelnut Cookies
Yield: 2-3 dozen

Prep Time: 15 minutes

Cook Time: 14 minutes

Total Time: 29 minutes
Ingredients
1/2 cup old-fashioned oats
2 1/4 cups all-purpose flour
1 teaspoon baking powder
1 teaspoon baking soda
1/2 teaspoon salt
1 cup butter, room temperature
1 cup packed light brown sugar
1 cup granulated sugar
2 large eggs
1 teaspoon vanilla extract
4 ounces English toffee candy, finely chopped
1 cup hazelnuts, toasted, husked, and chopped
1 (12-ounce) bag semisweet chocolate chips
Instructions
Preheat the oven to 325 degrees F.
Line two large, rimmed baking sheets with parchment paper, a silpat liner or lightly grease with cooking spray. Place the oats in a blender or food processor and process until the oats are finely ground.Transfer the oats to a medium bowl. Mix in the flour, baking powder, baking soda, and salt. Set aside.
Using an electric mixer, beat the butter and sugars in a large bowl until fluffy. Beat in the eggs and vanilla. Add the flour mixture and stir just until blended. Stir in the toffee, hazelnuts, and chocolate chips.
Roll the dough into tablespoon-size balls and place them 1-inch apart on the prepared baking sheets. Bake until the cookies are golden, about 12-14 minutes. Cool the cookies on the baking sheets for 5 minutes. Transfer to a cooling rack and cool completely. Repeat the rolling and baking process with the remainder of the dough. Store the cookies tightly covered at room temperature for up to a day or freeze for 1-2 months.
Notes
Toffee: for the toffee candy bar (like Heath bars) finely chopped, you can substitute an equal amount of the toffee bits that are prepackaged by the chocolate chips.

Hazelnuts: also called filberts, can often be found in the nuts section but I've also found them in the natural foods aisle in bulk containers.
Recommended Products
As an Amazon Associate and member of other affiliate programs, I earn from qualifying purchases.

Recipe Source: adapted slightly from Giada De Laurentiis sent to me via Jeanette from So Splendid
Disclaimer: I am a participant in the Amazon Services LLC Associates Program, an affiliate advertising program designed to provide a means for me to earn fees by linking to Amazon.com and affiliated sites. As an Amazon Associate I earn from qualifying purchases.