Chocolate Chip Treasure Cookies
These amazing, egg-free chocolate chip treasure cookies are so easy to make and are the softest, chewiest cookies thanks to a few, special secret ingredients!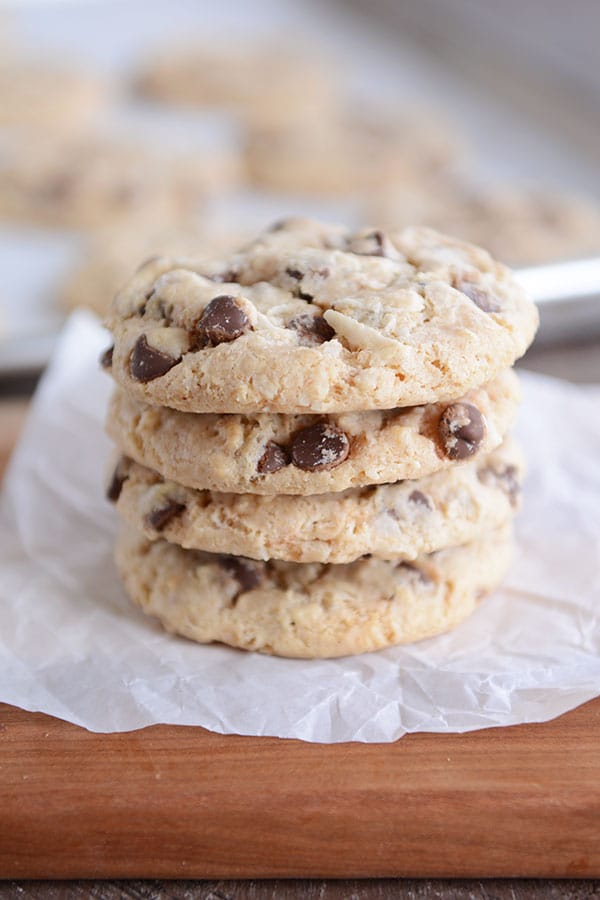 You might be hard pressed to find a chocolate chip cookie recipe as easy and delicious and unique as this one.
This chocolate chip treasure cookie recipe is easily one of my top favorite cookies of all time.
I've been making this recipe for years…and it continues to be a favorite.
It should come as no surprise that it was passed on to me by way of my Aunt Marilyn (who is an amazing cook and clearly has friends who know their way around the kitchen just like she does).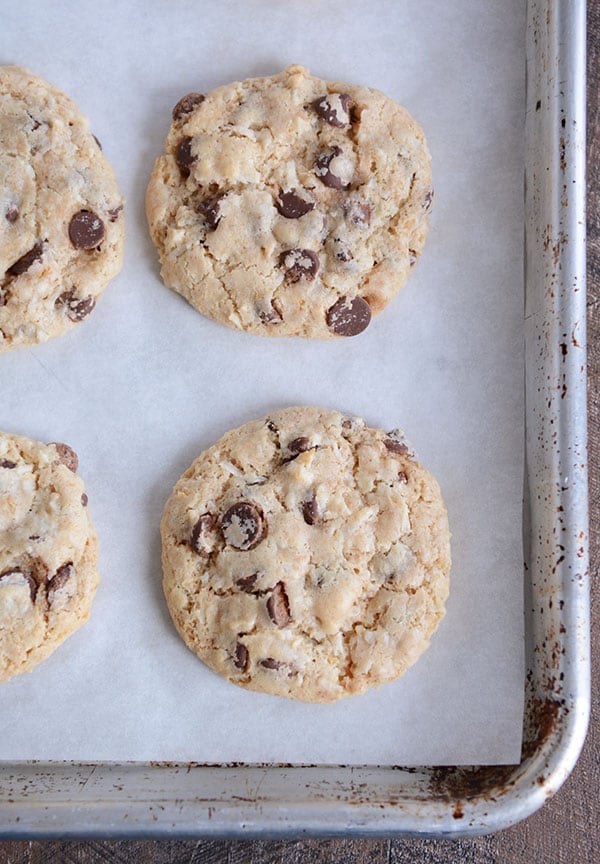 Let me extol the virtues of these cookies for you, in case you haven't made them yet:
1) They are so easy to make. I often rely on my rebellious (ha!) nature and mix them by hand AND ignore the part where the dry ingredients are mixed separately. I just throw everything in there and get an arm workout in and call it good.
But even if you are a rule/recipe follower, they will still be one of the simplest cookie recipes to whip up. Promise.
2) They have enough unique in them to be highly sought after. One bite and you'll know what I mean.
You can see from the recipe that these chocolate chip treasure cookies have a somewhat surprising lineup of ingredients. The base of the cookie is butter and sweetened condensed milk…with graham cracker crumbs coming soon after.
Believe it! Go with it! Embrace it! It works…amazingly well.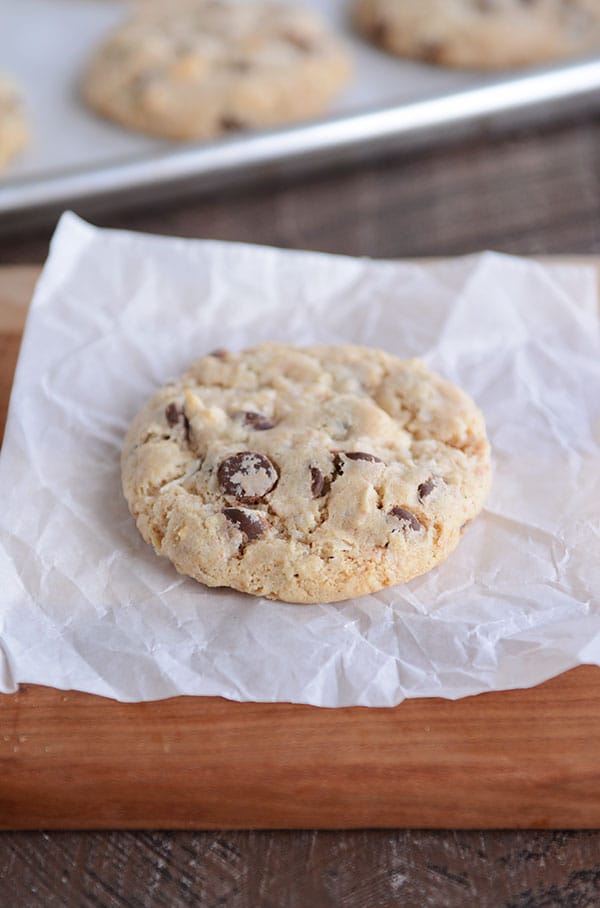 3) They are egg-free. We are not an egg-free house, but I do like knowing my excessive nibbles of raw cookie dough are safe and ethical in the case of these cookies (although if you think I don't indulge in real, live, raw cookie dough, we probably should have a talk).
However, if you ARE egg-free and need a fantastic go-to chocolate chip cookie, this chocolate chip treasure cookies recipe is the one.
And if I'm sharing all my secrets today, one time I made the cookie dough, rolled into smaller balls, chilled them, dipped them in chocolate, and called them a truffle.
Insane.
4) They are the softest, chewiest cookie you'll ever meet. Thanks to the unique ingredient lineup, the texture is creamy and unbelievably soft and chewy. There's really no other way to describe them.
Other than amazing. Addicting. Best-ever. Crazy good.
I think that about covers it.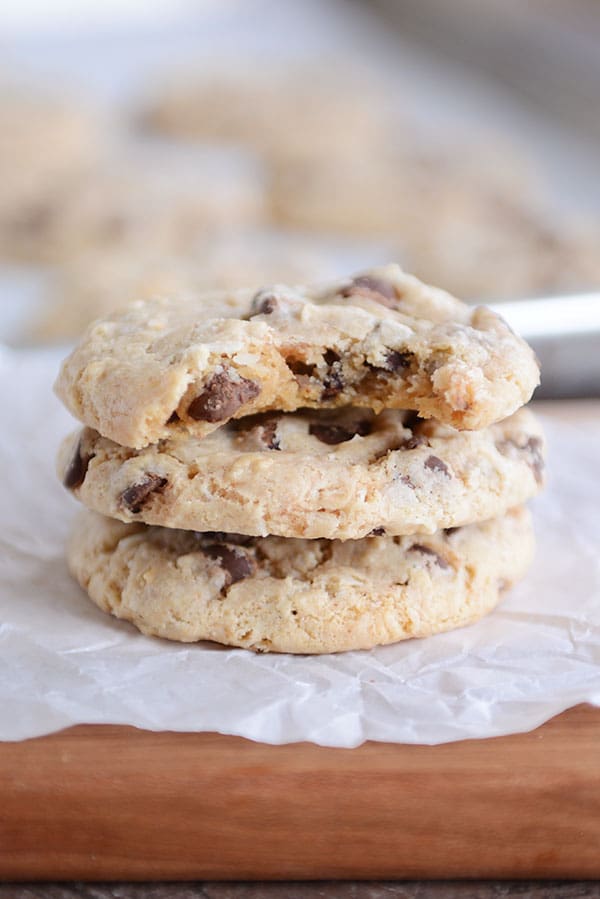 I know coconut in cookies can be off-putting to some people (you crazy souls, you!), but it's delicious in these chocolate chip treasure cookies. You should try it.
But.
If you just can't, I'll let you in on a secret.
I've subbed in old-fashioned oats before with great results (details in the recipe below).
You may be wishing I never told you that, because it's dangerous knowing an oatmealchocolatechip-esque cookie can be that amazing.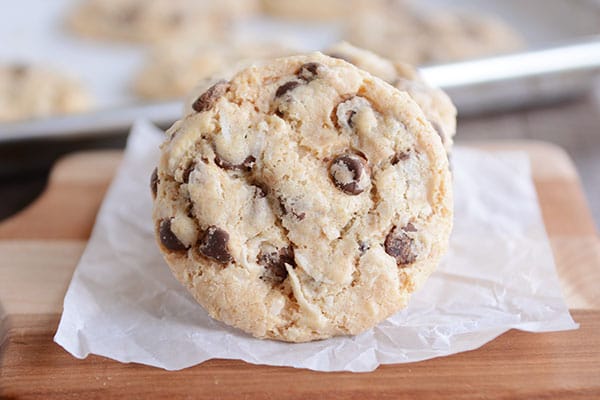 Not only are these cookies unreal in flavor and texture…but you have to admit, they make a pretty darn picture-perfect cookie. Am I right?
Helped along by the use of a cookie scoop for portioning out the cookie dough (I use a #40 scoop for this size of cookies), the perfectly round shape makes them worthy of everything from bake sale to midnight snacking.
And thanks to a little Instagram experiment, I found that baking them on convection at 325 degrees made for a better cookie (read: no spreading).
If you don't have convection, I'd suggest baking them at 375 degrees F (in a conventional oven). It seems the slightly warmer temperature helps them maintain their perfect shape while baking.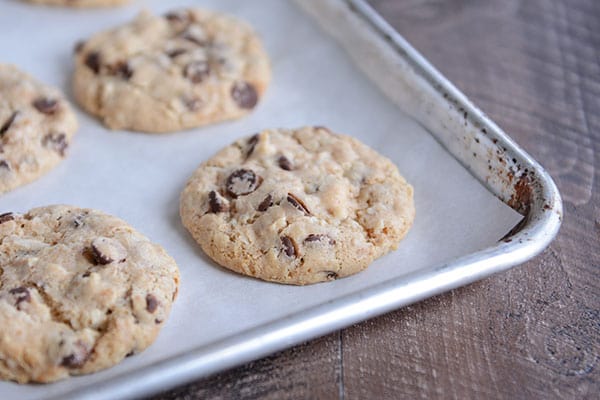 I'm telling you, give these cookies a try!
And if you love them already as much as I do and are ready for Chocolate Chip Treasure Cookie 2.0, take a look at this 7-layer version (like the classic 7-layer bar rolled into cookie form).
Ridiculously delicious.
I'll forever be grateful these little beauties came into my life so many years ago. I've rarely found someone who didn't immediately fall in love with them.
At the first nibble, you just know they are special.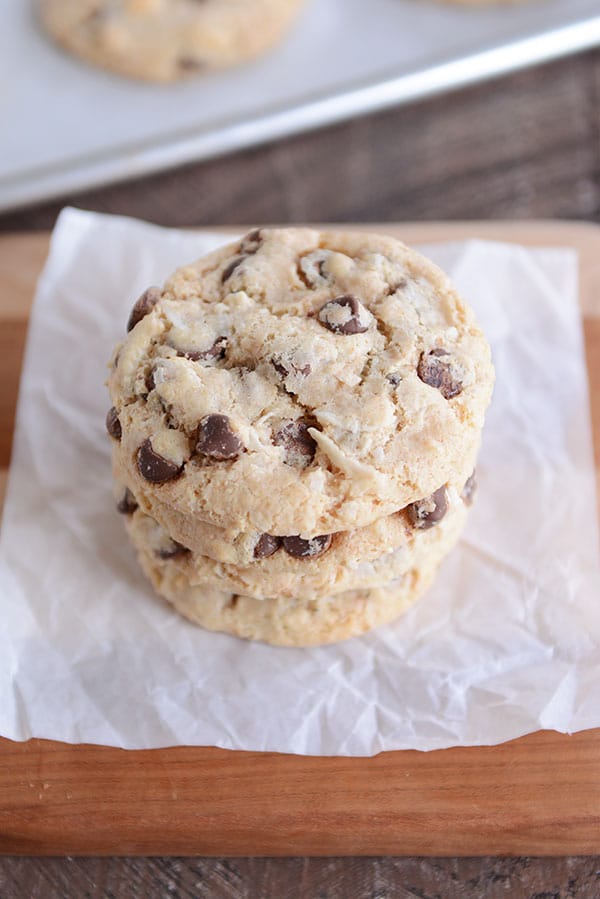 Chocolate Chip Treasure Cookies
Yield: 2-3 dozen cookies

Prep Time: 15 minutes

Cook Time: 10 minutes

Total Time: 25 minutes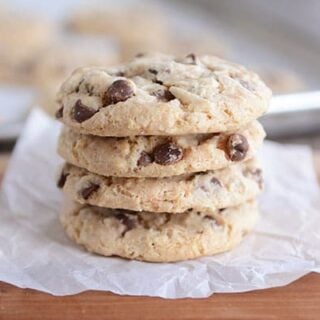 Ingredients
1 1/2 cups graham cracker crumbs (about 6.5 ounces/13 rectangle crackers)
1/2 cup (2.5 ounces) flour
2 teaspoons baking powder
1/4 teaspoon salt
14-ounce can sweetened condensed milk
1/2 cup (4 ounces, 8 tablespoons) butter, room temperature
1 1/3 cups (4 ounces) sweetened, shredded coconut or 3/4 cup (3 ounces) old-fashioned oats
2 cups (12 ounces) semisweet chocolate chips
1 cup walnuts or other nuts, chopped (optional)
Instructions
Preheat the oven to 350 degrees F (see note above).
In a small bowl, add the graham cracker crumbs, flour, baking powder and salt. Whisk to combine.
In a large bowl with a handheld electric mixer or a stand mixer fitted with the paddle attachment (or by hand with a spoon), beat the sweetened condensed milk and butter until smooth and creamy, 1-2 minutes.
Add the dry ingredients; mix until mostly combined. It's ok if a few dry streaks remain.
Stir in the chocolate chips, coconut, and nuts (if using).
Drop the cookie dough by rounded tablespoons onto ungreased cookie sheets.
Bake for 8-10 minutes.
Let the cookie rest on the baking sheet for 1-2 minutes before removing to cool completely on a wire rack.
Notes
Oven Temp: if you find your cookies are spreading while baking, try using a convection oven set to 325 degrees (if you have one) OR bake at 375 degrees instead of 350 degrees (see Instagram experiment here). 

Oats: the original recipe only ever called for coconut, but over the years, I've found oats to be an acceptable substitute for coconut-haters (the horror!). The cookies aren't quite as soft and chewy as the oats absorb more liquid than coconut, but they are still terribly delicious. I've found old-fashioned rolled oats work best as compared to quick oats.
Recommended Products
As an Amazon Associate and member of other affiliate programs, I earn from qualifying purchases.
Disclaimer: I am a participant in the Amazon Services LLC Associates Program, an affiliate advertising program designed to provide a means for me to earn fees by linking to Amazon.com and affiliated sites. As an Amazon Associate I earn from qualifying purchases.