Whole Grain Chocolate Chip Zucchini Muffins
Wholesome, delicious and easy, these chocolate chip zucchini muffins, are light and fluffy and completely irresistible!
Every year, I join the millions of people racking their brains to figure out something new and fun and exciting to do with the bumper crop of zucchini hanging out in the garden.
While I'm researching recipes and over-analyzing the best ways to use the zucchini, they are aggressively growing to epic, baseball bat proportions. There's no time to waste! Bring on the zucchini recipes.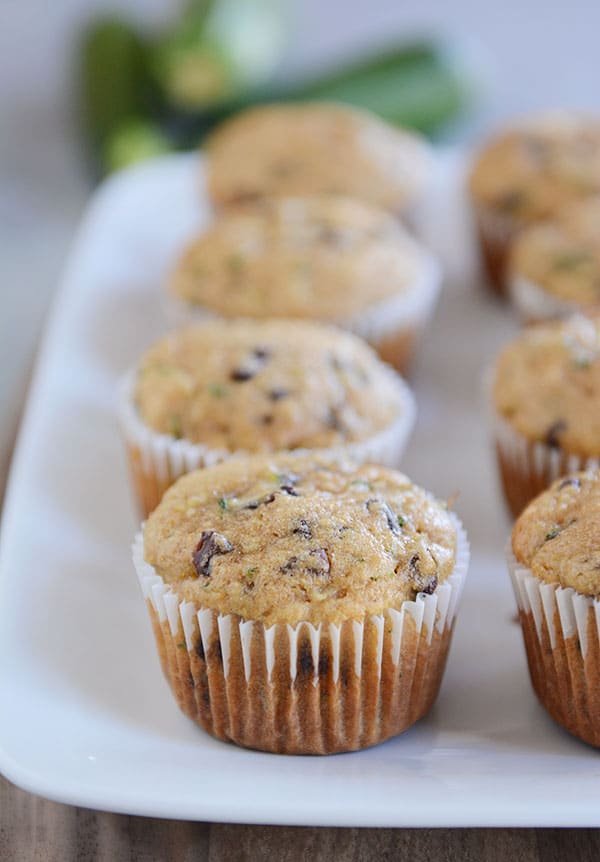 It's not as though I don't love zucchini bread. Or triple chocolate zucchini cookies. Or zucchini boats.
Or…all the other delicious zucchini recipes in my back pocket. I love them, I do.
But because I'm me, I always get the itch to find new and improved ways to use up that zucchini every time summer gardening season rolls around.
Which, speaking of gardening, I have to tell you that despite all my moaning and groaning over the years about gardening, I am loving my square foot garden/garden boxes.
Those cute little raised garden beds (that incidentally were a ton of work to get started) have totally revolutionized how I feel about gardening.
As in, things are actually growing (and if you know my past history with gardening, you'll know this is quite an accomplishment).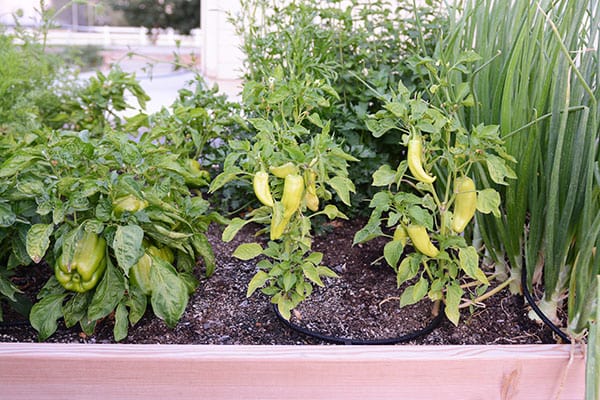 Our zucchini plants have decided to be over achievers this year so we have a lot of zucchini, big and small, needing a purpose.
Along with our aforementioned zucchini go-to's, we have a very clear, new favorite zucchini recipe.
Whole grain chocolate chip zucchini muffins!
These muffins are divine. So simple (you don't even need a special contraption to wring out the zucchini), so light and fluffy, and so delicious. I think they are definitely one of my favorite baked zucchini goods of all time.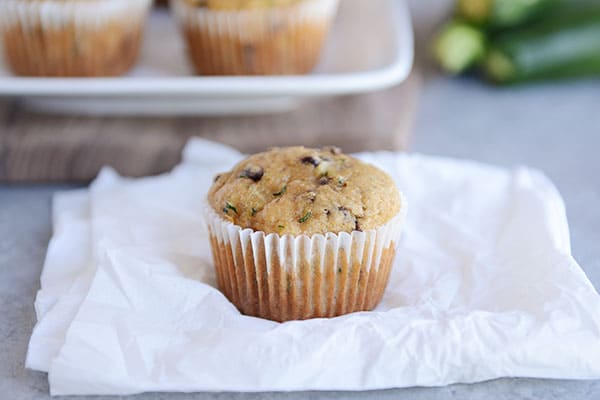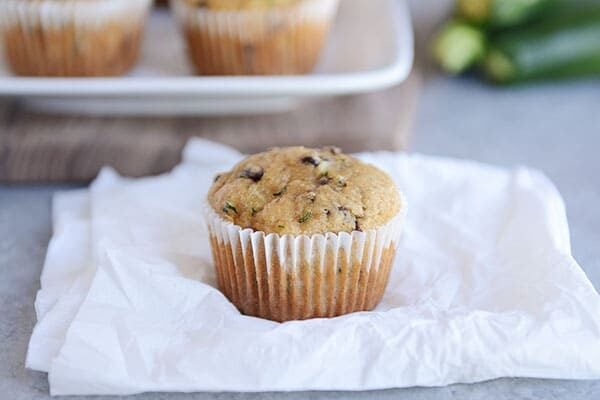 I counted, and we've made these muffins five times in the last two weeks (I told you we have a lot of zucchini waiting in the wings). The recipe makes an even 12 muffins, which is the perfect afternoon snack size for our family.
We even save a few for Brian when he gets home from work, although it is an exercise in serious self-control for all of us.
Except for that time Brian came home to a partial muffin left on the cooling rack. It's every man for himself around here when it comes to perfect muffins.
But, as I like to say, a partial muffin is better than no muffin.
I've doubled the recipe, too, when we've had friends over to play. Apparently a DIY slip-n-sliding in the backyard, which incidentally works up quite an appetite for muffins.
There may even be a batch stashed in the freezer if someone hasn't gotten to them yet.
I've included several notes in the recipe. Not because the muffins are complicated but to help make your life easier with a few substitutions, if needed. So read, read, read before you make, make, make.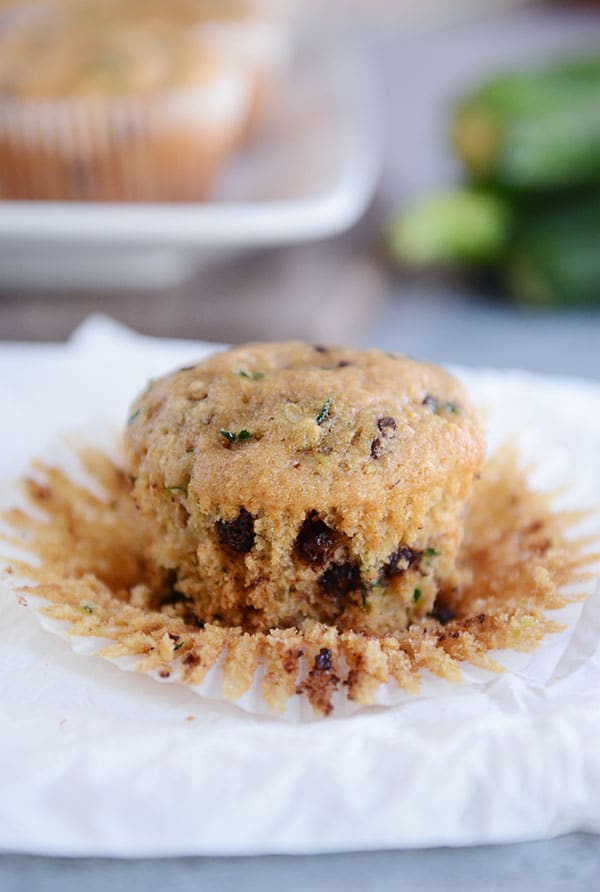 I hope your garden is growing, if you have one, and if not – start hitting up your friends and neighbors for a couple zucchini here and there.
Chances are, they'll be happy to have a willing taker. Then, as if it isn't an obvious choice already, make these chocolate chip zucchini muffins!
Whole Grain Chocolate Chip Zucchini Muffins
Ingredients
1 ½

cups

(

213

g

)

whole wheat or all-purpose flour (see note)

½

cup

(

106

g

)

granulated sugar

1

teaspoon

baking soda

¼

teaspoon

ground cinnamon

¼

teaspoon

salt

¼

cup

melted coconut oil

,

or avocado, canola, or vegetable oil

¼

cup

(

57

g

)

unsweetened applesauce

¼

cup

buttermilk (see note)

1

large egg

1

teaspoon

vanilla extract

1 ¼

cups

(

170

g

)

shredded zucchini

½

cup

(

85

g

)

miniature chocolate chips
Instructions
Preheat the oven to 350 degrees F. Line a 12-cup muffin tin with paper liners. Lightly grease the liners with nonstick cooking spray.

In a large bowl, whisk together the flour, sugar, soda, cinnamon and salt.

In a separate bowl or in a large liquid measuring cup, whisk together the oil, applesauce, buttermilk, egg and vanilla.

Add the wet ingredients to the dry ingredients and give the batter 2-3 good stirs with a spoon or rubber spatula. There should still be dry streaks remaining.

Gather the zucchini into your hands and give a light squeeze over the sink to get rid of excess moisture (the zucchini should weigh about 6 ounces pre-squeeze and 5 to 5 1/4 ounces after squeezing; the muffins can be a little gummy if the zucchini is not drained a little).

Add the zucchini and chocolate chips to the batter and stir until just combined; don't overmix or the muffins might be tough instead of light and tender.

Fill the muffin cups evenly with batter, about 2/3 full. Bake for 17-18 minutes until the tops of the muffins spring back lightly to the touch.

Remove the muffins to a cooling rack to cool completely.
Notes
Flour: I make these muffins with whole wheat flour all the time and they work out great; keep in mind that white whole wheat flour will produce a lighter and less dense muffin than using red whole wheat flour. It's especially important if using whole wheat flour to weigh the flour or at the very least, make sure you aren't packing too much flour into the measuring cup. Buttermilk: if you don't keep buttermilk on hand, thin a little Greek yogurt or sour cream with a tablespoon or two of milk until it is the same consistency as buttermilk. Zucchini: in the recipe directions, you are nicely instructed to give the zucchini a little squeeze over the sink. No need to roll it up in a towel or anything scientific – just gather it in your hands and give it a good squeeze. I've found that not squeezing out excess liquid makes the muffins a little gummy and dense. And I'd much rather have a light and fluffy muffin, wouldn't you?
Serving:
1
Muffin
,
Calories:
174
kcal
,
Carbohydrates:
26
g
,
Protein:
3
g
,
Fat:
7
g
,
Saturated Fat:
5
g
,
Cholesterol:
15
mg
,
Sodium:
157
mg
,
Fiber:
2
g
,
Sugar:
14
g
Follow @MelsKitchenCafe on Instagram and show me the recipes you are making from my blog using the hashtag #melskitchencafe. I love seeing all the goodness you are whipping up in your kitchens!
Recipe Source: adapted from this recipe at allrecipes
Disclaimer: I am a participant in the Amazon Services LLC Associates Program, an affiliate advertising program designed to provide a means for me to earn fees by linking to Amazon.com and affiliated sites. As an Amazon Associate I earn from qualifying purchases.