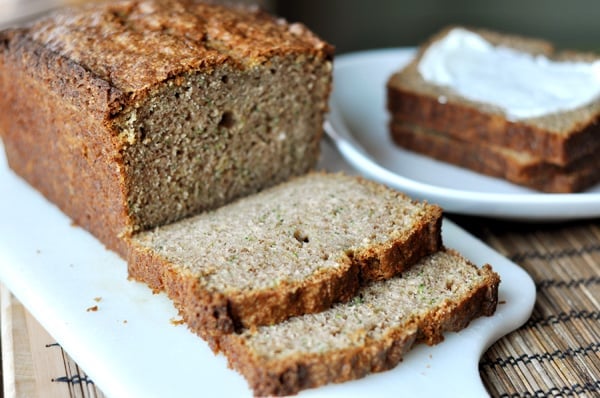 Recipes for zucchini bread are as prolific as the little green vegetable itself. I swear for every million zucchini picked each year, there have to be at least a million recipes to make zucchini bread floating around.
But this one is the best. I promise you. It is light, not dense and glumpy. It is moist, not oily and sludgy. It is perfecty flavorful, not bland or overly spiced.
Can you tell I've had some bad zucchini bread in my day (mostly made from my own kitchen)?
I've been making this recipe a few years and figure it is high time to highlight the simple, delicious bread here. It really is the most tender, most perfect zucchini bread.
And, as you'll notice from the pictures, if you want to take it completely over the top, slather a little cream cheese on a slice and I swear, you'll think you've gone to zucchini bread heaven.
One Year Ago: Butter and Garlic Shrimp Penne
Two Years Ago: Apple Cider Pudding Cake
The Best Zucchini Bread
Ingredients:
1 pound zucchini (you'll end up with about 1 to 1 1/2 cups of zucchini once it has been shredded and wrung through a towel to rid of excess liquid)
2 cups flour (see note)
1 teaspoon baking powder
1 teaspoon baking soda
1 teaspoon salt
1 teaspoon ground cinnamon
1 teaspoon allspice
1 1/2 cups granulated sugar
2 large eggs
1/4 cup plain yogurt (not fat-free)
1 tablespoon fresh lemon juice or sour cream
6 tablespoons butter, melted
Directions:
Adjust an oven rack to middle position and preheat the oven to 375 degrees. Generously coat a 9-inch by 5-inch loaf pan with cooking spray (I use Baker's Joy spray with flour for a great, easy release – you may want to grease and flour just to be safe).
Chop the ends off the zucchini (just 1/4-inch off each end) and finely shred the zucchini, peel and all. Place the shredded zucchini in a clean kitchen towel, wrap the towel, and wring the ends (like a an old-fashioned candy wrapper) to squeeze out all the excess water. You should have about 1 to 1 1/2 cups of dry zucchini. Set the zucchini aside.
In a large bowl, whisk together the flour, baking soda, baking powder, cinnamon, allspice, and salt. In a smaller bowl, whisk the sugar, yogurt, eggs, lemon juice or sour cream, and butter until combined.
Gently fold the yogurt mixture and zucchini into the flour mixture, using a rubber spatula to fold the ingredients together until just combined. Transfer the batter to the prepared pan.
Bake until golden brown and a thin knife or skewer inserted in the center comes out with a few crumbs attached, 45-55 minutes. Cool for 10 minutes then turn out into wire rack to cool for at least 1 hour. Store well-covered for up to three days.
Notes:
The recipe calls for a 9-inch by 5-inch sized loaf pan but I've also made this successfully in an 8 1/2-inch by 4 1/2-inch loaf pan – the loaf doesn't dome as well as it does in the larger pan since the batter fills up the pan more, but it still bakes up deliciously. Also, if you have overly large zucchini, cut them in half lengthwise first, scoop out the seeds, and then shred. Finally, I am sometimes short a few ounces of zucchini and I throw in enough shredded carrots to make up the difference – delicious!
Also, I often use half to 3/4 finely ground white whole wheat flour with good results – and sometimes I get crazy and use 100% whole wheat flour (always finely ground white wheat); it is a bit more dense with 100% whole wheat flour but still nutty and hearty and delicious.
All images and text ©
.
Follow @melskitchencafe on Instagram and show me the recipes you are making from my blog using the hashtag #melskitchencafe. I love seeing all the goodness you are whipping up in your kitchens!
Recipe Source: adapted slightly from Cook's Country