Chocolate Peppermint Cookies
A perfect, delicious, and stunning holiday cookie, these chocolate peppermint cookies are sure to wow family and friends!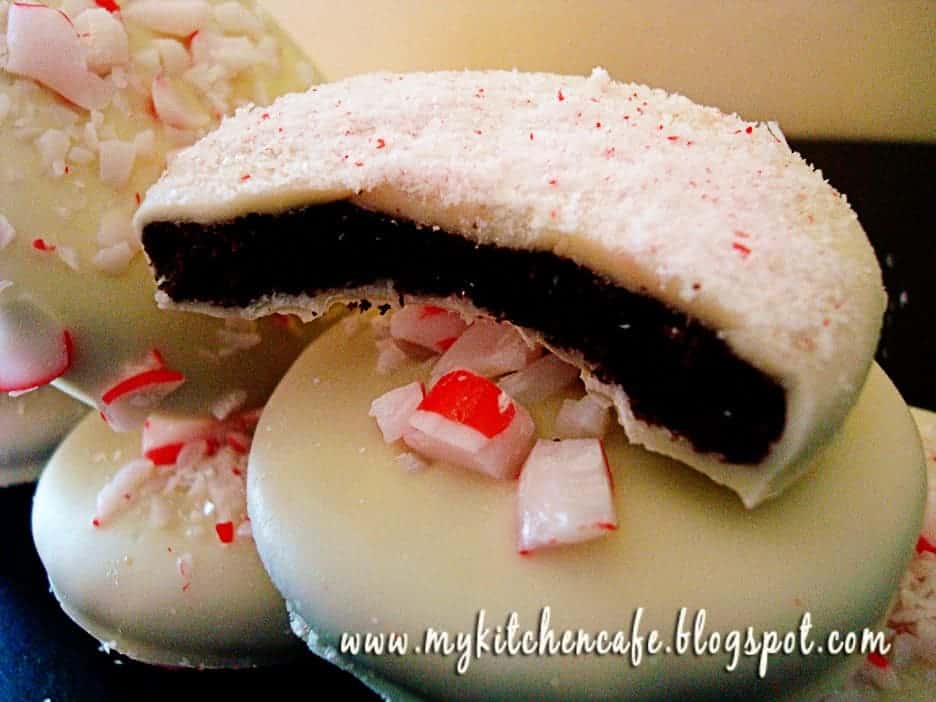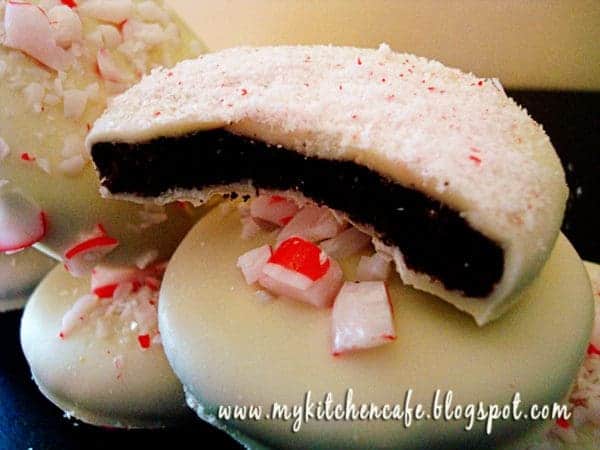 **An updated post/pictures of these cookies is located HERE!**
I spied these cookies in the December issue of Martha Stewart Living and new I had to make them for two reasons: 1) they were so stinkin' cute, I had no choice and 2) I absolutely love the Girl Scout Thin Mint cookies and wanted to try my hand at a homemade version.
Am I ever glad I tried! I was a little nervous thinking about what a disaster it would be to dip the cookies once they were baked, but that was the easiest (and funnest!) part.
My rowdy little boys helped work out their aggression and crush the peppermint candies and it quickly became a family project.
Not only were these really pretty but they were absolutely and phenomenally delicious.
My husband couldn't believe how good they tasted (he thought they were all about the looks) and I barely got any out the door to give to friends.
Like most Martha Stewart recipes, the instructions are a tad fussy and it takes some time to chill/freeze all the different components of the dough, but in the end, it was worth it.
A perfect holiday cookie in my book! Next time I am definitely dipping at least half in dark chocolate to see how that turns out – and I'm sure NONE will make it out the door if they are half as good as I imagine.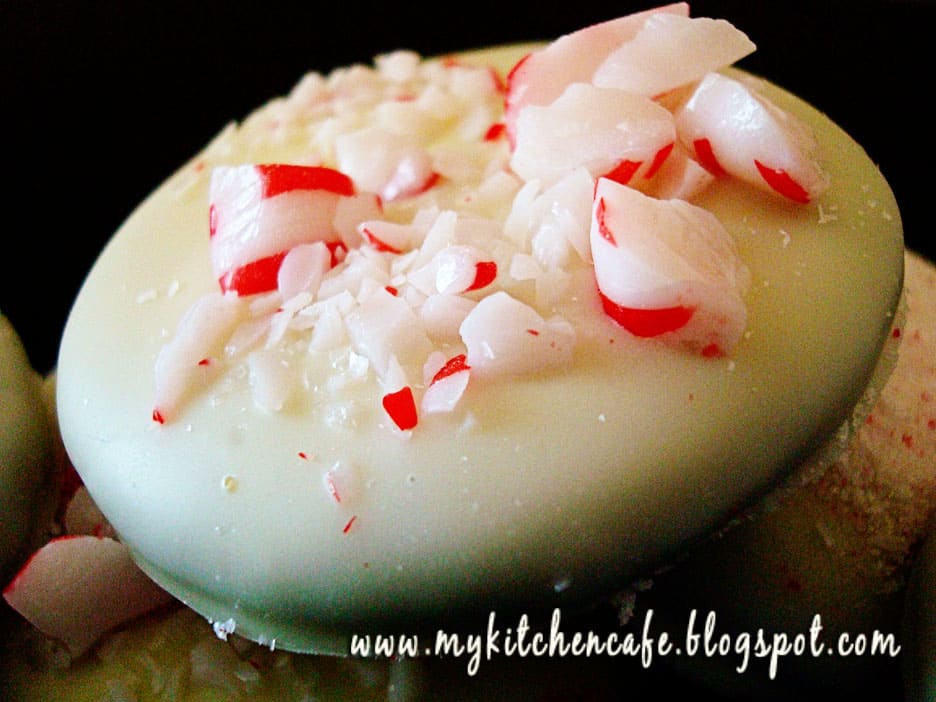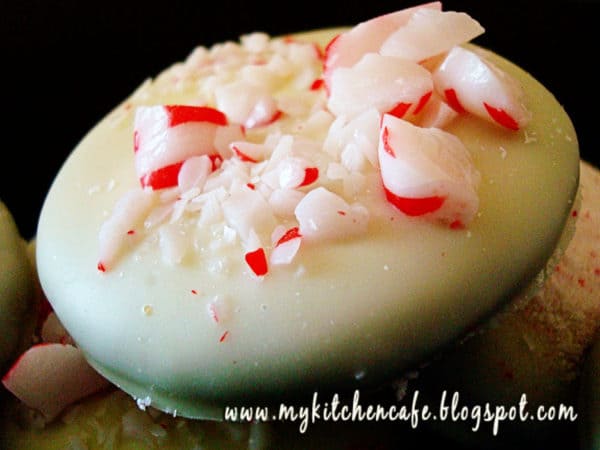 Chocolate Peppermint Cookies
Yield: 2-3 dozen

Prep Time: 25 minutes

Additional Time: 1 hour 42 minutes

Total Time: 2 hours 7 minutes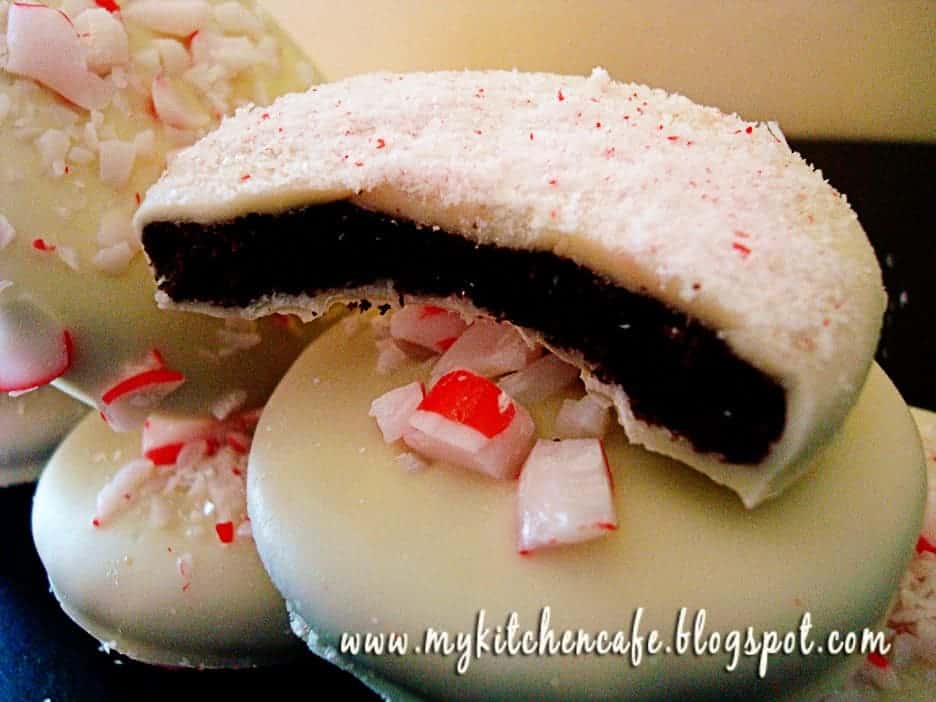 Ingredients
1 cup all-purpose flour, plus more for surface
1/2 cup unsweetened Dutch-process cocoa powder
1/2 teaspoon baking soda
1/2 teaspoon baking powder
1/2 teaspoon salt
2 1/2 ounces (5 tablespoons) butter, softened
3/4 cup sugar
1 large egg
1 large egg yolk
3/4 teaspoon pure peppermint extract
8 large candy canes or 30 peppermint candies, crushed
2 pounds white chocolate, coarsely chopped (I used about 8 ounces white chocolate and the rest white almond bark, since that is what I had on hand – it worked great)
Instructions
Preheat oven to 325 degrees. Whisk flour, cocoa powder, baking soda, baking powder, and salt in a bowl. In another bowl, beat butter and sugar with a mixer on medium-high speed for 1 minute. Reduce speed to medium-low, and add egg, then yolk, beating well after each addition. Beat in peppermint extract. Slowly add flour mixture, and beat until just incorporated. Shape dough into 2 disks, wrap each in plastic, and refrigerate until firm, at least 1 hour (or up to 2 days).
Roll out 1 disk of dough on a lightly floured surface to 1/8-inch thickness. Freeze until firm, about 15 minutes. Using a 2-inch round cutter, cut out circles, and place 1 inch apart on parchment-lined baking sheets. Roll and cut scraps once. Freeze cookies until firm, about 15 minutes. Repeat with remaining disk.
Bake until cookies are dry to the touch, about 12 minutes. Transfer parchment, with cookies, to wire racks, and let cool. (Undecorated cookies will keep, covered, for up to 3 days.)
Sift crushed candy, and separate larger pieces from dust, reserving both. Melt chocolate in a heatproof bowl in the microwave (don't overheat or the chocolate/almond bark will sieze!). Dunk cookies into melted chocolate. Using a fork, press lightly on the cookie until completely submerged in the chocolate. Pick up the cookie with the fork, let excess chocolate drip off, and gently scrape bottom against edge of bowl. Place on parchment-lined baking sheets, and sprinkle 1/4 teaspoon of either candy pieces or dust on top. Repeat, sprinkling half the cookies with pieces and the rest with dust. Refrigerate until set, up to 3 hours.
Notes
Yield: the original recipe yield was 6 dozen (um, not so much) – I barely got 3 dozen out of the recipe.
Recommended Products
As an Amazon Associate and member of other affiliate programs, I earn from qualifying purchases.

Recipe Source: adapted slightly from Martha Stewart Living
Disclaimer: I am a participant in the Amazon Services LLC Associates Program, an affiliate advertising program designed to provide a means for me to earn fees by linking to Amazon.com and affiliated sites. As an Amazon Associate I earn from qualifying purchases.