Homemade Thin Mint Cookies
Homemade thin mint cookies are as delicious as they sound! A delicious spin off of the Girl Scout Thin Mint Cookies, they're amazing!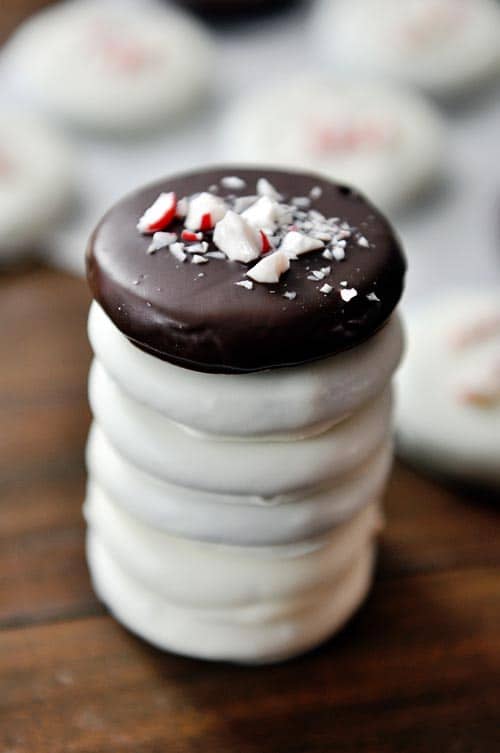 Hi, my name is Mel and I love Girl Scout Thin Mint cookies more than I should probably confess.
In fact, I have to make myself not buy them during the glorious cookie selling season (sorry Girl Scouts; it's not you, it's me) because devouring an entire cellophane wrapped roll is just a tad bit too easy, if you know what I mean.
Since I rarely enjoy the real thing, the holidays are when I break out my go-to knockoff recipe and make them myself.
I know, I'm supposed to be gifting these babies but I have to be honest, when I make these delectable thin mint cookies, not many of them make it out the door.
I clearly passed on the Thin Mint loving gene to my kids because we gobble these up like nobodies business (and they freeze great, even after being dipped, which prolongs their goodness).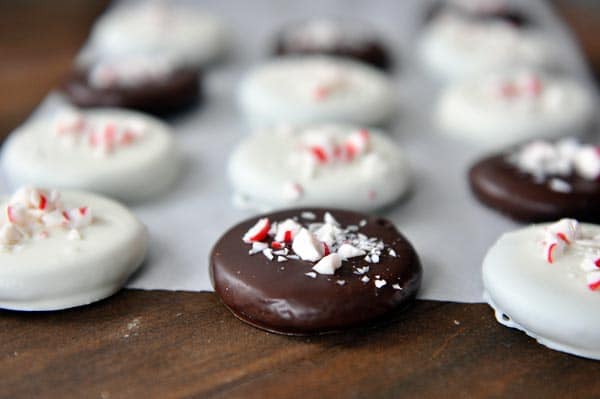 A simple minty chocolate cookie dough is rolled into circles, chilled quickly in the freezer and then baked until crispy. Yum. I'm lucky any of the rich cookie centers even make it to the dipping station.
When I originally posted this recipe years ago, the process was a bit more involved – since then, after making them every holiday season and usually a couple other times during the year when I just have to have them – I've simplified the method a bit and added dark chocolate for dipping in addition to the white.
Have I mentioned they really are one of my very favorite cookies? They are.
Even though I don't have a new packaging idea for you today, I hope you'll still love me.
Several of the packaging ideas already mentioned in the series will work beautifully and all of them are simple.
You could even throw these divine cookies onto a paper plate and cover them with plastic wrap because the fabulous taste and looks will be quite enough to win anyone over.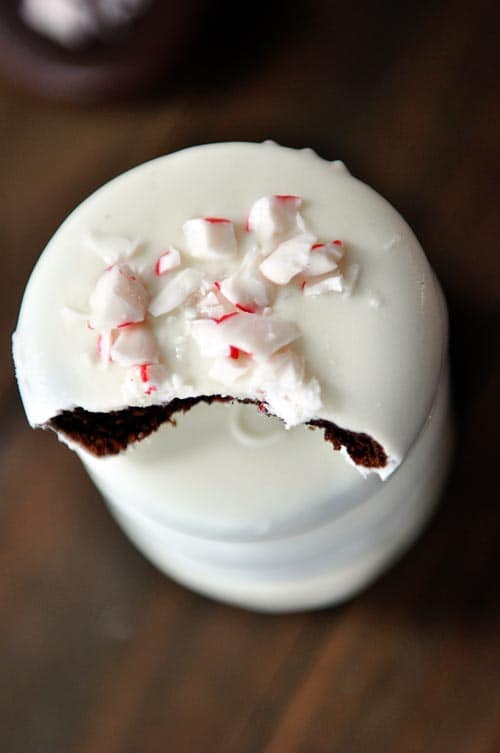 Homemade Thin Mint Cookies
Yield: 3 dozen cookies

Prep Time: 25 minutes

Cook Time: 14 minutes

Additional Time: 1 hour 1 minute

Total Time: 1 hour 40 minutes
Ingredients
1 cup all-purpose flour, plus more for surface
1/2 cup unsweetened Dutch-process cocoa powder or natural cocoa powder (see note)
1/2 teaspoon baking soda
1/2 teaspoon baking powder
1/2 teaspoon salt
5 tablespoons butter, softened
3/4 cup granulated sugar
1 large egg
1 large egg yolk
3/4 teaspoon pure peppermint extract
Peppermint candies, crushed (optional)
2 pounds white or dark chocolate, coarsely chopped (or a combination if you want to dip some in white chocolate and the rest in dark)
Instructions
Preheat the oven to 325 degrees.
In a small bowl, whisk together the flour, cocoa powder, baking soda, baking powder, and salt.
In a medium bowl (or the bowl of an electric stand mixer), beat the butter and sugar with a mixer on medium-high speed for 1 minute. Reduce the speed to medium-low and add the egg and egg yolk. Mix well. Beat in the peppermint extract.
Slowly add the flour mixture, and beat until just incorporated. Shape the dough into 2 disks, wrap each in plastic, and refrigerate until firm, at least 1 hour (or up to 2 days).
Roll out 1 disk of dough on a lightly floured surface to 1/8-inch thickness, more or less. Using a 2-inch round cutter, cut out circles and place 1-inch apart on parchment-lined baking sheets. Roll and cut the scraps once or twice (the cookies will be a bit more dry with each rerolling). Freeze the tray of cookies until firm, about 15 minutes. Repeat with the remaining disk of dough and freeze also.
Bake the frozen cookie rounds until they are dry to the touch, about 12-14 minutes. It's really important to bake them all the way through so they are crisp and not soft.
Transfer the baked cookies to a wire rack to cool completely. The undipped cookies will keep well , covered, for up to 3 days.
Melt the chocolate in a heatproof bowl in the microwave or in a double boiler on the stove. I like to melt it in the microwave at 1-minute intervals at 50% power, stirring in between. Melt the white and dark chocolate separately, if using both.
Dunk the cooled cookies into the melted chocolate, one at a time. Using a fork, press lightly on the cookie until completely submerged in the chocolate. Pick up the cookie with the fork, let the excess chocolate drip off, and gently scrape bottom against edge of bowl. Using the flat edge of a knife or another fork, gently push the cookies onto parchment or wax paper. Sprinkle with crushed candy if using. Let the cookies sit until the chocolate has hardened, an hour or so (you can refrigerate to speed up this process).
The dipped cookies will keep covered in the refrigerator for up to a week or in the freezer for up to a month.
Notes
Cocoa Powder: I have used both Dutch-process and natural cocoa powder when I've made these. The Dutch-process will yield a darker, richer cookie center but the natural cocoa powder is also delicious and will work just fine.

Chocolate: here's a quick video tip on tempering/melting chocolate and another on dipping things in chocolate like a pro.

Brand: FYI: My preferred brand of chocolate is Ghirardelli.
Recommended Products
As an Amazon Associate and member of other affiliate programs, I earn from qualifying purchases.

Recipe Source: updated and adapted from the post way back when, originally from Martha Stewart Living
Disclaimer: I am a participant in the Amazon Services LLC Associates Program, an affiliate advertising program designed to provide a means for me to earn fees by linking to Amazon.com and affiliated sites. As an Amazon Associate I earn from qualifying purchases.