Chocolate Turtle Cookies
These chocolate turtle cookies are stunning, and their intense chocolate flavor combined with the smooth caramel speaks for itself!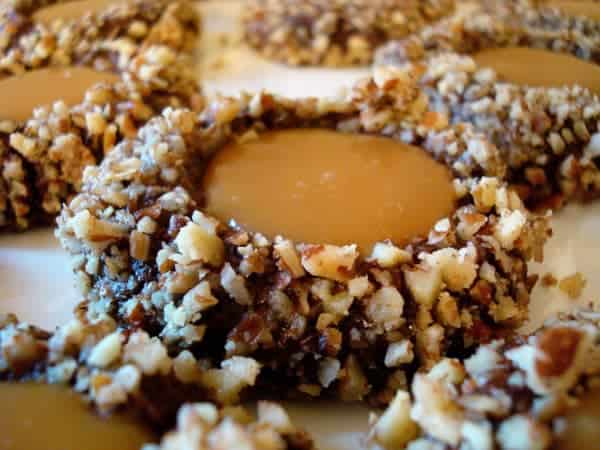 When I saw this cookie in the last issue of Cook's Country, I couldn't wait to try it.
It looks like a perfect Christmas cookie but let me tell you, this cookie is so delicious, I want to make them every day of the week, regardless of the season!
Albeit a little messy from the chopped pecans, these are fantastic and were a huge hit when I made them last week for a group of friends.
Not only are they stunning in appearance, but their intense chocolate flavor combined with the smooth caramel will speak for themselves!
Yield: 1 dozen cookies

Prep Time: 20 minutes

Cook Time: 12 minutes

Total Time: 32 minutes
Ingredients
1 cup all-purpose flour
1/3 cup cocoa powder
1/4 teaspoon salt
8 tablespoons butter, softened
2/3 cup sugar
1 large egg, separated, plus 1 egg white
2 tablespoons milk
1 teaspoon vanilla extract
1 cup chopped pecans, chopped fine
14 soft caramel candies
3 tablespoons heavy cream
Instructions
Adjust oven rack to upper-middle and lower-middle positions and heat oven to 350 degrees. Line 2 baking sheets with parchment paper or silpat liners. Combine flour, cocoa, and salt in bowl. With electric mixer on medium-high speed, beat butter and sugar until fluffy, about 2 minutes. Add egg yolk, milk, and vanilla and mix until incorporated. Reduce speed to low and add flour mixture until just combined. Refrigerate dough until firm, at least 1 hour.
Whisk egg white(s) in another bowl until frothy. Place pecans in another bowl. One at a time, roll dough into 1-inch balls, dip in egg whites, then roll in pecans. Place balls 2 inches apart on prepared baking sheets. Using teaspoon measure, make indentation in center of each ball. Bake until set, 10 to 12 minutes, switching and rotating sheets halfway through baking.
Meanwhile, microwave caramels and cream in bowl, stirring occasionally, until smooth, 1 to 2 minutes. Once cookies are removed from oven, gently press existing indentations with teaspoon measure. Fill each with 1/2 to 1 teaspoon caramel mixture. Cool 5 minutes, then transfer to wire rack and cool completely.
Notes
Yield: the original recipe says it will make 2 dozen cookies, but I DOUBLED the recipe, and still only ended up with about 28 cookies (and I promise I didn't eat that much of the batter).
Recommended Products
As an Amazon Associate and member of other affiliate programs, I earn from qualifying purchases.

Recipe Source: adapted slightly from Cook's Country
Disclaimer: I am a participant in the Amazon Services LLC Associates Program, an affiliate advertising program designed to provide a means for me to earn fees by linking to Amazon.com and affiliated sites. As an Amazon Associate I earn from qualifying purchases.