Chocolate Zucchini Cake with Brown Sugar Streusel
This chocolate zucchini cake with brown sugar streusel is moist and tasty. Perfect for dessert, also light enough for a snack-type cake.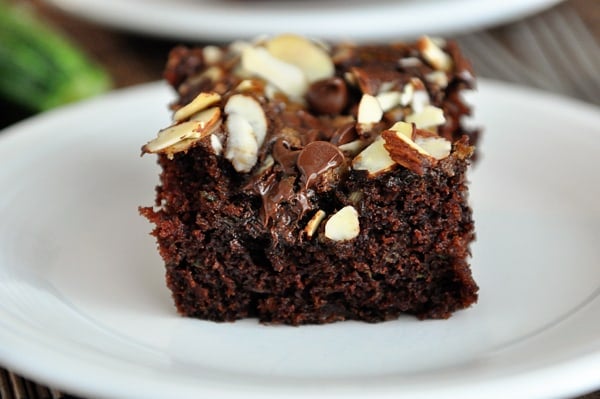 Do you have zucchini still proliferating from your garden? I swear, I'm the only person in the universe that can plant zucchini…and yield nothing.
Thank goodness for lovely friends who have bequeathed upon me lots of the green monsters. I love them (and my friends).
For sure you need to be making this chocolate zucchini cake with any zucchini that crosses your path, especially since zucchini season isn't going to last forever. I guarantee if you don't have any from your own personal stash, there are at least a dozen people within your network of family and friends who probably have at least a trunk full put together.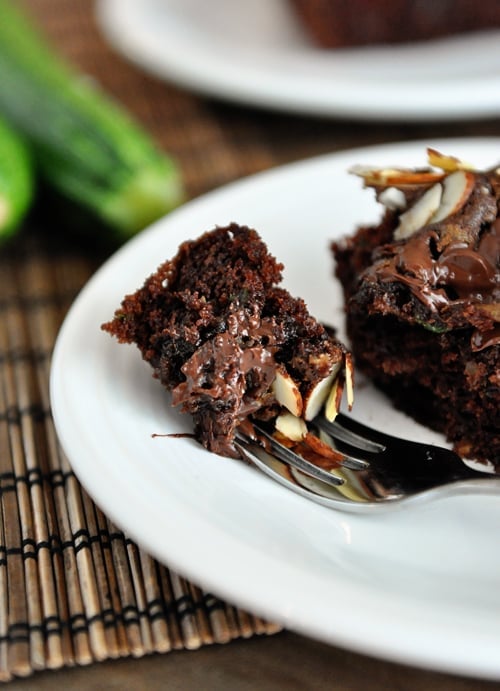 This chocolate cake is moist (thank you, zucchini!) and tasty. Perfect for a nice dessert after a meal but also light (and healthy-ish if you make a few substitutions) enough for a snack-type cake. As in, I'm totally making this for my kids this week to eat as an after school snack and you can't make me feel guilty about it. I have a feeling my kids won't be making me feel guilty, they'll be gobbling this up like there's no tomorrow. Chocolate zucchini cake in the face of three hungry boys after school is like a total no-brainer around here.
I've never thought to sprinkle brown sugar on top of a cake but it's genius, really. The brown sugar bakes into a sweet, brickle-like layer that when combined with the soft, chocolate cake is pure magic. Come to me little zucchini, I have a plan for you!
One Year Ago: 39 Meals to Make in 30-Minutes or Less
Two Years Ago: Over-the-Top Andes Mint Cupcakes
Three Years Ago: Lasagna Primavera
Chocolate Zucchini Cake with Brown Sugar Streusel
Yield: 9X13-inch pan

Prep Time: 18 minutes

Cook Time: 40 minutes

Total Time: 58 minutes
Ingredients
Cake:
1/2 cup butter (can substitute applesauce)
1/3 cup coconut oil (can substitue canola or vegetable oil)
1 3/4 cup granulated sugar
2 large eggs
1 teaspoon vanilla extract
1/2 cup buttermilk (here are a few easy buttermilk substitutions)
2 cups all-purpose flour
1/2 cup cocoa powder
1/2 teaspoon baking powder
1 teaspoon baking soda
1/2 teaspoon ground cinnamon
1/2 teaspoon salt
2 cups shredded zucchini
Topping:
1/2 cup sliced almonds
1 cup chocolate chips
1/4 cup packed light brown sugar
Instructions
Preheat the oven to 325 degrees F. Lightly grease a 9X13-inch pan with cooking spray and set aside.
In a large bowl with an electric mixer (handheld or stand mixer), cream together the butter, oil and sugar. Add the eggs and vanilla and mix well. In a medium bowl, whisk together the flour, cocoa powder, baking powder, baking soda, cinnamon and salt. Add 1/3 of the dry ingredients to the batter and mix. Add 1/2 of the buttermilk; mix. Add another 1/3 of the flour mixture and mix until combined. Add the remaining buttermilk and mix followed by the last of the dry ingredients and stir to combine. Stir in the shredded zucchini.
Spread the batter in the prepared pan. Sprinkle with the almonds and chocolate chips. Sprinkle the brown sugar on top of everything.
Bake for 35-40 minutes until a toothpick inserted in the center comes out with moist crumbs (don't overbake!).
Let cool completely before serving. This cake tastes best at room temperature (and is great the next day, too!).
Notes
Substitutions: I've included some easy substitutions next to a few of the ingredients!
Recommended Products
As an Amazon Associate and member of other affiliate programs, I earn from qualifying purchases.

Recipe Source: adapted from a recipe Karen Y. (a MKC reader) sent me (thanks, Karen) – I decreased the oil and flour, increased the cocoa, decreased the nuts in the topping!
Disclaimer: I am a participant in the Amazon Services LLC Associates Program, an affiliate advertising program designed to provide a means for me to earn fees by linking to Amazon.com and affiliated sites. As an Amazon Associate I earn from qualifying purchases.