Big Fat Greek Tacos
Imagine tender meat topped with a zesty cucumber salsa and creamy tzatziki sauce and all of it wrapped in soft wrap bread. Amazing!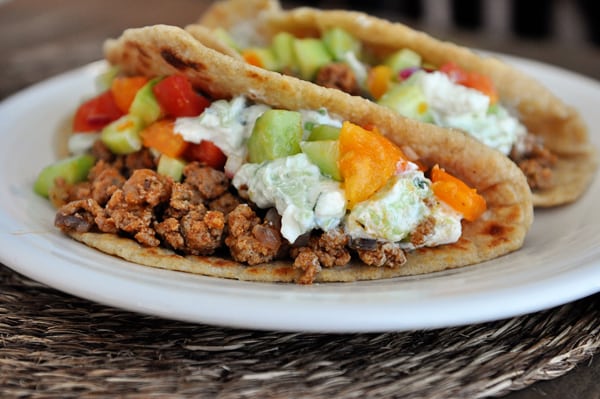 Big. Fat. Greek. Tacos.
Or in other words: balm to my food-loving soul.
Or to put it another way: You make me Big Fat Greek Tacos? I weep with joy.
The combination and layers of flavor in these bad boys are too much. Tender, succulent meat topped with a fresh, zesty cucumber salsa smothered in creamy, heavenly tzatziki sauce and all of it wrapped in soft wrap bread.
I need a minute to breathe. Or maybe I just need a Big Fat Greek Taco in my little grubby hand rightthisveryminute.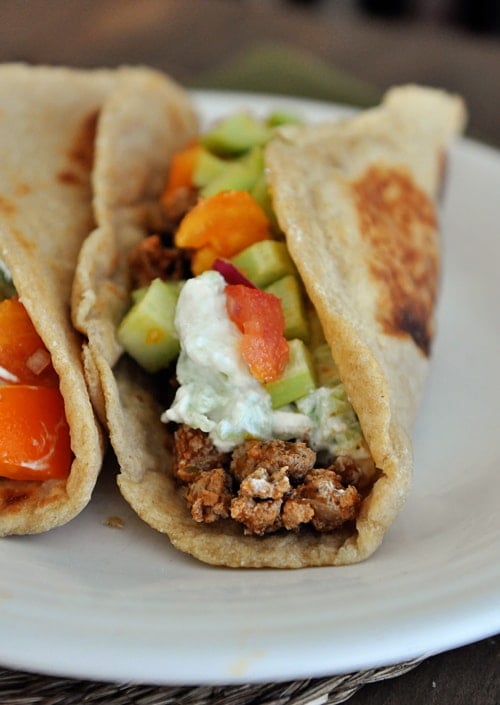 I know I claim to love every single recipe on this site but I'm not going to lie that I have my recipe pets. My favorites.
The ones I could eat every day for the rest of my life and never grow weary of and these Big Fat Greek Tacos (I can't bring myself to just call them a Greek taco – super lame and boring) are so up there.
I beg and plead and implore you to give these a shot. I'll send some tissues for when the weeping commences.
Just know, I'll be putting my virtual arm around you in support. Lovers of Big Fat Greek Tacos must stand together.
Oh, and did I mention that although the recipe has several components, they can all be made ahead of time (we're talking hours or days ahead of time) which makes the actual dinner hour a breeze.
Thanks to Sally for the tips on making everything in advance (she made these for a group of 20, so she's basically a Big Fat Greek Taco expert; something I can only aspire to be someday).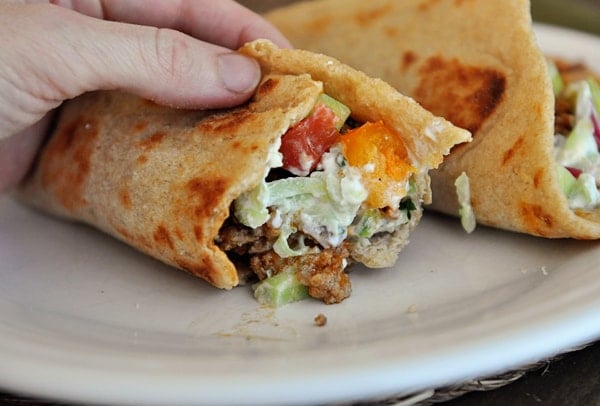 Fresh fruit, or this Honey Lime Fruit Salad
Hummus with fresh vegetables
Cottage Cheese
One Year Ago: Healthy Banana Blueberry Muffins
Two Years Ago: Cheesy Basil Stuffed Chicken Breasts
Three Years Ago: Fresh Strawberry Lemonade
Yield: 6-8 servings

Prep Time: 25 minutes

Cook Time: 20 minutes

Additional Time: 1 hour

Total Time: 1 hour 45 minutes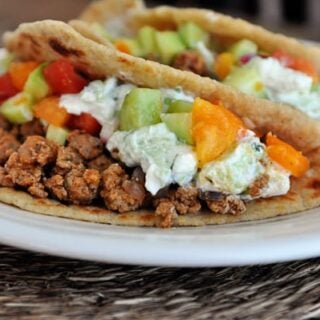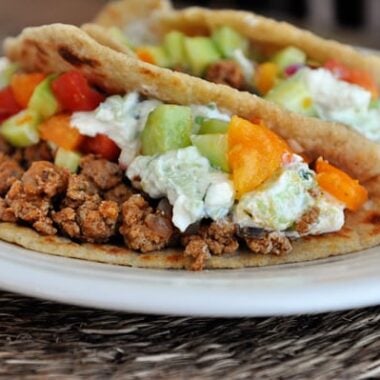 Ingredients
Cucumber Tomato Salsa:
1 tablespoon extra-virgin olive oil
1 tablespoon red wine vinegar
2 firm large tomatoes, seeded and diced
1 English cucumber, seeded and diced
1/2 cup diced red onion
Salt and black pepper to taste
Feta Mint Tzatziki:
1 English cucumber
1 cup plain Greek yogurt
3/4 cup crumbled feta cheese
1 clove garlic, finely minced
1-2 tablespoons minced fresh mint
Salt and black pepper to taste
Lamb or Turkey:
2 pounds ground lamb or turkey
1 1/2 teaspoons salt
1 teaspoon pepper
1/2 cup minced red onion
4 cloves garlic, minced
2 teaspoons dried oregano
3 tablespoons tomato paste
1/4 cup broth (chicken, vegetable or beef)
For the pitas:
Instructions
At least one hour or as early as one day before you are serving, prepare the salsa and tzatziki. For the cucumber salsa, toss the olive oil, vinegar, tomatoes, cucumbers and onions in a bowl and season with salt and black pepper as needed. Cover and refrigerate for one hour or up to 24 hours to marry the flavors.
For the tzatziki, peel the cucumber and shred on the large holes of a box grater. Place the shredded cucumber in a clean kitchen towel and wring out the excess water until the cucumber is very dry. In a medium bowl, stir together the strained cucumber, yogurt, feta, garlic and mint. Again, season with salt and pepper to taste. The tzatziki can be refrigerated up to 24 hours. Give it a good stir before serving.
For the meat, heat a large, 12-inch nonstick skillet over medium heat. Cook the ground lamb or turkey with the salt, pepper, onion and garlic, breaking up the meat into small pieces and cooking until the meat is cooked through, 8-10 minutes.
Drain any excess grease. Stir in the oregano and tomato paste and cook over medium heat for 3-4 minutes, stirring often. Stir in the broth and let the mixture simmer for 5-10 minutes. Season with additional salt and pepper to taste.
Warm the pita breads in a cast iron skillet or in the microwave until soft and heated through. Serve the tacos by spooning meat into the center of a pita bread and topping with cucumber salsa and tzatziki.
Notes
Make Ahead: the cucumber salsa and the tzatziki sauce can be prepared up to a day in advance and refrigerated.

Crockpot: Sally mentions that she's made the meat mixture and kept it on low in a crockpot for up to 4 hours to let the flavors develop (and help when entertaining or if you need some flexibility).
Recommended Products
As an Amazon Associate and member of other affiliate programs, I earn from qualifying purchases.

Recipe Source: adapted from my friend Sally at Good Dinner Mom (increased amount of meat, simplified some of the steps)
Disclaimer: I am a participant in the Amazon Services LLC Associates Program, an affiliate advertising program designed to provide a means for me to earn fees by linking to Amazon.com and affiliated sites. As an Amazon Associate I earn from qualifying purchases.