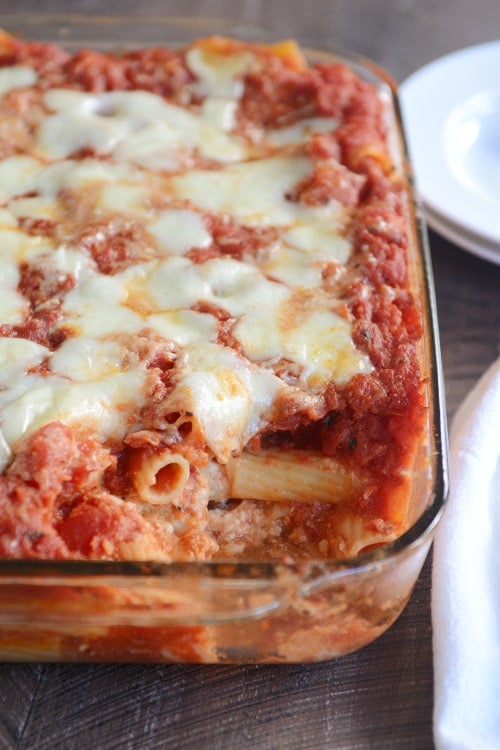 Update 9/2015: After residing here for six years, this delicious recipe desperately needed a facelift! I've included new pictures and some updates in the recipe instructions.
I only ever use 1% or 2% for the heavy cream anymore and when I can't find ziti noodles (which seems to happen quite often), rigatoni is my favorite substitute.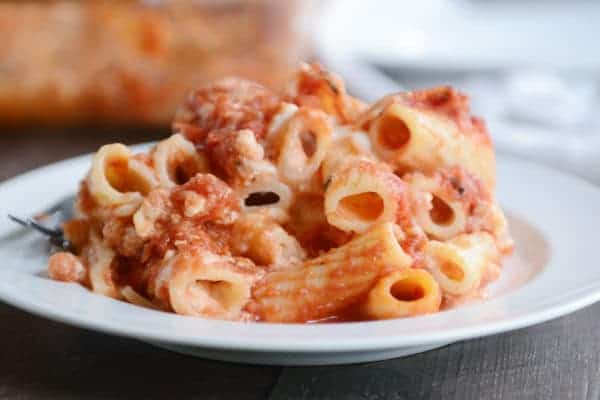 I've tried many, many baked ziti recipes after posting this one back in 2009 and I always come back to it. It's amazing and is definitely among my favorite baked pasta dishes of all time (which is saying a lot because I love me some pasta). Enjoy!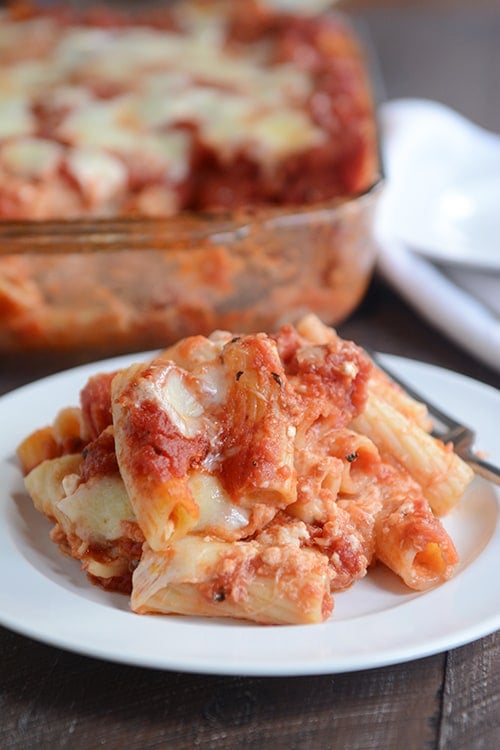 Yield: 8-10 servings

Prep Time: 15 minutes

Cook Time: 1 hour 22 minutes

Total Time: 1 hour 37 minutes
Ingredients
1 pound 1% cottage cheese (about 2 cups)
2 large eggs
2 ounces (about 1 cup) freshly grated parmesan cheese
1 pound ziti or other similar pasta (like rigatoni or penne)
2 tablespoons olive oil
5 medium garlic cloves, finely minced (about 5 teaspoons)
1 (28-ounce) can tomato sauce
1 (14.5 ounce) can diced tomatoes
1 teaspoon dried oregano
1 tablespoon dried basil
1 teaspoon sugar
Black pepper
2 teaspoons cornstarch
1 cup milk (1% or above)
8 ounces mozzarella cheese, cut into 1/4-inch cubes
Instructions
Preheat the oven to 350 degrees F. Lightly grease a 9X13-inch baking pan and set aside.
In a medium bowl, whisk together the cottage cheese, eggs and 3/4 cup of the Parmesan cheese.
Cook the pasta in a pot of salted, boiling water until it begins to soften but isn't cooked all the way (cook it about three minutes short of the package directions) - it will finish cooking in the oven.
While the pasta is cooking, heat oil and garlic in a large skillet over medium heat until the garlic is fragrant but not browned, about 2 minutes. Stir in the tomato sauce, diced tomatoes, sugar, basil and oregano; simmer until thickened, about 10 minutes. Take off the heat and season with salt and pepper to taste.
Drain the pasta and leave it in the colander. Return the pot (no need to wash) to the stovetop. Whisk together the cornstarch and milk and pour it into the pot set over medium heat. Bring the milk to a simmer and cook until thickened, whisking constantly, 3 to 4 minutes. Remove the pot from the heat and add the cottage cheese mixture, 1 cup or so of the simmered tomato sauce, and half of the mozzarella cubes. Stir to combine. Add the cooked pasta and stir to coat well with the saucy mixture.
Transfer the pasta to the prepared pan and spread the remaining tomato sauce evenly over pasta. Sprinkle the remaining mozzarella cubes and remaining Parmesan cheese over the top. Cover the baking dish with foil that has been lightly sprayed with cooking spray and bake for 30 minutes.
Remove the foil and continue to cook until the cheese is bubbling and beginning to brown, about 30 minutes longer. Cool for 10 minutes. Serve.
Notes
Noodles: after making this for so many years, I've found that penne or rigatoni sub really well for the ziti noodles.

Parmesan: also, I've cut down the Parmesan from 1 1/2 cups to just 1 cup and in a pinch.

Tomatoes: I've found that a 28-ounce can of crushed tomatoes subs very well for the tomato sauce.

Basil: you can sub fresh basil (1/2 cup fresh in place of the 1 tablespoon dried) by adding it at the end of simmering time and stirring it in off the heat.

Ricotta/Cottage Cheese: also, don't be tempted to sub in ricotta (been there, done that). It makes the finished dish much drier. If you don't like the texture of cottage cheese, blend it a bit first to smooth out the texture.

Freezable Meal: prepare the recipe right up until the baking step and then cover with a double layer of aluminum foil that's been lightly greased with cooking spray. Freeze. Thaw in the refrigerator for 1 to 2 days. To bake, increase the time by another 20 minutes or so. If baking from frozen, bake covered for 1 hour and 30 minutes, uncover and bake 30 minutes longer.
Recommended Products
As an Amazon Associate and member of other affiliate programs, I earn from qualifying purchases.

Recipe Source: adapted from Cook's Illustrated