Baby, Baby Cupcakes
These baby, baby cupcakes are perfect for a new mother or for a baby shower. They are adorable, moist, flavorful and the frosting is divine.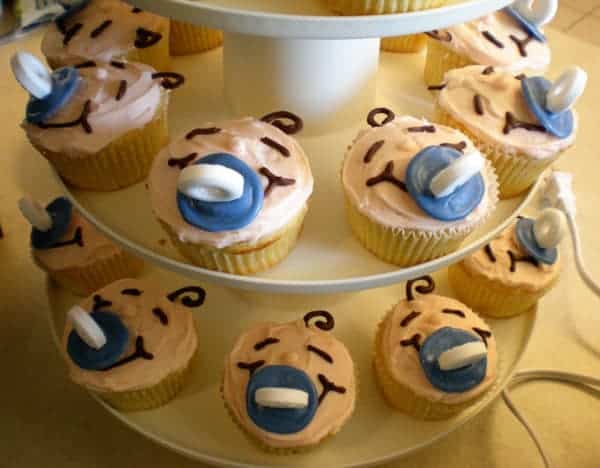 My little sis had her baby shower on Saturday. She lives several hours away but since I used to live over 20 hours away from any family, there was no way I was going to let a measly three hour drive keep me away.
I brought along these baby shower cupcakes to celebrate. Aren't they adorable? Of course I can't take any credit for the design. I originally saw them posted on Deborah's site, Taste and Tell, so I checked out the original post on Wilton.com and knew I had to try them.
They were a cinch to make and turned out so cute (although not quite as cute as the original from Wilton). I used Erica's recipe for her Best Buttermilk cupcakes, and oh my, they are definitely the best and may even be my new go-to recipe for from-scratch cupcakes.
They are moist and flavorful and the frosting is divine. Check out Wilton's site for the how-to on making the baby part of the cupcakes. I've included the fantastic buttermilk cupcake recipe below.
Yield: Makes 24-28 cupcakes

Prep Time: 20 minutes

Cook Time: 25 minutes

Total Time: 45 minutes
Ingredients
Cupcakes:
3 sticks butter, room temperature
2 cups sugar
5 extra-large eggs at room temperature (yes, extra-large makes a difference)
1 1/2 teaspoons pure vanilla extract
1 1/2 teaspoons pure almond extract
3 cups flour
1 teaspoon baking powder
1/2 teaspoon baking soda
1/2 teaspoon salt
1 cup buttermilk (here is a guide for making your own buttermilk)
2 cups sweetened, shredded coconut
Frosting:
I halved the recipe below and had enough to frost 28 cupcakes plus about 2 cups to spare, so beware, this recipe makes a lot of frosting
1 pound cream cheese at room temperature
3 sticks butter, room temperature
1 teaspoon pure vanilla extract
1/2 teaspoon pure almond extract
1 1/2 pounds confectioners' sugar, sifted
Instructions
Preheat the oven to 325 degrees. In the bowl of an electric mixer fitted with the paddle attachment, cream the butter and sugar on high speed until light and fluffy, about five minutes (of course this would work with a handheld mixer, also). With the mixer on low speed, add the eggs, 1 at a time, scraping down the bowl after each addition. Add the vanilla and almond extracts and mix well.
In a separate bowl, sift together the flour, baking powder, baking soda, and salt. In 3 parts, alternately add the dry ingredients and the buttermilk to the batter, beginning and ending with the dry. Mix until just combined. Fold in one cup of the coconut.
Line a muffin pan with paper liners. Fill each liner three-quarters full with batter. Bake for 22-25 minutes, until the tops are brown and a toothpick comes out clean (don't overbake or cupcakes will be dry!). Allow to cool in the pan for five minutes. Remove to a baking rack and cool completely.
Meanwhile, make the frosting. In the bowl of an electric mixer fitted with the paddle attachment, on low speed, cream together the cream cheese, butter, and vanilla and almond extracts. Add the confectioners' sugar and mix until smooth.
Frost the cupcakes and sprinkle with the remaining coconut (of course, I didn't sprinkle the coconut on top of my baby cupcakes, but that would be a delicious alternative to making baby cupcakes).
Recipe Source: adapted from Favorite Family Recipes
Disclaimer: I am a participant in the Amazon Services LLC Associates Program, an affiliate advertising program designed to provide a means for me to earn fees by linking to Amazon.com and affiliated sites. As an Amazon Associate I earn from qualifying purchases.