Classic Blueberry Cobbler
The culmination of this classic blueberry cobbler warm, served with a scoop of melty, creamy vanilla ice cream is absolutely unreal.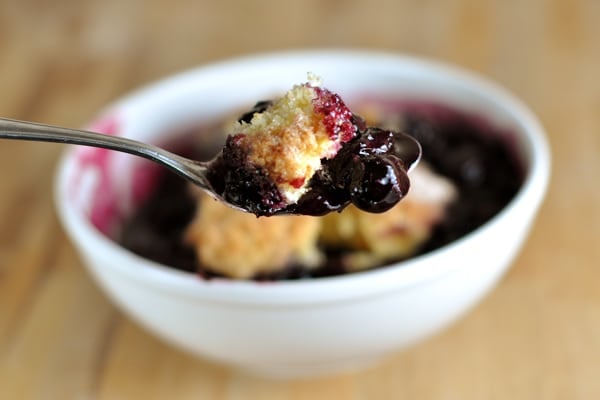 This cobbler is so good, it's unreal. Unreal, I tell you!
Until now, I had yet to actually make a cobbler with real, live homemade biscuits. Cobblers have been lacking from our dessert repertoire, to say the least. Now, however, I am questioning why on earth I waited so long to attempt the real thing?
There's no intense cobbler science here – if you can stir wet ingredients into dry ingredients and handle a blueberry or two, this impressive, beyond delicious dessert is for you!
Tender, sweet, cornmeal biscuits top a thick, syrupy filling loaded with plump blueberries. The beautifully textured biscuits (thanks to the slightly crunchy cornmeal) pair perfectly with the sweet blueberry filling that has just a hint of cinnamon and lemon zest.
The culmination of the warm cobbler served with a scoop of melty, creamy vanilla ice cream means cobbler is definitely here to stay (I have to make up for lost time and all!).
One Year Ago: Hot Fudge Pudding Cake
Two Years Ago: Chicken with Green Curry Sauce
Three Years Ago: Cream Cheese Chicken and Vegetable Soup – Reposted
Classic Blueberry Cobbler
Total Time:
1 hour
3 minutes
Ingredients
Blueberry Filling:
1/2 cup (3 1/2 ounces) sugar
1 1/2 tablespoons cornstarch
Pinch ground cinnamon
Pinch table salt
48 ounces (about 6 cups) frozen blueberries, thawed in the bag (or use 6 cups fresh blueberries)
1 1/2 teaspoons grated zest plus 1 tablespoon juice from 1 lemon
Biscuit Topping:
1 cup (5 ounces) all-purpose flour
1/4 cup (1 3/4 ounces) plus 2 teaspoons granulated sugar
2 tablespoons yellow cornmeal
2 teaspoons baking powder
1/4 teaspoon baking soda
1/4 teaspoon table salt
4 tablespoons (1/2 stick) butter, melted
1/3 cup buttermilk
1/2 teaspoon vanilla extract
1/8 teaspoon ground cinnamon
Instructions
Preheat the oven to 375 degrees, making sure an oven rack is placed in the center of the oven.
If using frozen blueberries, drain the thawed blueberries in a colander set over a bowl to catch the juice. Pour the reserved juice (about 1/2 cup) into a small saucepan and simmer over medium heat. Cook the juice until it has slightly thickened, about 10 minutes. Remove from heat and let it cool slightly.
In a large bowl, whisk together the ingredients for the filling: the sugar, cornstarch, cinnamon, and salt. Add the berries (fresh blueberries or the drained frozen berries) and the simmered syrup (if using the frozen berries) and mix gently with a rubber spatula until the berries are evenly coated. Mix in the lemon zest and juice. Transfer the berry mixture to a 9-inch glass pie plate (or a glass baking dish of equivalent size, like a 9-inch square pan) and place the baking dish on a rimmed baking sheet that has been lined with foil. Bake the filling until it is hot and bubbling, about 25 minutes.
While the filling cooks, in a large bowl whisk together the flour, 1/4 cup of the sugar, the cornmeal, baking powder, baking soda and salt. In a small bowl, whisk together the melted butter, buttermilk and vanilla. In a second small bowl (I know, I know! I wish I could be there to wash your dishes for you), mix the remaining 2 teaspoons sugar and cinnamon. Right before the berries come out of the oven, add the wet ingredients to the dry ingredients and stir with a rubber spatula until just combined (don't overmix!) and there are no dry pockets.
Remove the berries from the oven and increase the oven temperature to 400 degrees. Portion the biscuit dough into 8 equal pieces and gently place the biscuits on top of the hot filling, evenly spacing them to about 1/2-inch apart. They shouldn't be touching. Sprinkle each mount of biscuit dough evenly with the cinnamon and sugar. Bake the cobbler until the filling is bubbling again and the biscuits are golden brown on top and cooked through, about 14-16 minutes.
Remove the cobbler from the oven and let it rest/cool for 20 minutes before serving. Serve with vanilla ice cream or lightly sweetened whipped cream.
Notes
Blueberries: if using frozen blueberries, make sure to thaw them in the bag ahead of time. You will drain them, reserving the juice, while following the recipe.
Biscuit Topping: also, you can prepare the biscuit topping while the filling cooks – although make sure not to stir the wet ingredients into the dry ingredients until just before the berries come out of the oven.
Recommended Products
As an Amazon Associate and member of other affiliate programs, I earn from qualifying purchases.
Recipe Source: adapted from America's Test Kitchen 10th Anniversary Best Recipes
Disclaimer: I am a participant in the Amazon Services LLC Associates Program, an affiliate advertising program designed to provide a means for me to earn fees by linking to Amazon.com and affiliated sites. As an Amazon Associate I earn from qualifying purchases.