Confetti Rice and Bean Salad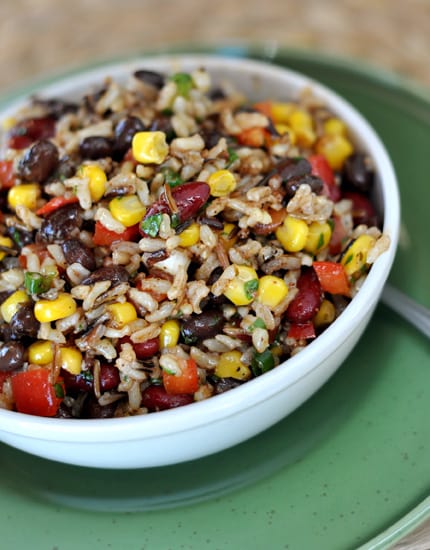 The other day I dropped by my neighbor's house to deliver a little cake I had made for their one-year old's birthday and while I was there I observed Mike making a delectable concoction for their family party. Being the recipe-snatcher that I am, I sneakily snagged the recipe and proceeded to make it the next day. And twice more in the next two weeks – it is that good!
In case you need a last minute side dish for say, a Labor Day BBQ or something of the like, look no further. Not only is this chilled rice and bean salad packed with healthful legumes, rice and veggies, but the slightly sweet and smoky dressing is the perfect compliment to the diverse ingredients.
Quite similar to this divine salad, this current Confetti Rice and Bean Salad is slightly tangier with a few added boosts, like red pepper and cilantro, and a slightly different dressing base.
Make it. It's really yummy. Yummy enough for a BBQ. Yummy enough for a simple weeknight dinner. And definitely yummy enough to smother in melted cheese and scoop up with tortilla chips. Er…did I just admit that may or may not have been the fate of the leftovers???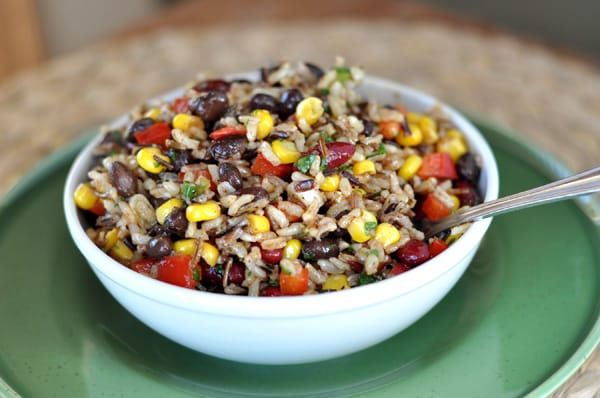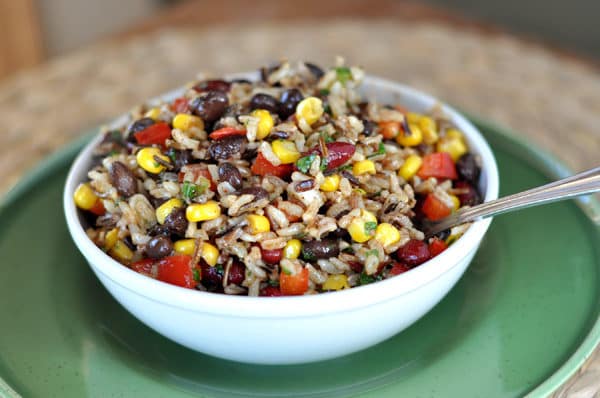 One Year Ago: Lasagna Primavera
Two Years Ago: Chocolate Toffee Cookies
Three Years Ago: Creamy White Chili
Confetti Rice and Bean Salad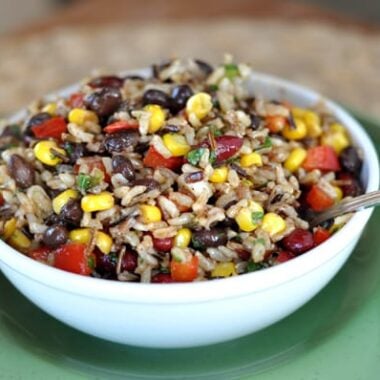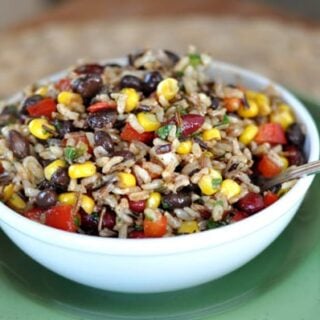 Ingredients
Salad:
3 cups cooked rice, cooled to room temperature (see note)
1 (15-ounce) can kidney beans, rinsed and drained
1 (15-ounce) can black beans, rinsed and drained
1 1/2 cups frozen corn, thawed (or same amount fresh corn kernels)
4 green onions, white and green parts thinly sliced
1 red pepper, seeded, cored and diced
1/4 cup minced fresh cilantro
Dressing:
1/3 cup extra-virgin olive oil
1/4 cup red wine vinegar
1 tablespoon sugar
1 garlic clove, minced
1 teaspoon salt
1 teaspoon ground cumin
1 teaspoon chili powder
1/4 teaspoon black pepper
Instructions
In a large bowl, combine all of the salad ingredients and toss.
In a small bowl, whisk together the dressing ingredients and pour over the salad. Toss to coat. Chill the salad for at least 2 hours before serving to let the flavors blend.
Notes
Rice: I used a wild rice/brown rice blend for my salad, but Basmati rice is delicious, also. Whatever rice you decide to use, cook it according to package directions and use it in the recipe – you should be good to go!
Recommended Products
As an Amazon Associate and member of other affiliate programs, I earn from qualifying purchases.

Recipe Source: adapted slightly from Dawn P., mother to my neighbor with the amazing garden