Crab and Goat Cheese Ravioli
Simple and delicious with just a hint of elegance and classiness – these crab and goat cheese ravioli are downright yummy.
Let me tell you why I love these little semi-homemade raviolis:
a) They benefit from using wonton wrappers which means they are quick and easy and you don't have to mess with homemade pasta dough.
b) They brown and steam in a skillet versus being boiled, so the filling stays in place and you get a slight, delicious crunchy goodness on the outside of the ravioli.
c) They use gourmet ingredients in a cost-efficient way. Normally, I stay away from crab meat in the can but in this application, it really, really works and you don't need to splurge on fresh crabmeat.
d) The light, creamy and lemony sauce, while meant to be drizzled atop the ravioli, is tasty enough to be eaten by the spoonful. You know, if you tend to do barbaric things like that.
Simple and delicious with just a hint of elegance and classiness – these ravioli are downright yummy. If you aren't a fan of tangy goat cheese, try subbing in a milder, soft cheese, like cream cheese or boursin or the like.
After enjoying these, my mind can't stop thinking about what I can stuff inside the rest of the wonton wrappers and brown to toasty goodness. I'm sensing the options are endless. I included a few step-by-step photos below the recipe in case this is your first (and hopefully not last!) ravioli-stuffing experience.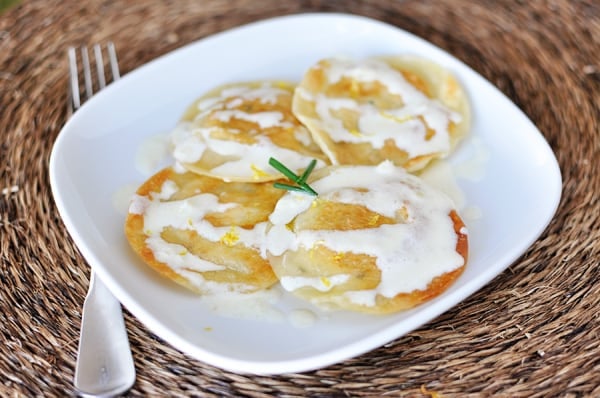 Roasted Asparagus
Divine Breadsticks
Spinach Salad with Sweet-Spicy Nuts, Apples, Feta & Bacon or Strawberry Spinach Salad
One Year Ago: Smoked Mozzarella and Penne Spinach Salad
Two Years Ago: Bittersweet Chocolate Pudding Pie
Three Years Ago: Classic Baked Ziti
Crab and Goat Cheese Ravioli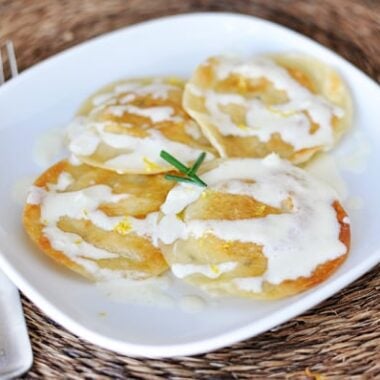 Ingredients
For the ravioli:
4 ounces soft goat cheese, softened (see note)
2 tablespoons chopped fresh chives
1/4 teaspoon salt
1/4 teaspoon black pepper
1 (6.5 ounce) can lump crabmeat
32 wonton wrappers
2 tablespoons olive oil
For the sauce:
2 cloves garlic, finely minced
1 tablespoon butter
3/4 cup heavy cream
1 tablespoon fresh lemon juice
Fresh lemon zest (zest before juicing the lemon)
Instructions
For the ravioli, in a small bowl, combine the goat cheese, chives, salt and pepper. Gently stir in the crabmeat with a fork, trying to keep the lumps as large as possible. On a work surface, lay out 16 of the wonton wrappers. Scoop 2 teaspoons, about, of the crab filling into the center of each wonton wrapper. Brush the edges of the filled wrappers with water and place another wonton wrapper over the top, pressing to let out any air bubbles and to gently seal the edges. Trim the edges of the ravioli with a circle or scalloped cookie cutter, if desired (or use a pizza cutter or knife to trim the edges). Reseal the edges with water, if necessary.
Heat the 2 tablespoons olive oil in a large 12-inch nonstick skillet over medium heat until rippling. Add 1/2 of the ravioli in a single layer. Cook until brown on one side, about 2-3 minutes. Flip the ravioli and add 2 tablespoons water to the skillet. Cover the skillet and steam the ravioli until soft, about 1-2 minutes more. Remove the ravioli to a plate and cover to keep warm. Repeat with the second half of the ravioli. Be careful during this step not to let the ravioli stick! Add more water as needed and reduce the heat if the ravioli are sticking.
For the sauce, in a small skillet, melt the butter and add the finely minced garlic. Stir in the cream and increase the heat to medium-high, simmering the mixture until the cream is reduced to about 1/2 cup, 4-6 minutes. Stir in the lemon juice and season the sauce with salt and pepper. Divide the sauce between the ravioli servings and garnish each with zest and fresh chives.
Notes
Servings: be aware that as written, this recipe only serves two, so if you have a larger crowd, increase all the ingredients accordingly.
Cheese: also, if you aren't a fan of tangy goat cheese, cream cheese, boursin or another soft cheese would sub well.
Recommended Products
As an Amazon Associate and member of other affiliate programs, I earn from qualifying purchases.
Recipe Source: from Cuisine at Home April 2012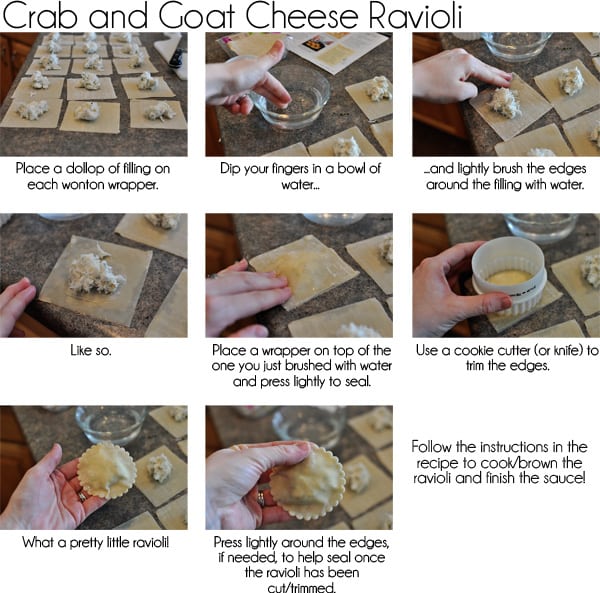 Disclaimer: I am a participant in the Amazon Services LLC Associates Program, an affiliate advertising program designed to provide a means for me to earn fees by linking to Amazon.com and affiliated sites. As an Amazon Associate I earn from qualifying purchases.