Brown Sugar Crackle Cookies
These brown sugar crackle cookies have no extra add-ins, so browned butter and brown sugar flavors really shine through in them!
I love sugar cookies. Old-fashioned sugar cookies. Drop sugar cookies (with lemon!). And any other type of sugar cookies, so why not brown sugar-sugar cookies?
Not only are the flavor of these cookies deepened by dark brown sugar but the entire cookie base gets a delicious start from browned butter. And if you need further evidence that browned butter is the secret to all magical desserts look no further than here and here.
Quite simple in concept, the cookies are unadorned with any specific add-ins, which allows the browned butter and brown sugar flavors to really shine through. Just a wonderfully delicious cookie and you can't ask for much more than that, in my opinion.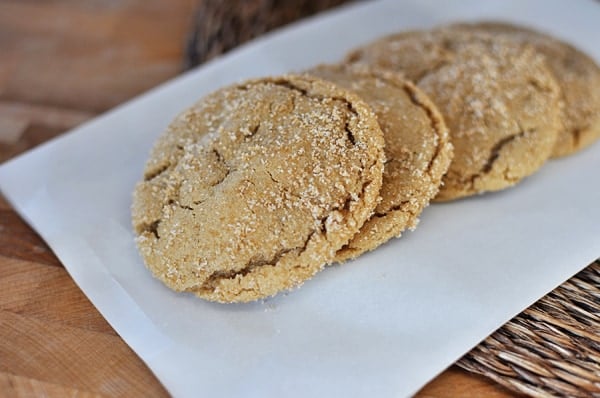 One Year Ago: Congo Bars
Two Years Ago: Honey Lime Fruit Salad
Three Years Ago: Slow Cooker Maple Brown Sugar Ham
Brown Sugar Crackle Cookies
Yield: 24 cookies

Prep Time: 15 minutes

Cook Time: 18 minutes

Total Time: 33 minutes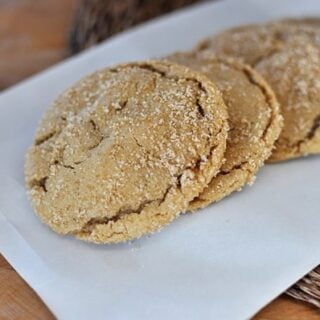 Ingredients
14 tablespoons butter (1 3/4 sticks)
1/4 cup granulated sugar (about 1 3/4 ounces)
2 cups packed dark brown sugar (14 ounces), divided
2 cups unbleached all-purpose flour plus 2 tablespoons (about 10 1/2 ounces)
1/2 teaspoon baking soda
1/4 teaspoon baking powder
1/4 teaspoon table salt
1 large egg
1 large egg yolk
1 tablespoon vanilla extract
Instructions
Heat 10 tablespoons butter in a 10-inch stainless steel (not nonstick) skillet or small uncoated saucepan over medium heat until melted, about 2 minutes. Continue to cook, swirling pan constantly until butter is dark golden brown and has nutty aroma, 1 to 3 minutes. Browned butter can burn easily and quickly so keep a close eye on it! Remove the skillet or pot from the heat and transfer the browned butter to a large heatproof bowl. Stir the remaining 4 tablespoons butter into the hot butter to melt; set aside for 15 minutes.
Meanwhile, adjust an oven rack to the middle position and heat the oven to 350 degrees F. Line 2 large (18 by 12-inch) baking sheets with parchment paper, silpat liners or lightly coat them with cooking spray. In a shallow baking dish or pie plate, mix the granulated sugar and 1/4 cup packed brown sugar, rubbing between your fingers, until well combined; set aside. Whisk flour, baking soda, and baking powder together in a medium bowl; set aside.
Add remaining 1 3/4 cups brown sugar and salt to the bowl with the cooled butter and mix until no sugar lumps remain, about 30 seconds. Scrape down the sides of the bowl with a rubber spatula; add the egg, yolk, and vanilla and mix until fully incorporated, about 30 seconds. Scrape down the bowl. Add the flour mixture and mix until just combined, about 1 minute. Give the dough a final stir with a rubber spatula to ensure that no flour pockets remain and the ingredients are evenly distributed.
Divide the dough into 24 portions, each about 2 tablespoons, forming balls about 1 1/2 inches in diameter. Working in batches, toss the balls in the reserved sugar mixture to coat and set them on the prepared baking sheet, spacing them about 2 inches apart, 12 dough balls per sheet. (Smaller baking sheets can be used, but it will take 3 batches.)
Bake one sheet at a time until cookies are browned and still puffy and edges have begun to set but the centers are still soft (cookies will look raw between cracks and seem underdone - don't overbake), 11-13 minutes. Cool the cookies for 1-2 minutes on the baking sheets and then remove to a wire rack to cool completely.
Notes
Butter: if you plan to use unsalted butter, increase the salt in the recipe to 1/2 teaspoon.

Brown Sugar: I wouldn't recommend substituting light brown sugar - because the brown sugar makes up the majority of flavor in the cookies, the dark brown sugar adds depth and substance.
Recommended Products
As an Amazon Associate and member of other affiliate programs, I earn from qualifying purchases.

Recipe Source: adapted from America's Test Kitchen
Disclaimer: I am a participant in the Amazon Services LLC Associates Program, an affiliate advertising program designed to provide a means for me to earn fees by linking to Amazon.com and affiliated sites. As an Amazon Associate I earn from qualifying purchases.