Creamy 5-Cup Fruit Salad
In this creamy 5-cup fruit salad the sweet flavors of the fruit blend together perfectly with the sour cream to create a creamy, dreamy coating.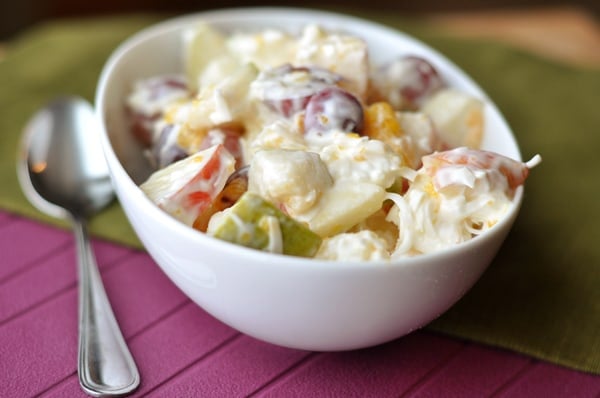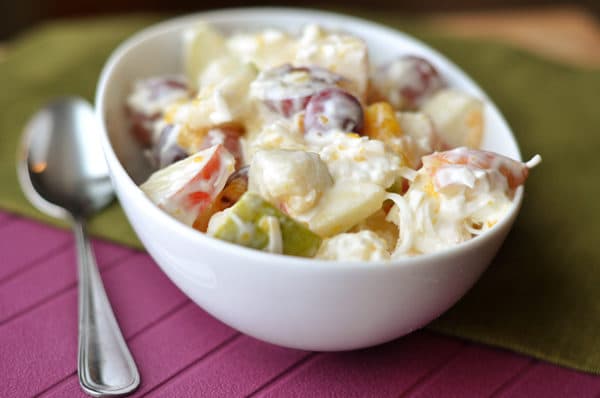 Nearly nine years ago when I was at my in-law's house for the very first time (eeps!), my tremendously sweet (yes, I really mean that, and not just because she might read this) mother-in-law served this fruit salad at dinner one night.
I devoured it. Then went back for seconds and thirds.
Shameless, I know, especially in light of the fact I should have been showing off some manners to my new in-laws. Too bad. They were already stuck with me.
Of course I asked for the recipe and when my mother-in-law announced that the fruit salad was basically three cups of fruit, one cup of sour cream and one cup of coconut, I was surprised. Had I really just thrown self-control and etiquette to the wind over a fruit salad smothered in sour cream? No way.
Way.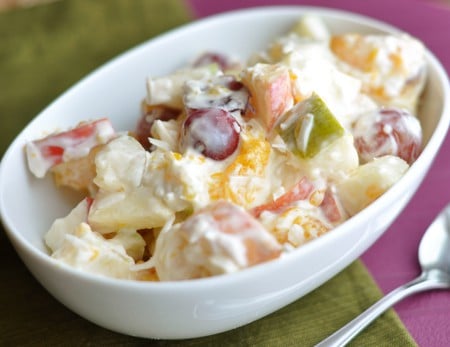 Since that marked event so many years ago, I have made this salad often and have adapted it here and there to be just how I like it. Somehow the sweet flavors of the fruit blend together perfectly with the sour cream to create a creamy, dreamy coating that envelops the fruit and keeps me coming back for more.
The coconut is the wild card – you'll either love it or hate it – so if you already have an aversion to coconut, just leave it out. Personally, I love the snaggy texture it brings to the fruit salad. The main trick is to let the salad sit in the refrigerator a few hours before serving so all the ingredients can marry together.
Thank goodness I married into a family that has such great taste in fruit salads. Amen.
One Year Ago: Asian Chicken Salad with Hoisin Vinaigrette
Two Years Ago: Peanut Butter Crunch Snack Balls
Three Years Ago: Man Pleasin' Sandwich
Yield: 4-6 servings as a side dish

Prep Time: 10 minutes

Additional Time: 4 hours

Total Time: 4 hours 10 minutes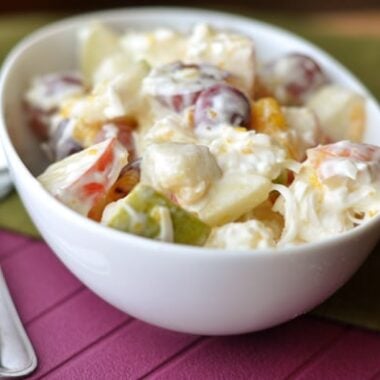 Ingredients
1 (10-ounce) can pineapple chunks (about 1 cup), drained
1 (11-ounce) can mandarin oranges (about 1 cup), drained
1 medium apple, cored and chopped (about 1 cup)
1 cup grapes, halved
1/2 cup sour cream, light or regular
1/2 cup sweetened, shredded coconut
Instructions
Combine the fruit in a large bowl, tossing well so the apple (and other fruit that likes to brown) can get coated in the pineapple and orange juice to prevent browning. Stir in the sour cream and coconut, gently tossing to coat.
Refrigerate for at least 4 hours prior to serving to allow the flavors to meld together. Serve chilled. You might notice that after a day or so of sitting in the fridge, quite a bit of liquid from the fruit pools at the bottom. If eating the leftovers, I like to gently pour some of this off before eating.
Recommended Products
As an Amazon Associate and member of other affiliate programs, I earn from qualifying purchases.

Recipe Source: adapted from my sweet and wonderful mother-in-law, Diane G.
Disclaimer: I am a participant in the Amazon Services LLC Associates Program, an affiliate advertising program designed to provide a means for me to earn fees by linking to Amazon.com and affiliated sites. As an Amazon Associate I earn from qualifying purchases.