Creamy Fettuccine with Ham and Peas
The white sauce in this creamy fettuccinne with ham and peas dish is rich and creamy; the addition of ham and peas makes it a complete meal!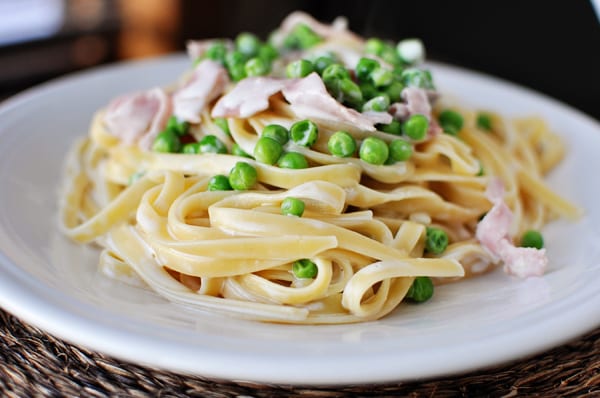 I have an old, old recipe on here for a creamy fettuccine. It's delicious. But not exactly calorie-friendly, thanks to my BFF, heavy cream.
When my friend, Lesli, sent me the recipe I'm posting today, I was immediately intrigued by the cut in calories and fat, thanks to a creamy sauce made very similarly to this popular alfredo recipe.
When I made this current recipe, my family was oohing and aahing all through dinner and my boys even chose to take it in their handy-dandy thermoses to school for lunch the next day, which just doesn't happen very often (usually they'd much prefer a ham and cheese over dinner leftovers).
The white sauce is rich and creamy without being overly fattening and the simple additions of ham and peas make this a wonderful, delicious, complete meal.
The one caveat I'll offer is that it is best eaten immediately – if left to sit out for a while, the sauce gets a bit clumpy and loses it's silky yumminess (but it does reheat decently on low power in the microwave – not as good as the original but fantastic enough to make lunch special).
The boost to the meal is that it comes together extremely quickly, perfect for those harried weeknights or wonderful for a lazy afternoon lunch. Big hip hip hooray for simple meals (that taste fan-diddly-tastic)!

Corn on the Cob
French Bread Rolls
Fresh, seasonal fruit like cantaloupe, pineapple or strawberries
One Year Ago: Apple Crisp
Two Years Ago: Creamy Orzo with Chicken, Mushrooms and Red Peppers
Three Years Ago: The Best Blueberry Muffins
Creamy Fettuccine with Ham and Peas
Yield: 4-6 servings

Prep Time: 10 minutes

Cook Time: 15 minutes

Total Time: 25 minutes
Ingredients
1 pound dry fettuccine noodles
2 cups frozen peas
2 tablespoons butter
2 garlic cloves, finely minced
1 1/2 cups lowfat milk (I used 1%)
1 (8-ounce) light or regular cream cheese, cubed
8 ounces thinly sliced deli ham
1/3 cup freshly grated Parmesan cheese
Instructions
In a large pot, boil the fettuccine according to package directions. Add the peas during the last 3 minutes of cooking. Drain the pasta and peas in a colander and set aside.
While the pasta is boiling, in a large 12-inch skillet or a medium saucepan, melt the butter over medium heat. Add the garlic and cook for 1 minute, stirring constantly. Stir in the cubed cream cheese, whisking or stirring until it is well combined with the butter and garlic and the mixture is relatively smooth. Slowly whisk in the milk and continue stirring and cooking until the mixture is bubbly and hot, 1-2 minutes. Remove the skillet or pot from the heat and stir in the ham and Parmesan cheese.
Return the pasta and peas to the large pot they cooked in and pour in the sauce. Toss to combine. Sprinkle with black pepper, if desired. Serve immediately.
Recommended Products
As an Amazon Associate and member of other affiliate programs, I earn from qualifying purchases.

Recipe Source: adapted slightly from a recipe sent to me by my friend, Lesli D.
Disclaimer: I am a participant in the Amazon Services LLC Associates Program, an affiliate advertising program designed to provide a means for me to earn fees by linking to Amazon.com and affiliated sites. As an Amazon Associate I earn from qualifying purchases.