These popular, no-fail French bread rolls are light, fluffy and delicious! They are so easy to make; perfect for bread-making beginners and experts alike!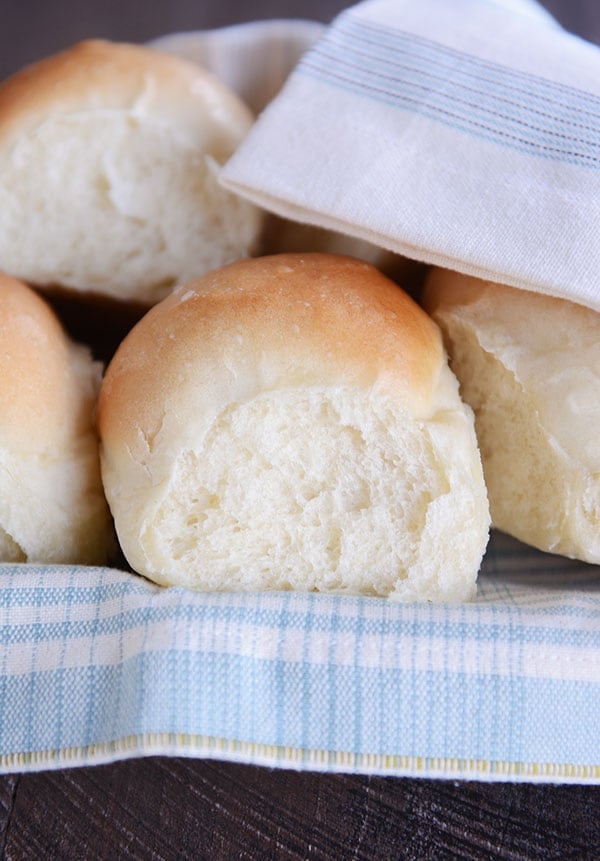 If you want one of the easiest, foolproof, most delicious roll recipes around, today's your day.
This French bread roll recipe has been around a loooooong time, and after 10+ years, it is still the roll recipe I probably make the most (that's saying a lot, because I have a lot of favorite roll recipes).
In fact, this recipe holds a place very near and dear to my heart because it's THIS French bread roll recipe that finally helped me overcome my fear of making homemade bread and rolls.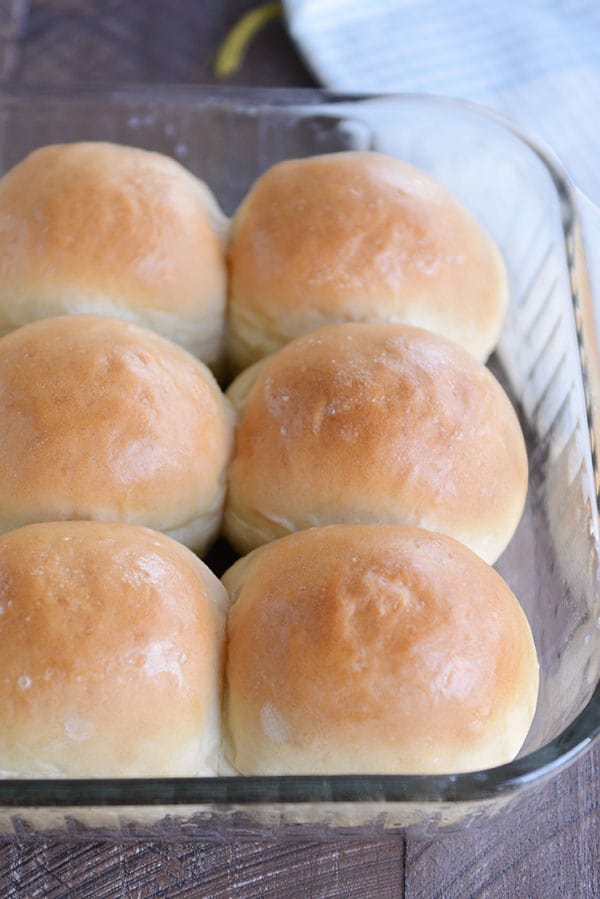 I remember when I first made these. It was before I even had a food blog (the time in my life nostalgically referred to as b.f.b. – before food blog).
I had failed at homemade bread and rolls so many times, it wasn't even funny.
No, like, really not funny.
I was shedding tears on a regular basis at the failed yeast products coming out of my kitchen, and Brian was encouraging me to find a new hobby.
But I can still picture my younger self standing by the old green 70's era oven in our itty bitty rented apartment in downtown Salt Lake City waiting with anticipation to see what would emerge from the oven after making these rolls on a hope and a prayer (i.e. please don't let them resemble hockey pucks, oh, please).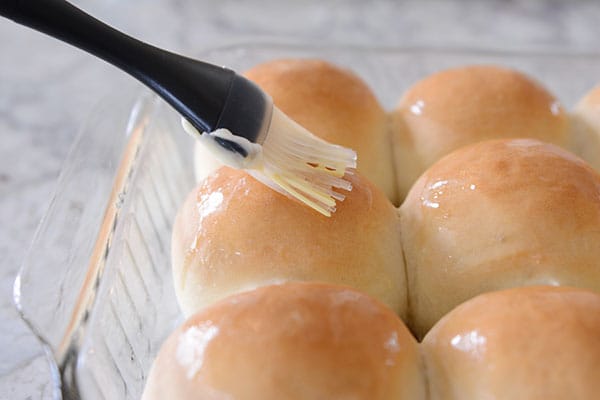 When these rolls came out of the oven all light and fluffy and perfect as any roll that ever lived, well, in that moment, I felt like a complete rock star.
To be honest, I think I still shed tears, but this time they were tears of happiness.
And if you've never cried over good (or bad) bread, you're prolly thinking I'm a lunatic, but if you have…virtual hug and forever bond, my friend.
I'm serious when I say this roll recipe is the perfect yeast roll recipe for anyone who has never made rolls or bread before.
It is simple and forgiving and nearly fail-proof.
Plus, it is so delicious and versatile, it's equally perfect for all you expert bread makers.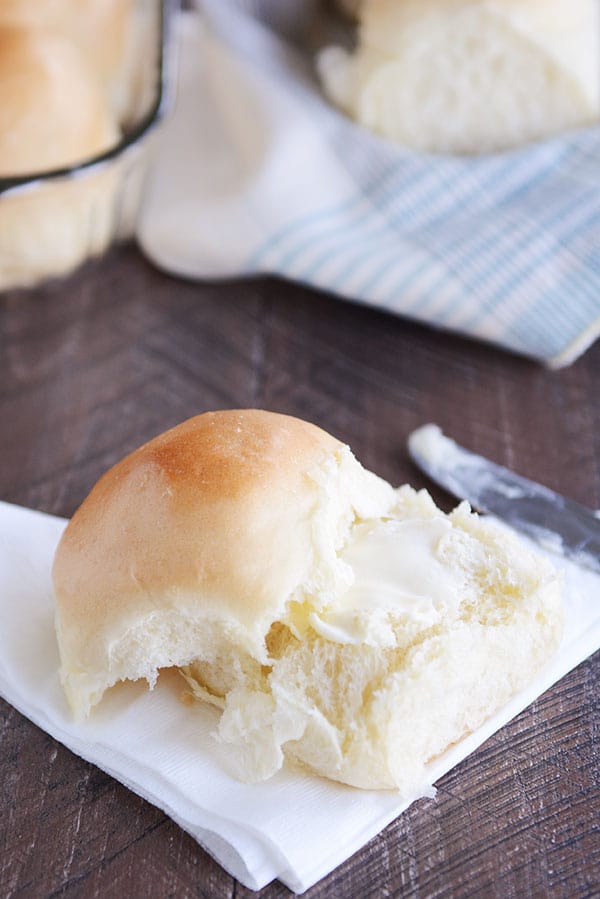 Can I get an amen from any or all of you that have made this roll recipe and fallen in love?
Judging by the comments, it is an easy favorite for hundreds of others, not just me.
I've include a simple step-by-step photo tutorial below the recipe for those that just need a bit of visual oomph to give them the courage to dive into bread or roll making.
You don't even need a stand mixer – this yeast dough is forgiving and easy enough to be made with a good old-fashioned bowl and wooden spoon.
Here's a little tip that will up your homemade bread making game: I talk about this in all my yeast bread recipes, but let go of the idea that you have to add the EXACT amount of flour in a yeast recipe.
It's all about the look and feel of the dough – and the best way to figure it out is to get your hands in there.
For this recipe, grab a piece of dough after the flour has been added (mixer off if you want to protect your little fingies!). Initially, it might leave a little sticky residue on your fingers.
Don't be alarmed! It's probably ok…follow the next step.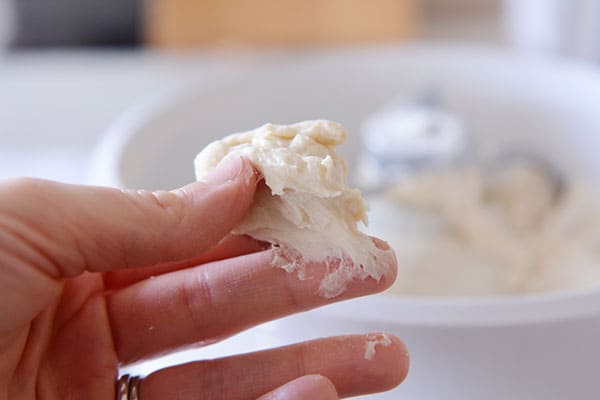 If you can roll it into a smooth ball without any oil/cooking spray and without it sticking to your hands in a shaggy, horror movie mess, you are good to go.
That right there is perfectly floured dough.
It makes me so happy just seeing that. You have no idea.
Yes, I fully recognize that I need to get a life.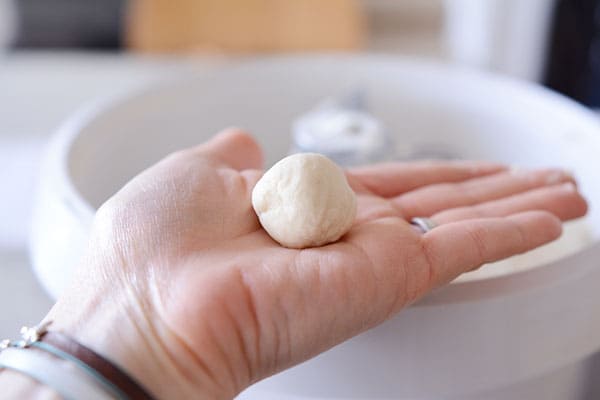 Over the years, this French bread roll recipe has become more than a dinner roll.
Although it is fabulous as just that (and would be perfect for an Easter dinner menu or other holiday spread), these French bread rolls have become my go-to for any recipe that needs a wonderful all-purpose roll or bun (whole wheat notes below).
Here are just a few examples:
Meatball Subs
Pulled Pork Sandwiches
Sloppy Joes
Italian Beef (or this Roasted Garlic Beef)
Slow Cooker Philly Cheesesteaks
The list goes on and on.
I've even used it for pizza dough in a pinch and for braided breads, like this super old BBQ Chicken Braid recipe.
I also posted a 100% whole wheat version of this French bread roll recipe here with a few small but important notes/changes, so if whole wheat is more your jam, check that out (although you can definitely add whole wheat flour to the recipe below as I've done many a time throughout the years).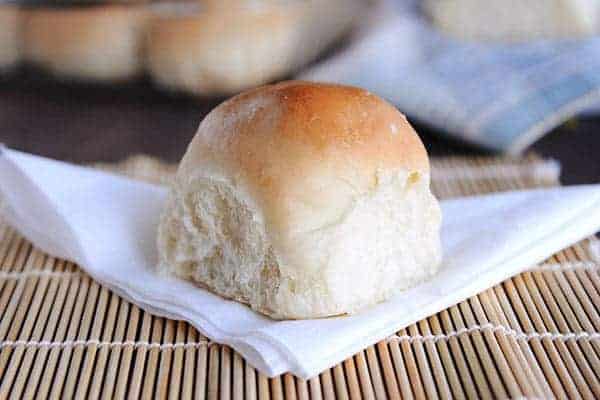 There is not an easier, more perfect roll recipe out there!
These French bread rolls come together fast, and honestly, I haven't met a single person who wouldn't fight to the death for one of these fluffy, heavenly rolls.
I always, always at least double (most often triple) the batch, because the baked and cooled rolls freeze amazingly well!
For those that have asked, here are some of the tools I use for these rolls:
*Affiliate links included below for products I've purchased from Amazon; feel free to shop around for the best price!*

-I like to weigh out the dough for this recipe and others (shocker, I know); this is the beloved kitchen scale that I have
-Here is the large 8-quart container I use for letting the dough rise (comes in many different sizes; also carried in stores like Standard Restaurant Supply, if you have one local); smaller 4-quart version here (keep in mind you have to purchase the lids separately)
–Silicone pastry brush for slathering on the butter
-My favorite OXO bench knife for portioning out the dough
A quick note about mixers: I have a Bosch Universal and use it for 99% of the bread recipes I make. If you have questions about stand mixers, never fear! Next week, I'll be posting an objective, comprehensive look at KitchenAid vs. Bosch mixers that will answer many questions about making yeast breads (and many other recipes) in either mixer!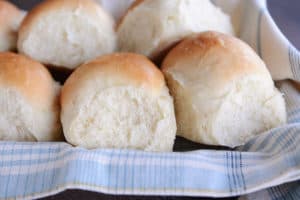 Print
French Bread Rolls
Yield 1 dozen rolls
As with all yeast doughs, make sure not to over (or under) flour the dough! I've given tips in the recipe (and here's a simple tutorial on yeast). The step-by-step pictures below the recipe are also a great visual.
To get those perfectly shaped round balls of dough, here's a little video tutorial (minute marker 2:20).
If you are looking for a whole wheat version of these rolls, here's the perfect fluffy whole wheat french bread roll recipe. You can also sub part of the all-purpose flour in the recipe below with whole wheat flour, if desired.
Ingredients
1 1/2 cups warm water
3/4 tablespoon instant yeast (or 1 tablespoon active dry yeast)
2 tablespoons granulated sugar or honey
2 tablespoons canola oil, vegetable oil or other neutral-flavored oil (olive oil will work, too)
1 teaspoon salt
3 1/2 to 4 cups all-purpose flour, more or less (see note above)
Instructions
In the bowl of a stand mixer fitted with the dough hook or in a large bowl by hand, combine the warm water, instant yeast, sugar, oil, salt and 2 cups of the flour. If you are using active dry yeast instead of instant yeast, let the yeast proof in the warm water and sugar for about 3-5 minutes until it is foamy and bubbly before adding the oil, salt and flour.
Begin mixing, and continue to add the rest of the flour gradually until the dough has pulled away from the sides of the bowl (see the step-by-step tutorial below for a visual). Begin kneading the dough for 4-5 minutes in a stand mixer (7-9 minutes by hand). 
The dough should be soft and smooth but still slightly tacky to the touch. After a few minutes of kneading, stop the mixer and grab a small piece of dough to test if it needs more flour or not. It might leave a little bit of sticky residue on your fingers, but if you can roll it into a small ball without it sticking all over to your hands, it is good to go. If not, gradually add a bit more flour as needed. 
Lightly grease a container or large bowl with nonstick cooking spray, and place the kneaded dough in the container.
Cover the bowl with lightly greased plastic wrap or a large tea towel. Let the dough rise until it has doubled (this usually takes about an hour, depending on the warmth of the kitchen).
Lightly punch down the dough and turn it out onto a lightly greased countertop.
Divide the dough into 12 equal pieces (about 2.75 ounces each, more or less), and form the dough into round balls (video tutorial here right at minute marker 2:20).
Place the rolls in a lightly greased 9X13-inch pan or on a large, rimmed baking sheet lined with parchment or lightly greased. Space the rolls about 1/2- to 1-inch apart.
Cover the rolls with lightly greased plastic wrap taking care not to pin the plastic wrap under the baking sheet or else the rolls will flatten while rising. Let the plastic wrap gently hang over the sides of the pan to fully cover the rolls but not press them down.
Let the rolls rise until very puffy and doubled, about 45 minutes to 1 hour.
Preheat the oven to 400 degrees. Bake for 15-17 minutes until lightly browned and cooked through.
Immediately out of the oven, brush with butter (optional).
Notes
Freezable Option: I almost always make a double or triple batch of these rolls. Once they are baked and cooled, I place them in a zipper-lock freezer bag and put them in the freezer. I either take them out a few hours before I need them or I take them out frozen and microwave them for about 2-3 minutes on 70% power.
Recipe Source: Mel's Kitchen Cafe
Recipe originally published 12/2007; updated with new pictures, step-by-step tutorial, and recipe notes.