Creamy Orzo with Chicken, Mushrooms and Red Peppers
Creamy and healthful, this orzo with chicken, mushrooms, and red peppers is a simple, fast, and delicious meal that is sure to please.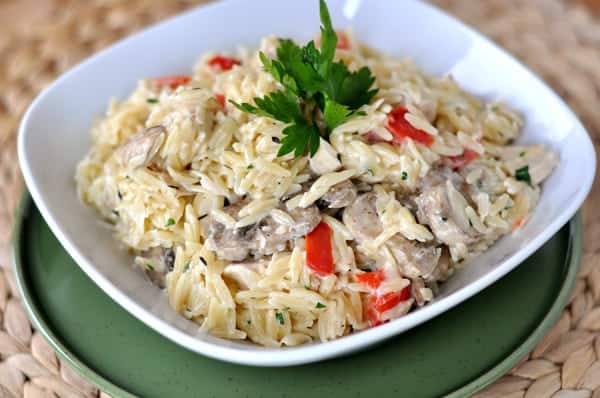 If you are on your A-game and ready to boogy around the kitchen like it is nobody's business then this meal can be made in less than 20 minutes. For the rest of us slackers, it is probably more like a 27-minute meal. But I'll take that any night of the week.
Creamy and healthful (thanks to the cream cheese instead of the heavy cream!), this pasta dish is filled with delicious gifts of goodness like flavorful mushrooms, sweet red pepper, tender chicken and the entire skillet is brightened up with fresh parsley and lemon juice.
A hit, all the way from my finicky 1-year old to my finicky 33-year old (who shall remain nameless).

Fresh fruit or green salad
Steamed broccoli or other vegetable
Simple Buttermilk Drop Biscuits
One Year Ago: Lemon Sugar Crusted Blueberry Muffins
Two Years Ago: Chicken Lo Mein
Creamy Orzo with Chicken, Mushrooms and Red Peppers
Yield: 4 servings

Prep Time: 10 minutes

Cook Time: 16 minutes

Total Time: 26 minutes
Ingredients
1 tablespoon olive oil
2 average-sized chicken breasts (about 1 to 1 ½ pounds), cut into chunks
1-2 red bell peppers, cut into ½-inch pieces
8 ounces white button mushrooms, quartered
1 teaspoon dried thyme
3 cloves garlic, finely minced
1 pound orzo pasta
8 ounces cream cheese, softened (can use 1/3 less fat cream cheese)
1 cup reserved pasta water
1/2 teaspoon salt
1/2 teaspoon pepper
½ cup freshly grated Parmesan cheese
3 tablespoons chopped fresh flat leaf parsley
Squeeze of fresh lemon juice (from 1 lemon)
Instructions
Bring a large pot of salted water to a boil. Add the orzo and cook according to package directions until tender. When the orzo is ready, reserve 1 cup of the pasta water (ladling it into a small bowl is my method) and then drain the orzo and set aside.
While the orzo cooks, in a large nonstick skillet, heat the olive oil over medium heat. Season the chicken with salt and pepper. Add the chicken to the hot oil and brown on all sides. When nicely browned (but not all the way cooked through), add the peppers, mushrooms and thyme. Stir and let cook for about 5 minutes, until the chicken is cooked through and the mushrooms and peppers have softened and browned and most of the liquid has evaporated. Add the garlic and cook, stirring, until fragrant, about 1 minute.
In the skillet over medium heat, add the softened cream cheese (if you forgot to let the cream cheese soften at room temperature, no worries! Pop it in the microwave for one minute on 40% power) in bite sized chunks and stir so that the cream cheese melts and coats the chicken and vegetables. Add the reserved pasta water and bring to a simmer. Add ½ teaspoon salt and ½ teaspoon pepper. Stir. Add the orzo, Parmesan, lemon juice and fresh parsley. Stir to combine and heat through. Garnish with additional Parmesan and parsley.
Notes
Serve Immediately: this pasta is best served immediately as it tends to get less creamy as it sits at room temperature – so serve warm right as it finishes cooking! (Incidentally, it heated up just fine the next day in the microwave on low power.)
Recommended Products
As an Amazon Associate and member of other affiliate programs, I earn from qualifying purchases.

Recipe Source: adapted from Food and Wine Quick From Scratch Pasta Cookbook