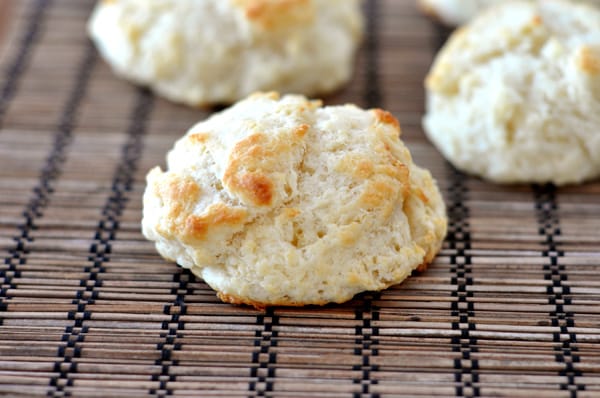 Drop biscuits have been appearing right and left in our house over the last few months, thanks to this recipe. I know it sounds so hoity-toity to call something the best, but let me tell you, these are simply the best drop biscuits I've ever had and if my insistence on making them at least weekly is any indication I'm telling the truth, then you should run to the kitchen and make them, too.
I love biscuits in any form, but drop biscuits are unparalleled in their simplicity. Here's the brilliance of this recipe – chilled buttermilk is stirred together with melted butter which creates small clumps of butter.
When those pearls of butter hidden inside the biscuit dough hit the piping hot oven, they melt, creating steam which results in a flaky, tender biscuit.
These biscuits couldn't be simpler – no rolling out, no carefully folding the dough into envelope shapes, just whisk, scoop, and bake. And then try not to eat all 12. Because let's be serious, biscuits aren't exactly parading around claiming to be calorie free.
I forgive them for that blatant error, especially since they are so quick and easy to throw together for nearly any meal imaginable. We buck tradition around here and eat them with everything from spaghetti to meatloaf. They are especially delicious with this crispy oven baked chicken and this chili rubbed pork loin. Just sayin'.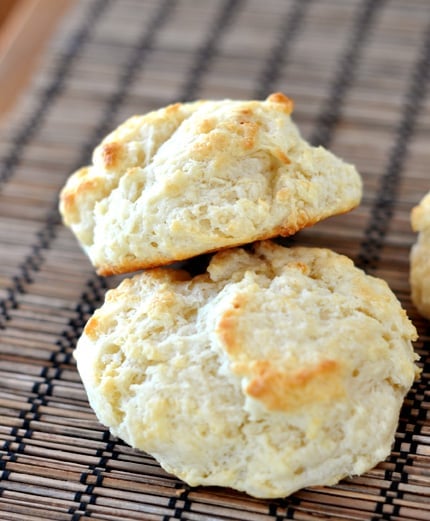 Yield: 12 biscuits

Prep Time: 10 minutes

Cook Time: 14 minutes

Total Time: 24 minutes
Ingredients
2 cups (10 ounces) all-purpose flour
2 teaspoons baking powder
½ teaspoon baking soda
1 teaspoon sugar
¾ teaspoon salt
1 cup buttermilk, chilled (here is a guide for making your own buttermilk)
8 tablespoons butter, melted and slightly cooled
Instructions
Heat oven to 475 degrees F. Line a rimmed baking sheet with parchment or a silpat liner.
In a large bowl, whisk together the dry ingredients. In a 2-cup liquid measure, stir together the chilled buttermilk and melted butter until the butter forms small clumps. Stir the buttermilk mixture into the flour mixture with a rubber spatula just until the ingredients are incorporated and the mixture slightly pulls away from the edges of the bowl.
Using a greased ¼-cup measure, scoop out mounds of the dough and drop them onto the prepared baking sheet, spacing about 1 ½ inches apart. Bake the biscuits until the tops are golden brown and crisp, 12 to 14 minutes. Remove from the oven, brush with additional melted butter. Serve warm.
Recommended Products
As an Amazon Associate and member of other affiliate programs, I earn from qualifying purchases.

Recipe Source: from America's Test Kitchen