Divine Tres Leches Cupcakes
Love tres leches cake? It's even more delicious and pretty in cupcake form. These from-scratch tres leches cupcakes are sure to be a hit!
We need to get right down to business today because I have so (so!!) much to tell you about these cupcakes.
Should we just number a list? Yes, I think we should.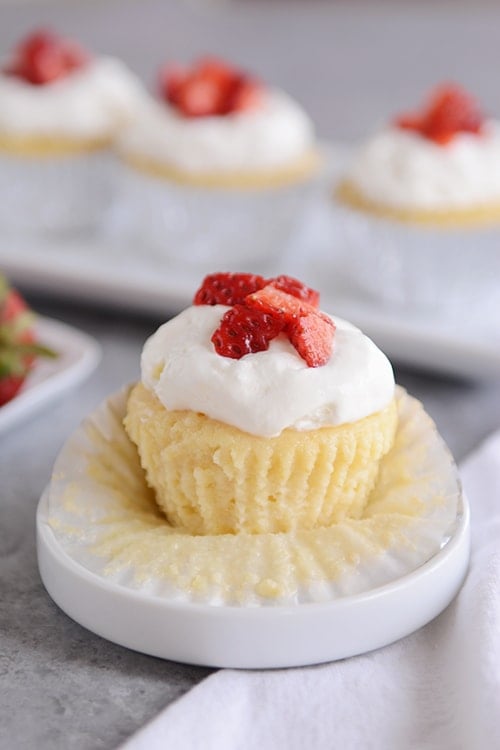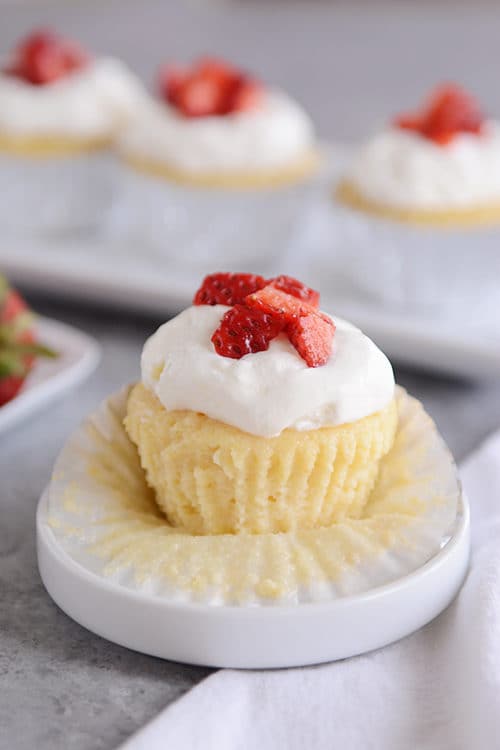 1) This vanilla cupcake recipe has quickly become my go-to after working on it for a while.
It's incredible. Light and fluffy and so wonderfully easy (no electric mixer needed, no fussy ingredients).
Even if tres leches cupcakes don't seem like they fit in your wheelhouse (hint: I'll try to change your mind about that in a minute), the plain cupcake recipe is a winner.
2) The tres leches cupcakes as a whole, I swear, are going to win me something big.
Extra hugs? High fives from strangers? Not sure exactly, but it's going to be big, I can feel it.
People go crazy for these cupcakes. Crazy! Like, it's almost scary.
At a church function last month, after making 50 of these, I was kind of worried I might get mobbed for the recipe by a group of 40-something moms on my way out to the car.
The next week, I made a single batch to serve to my in-laws when they came into town.
Judging by the fact that my husband and his dad ate an unspecified amount of these in one sitting, I think they were well-received.
And, this week, I'm making 100 of them for a lunch I'm serving on Thursday (hello, perfect Cinco de Mayo dessert!). Pretty and delicious, these cupcakes are quite magical in their power to make everyone fall in love (with the cupcakes, not each other).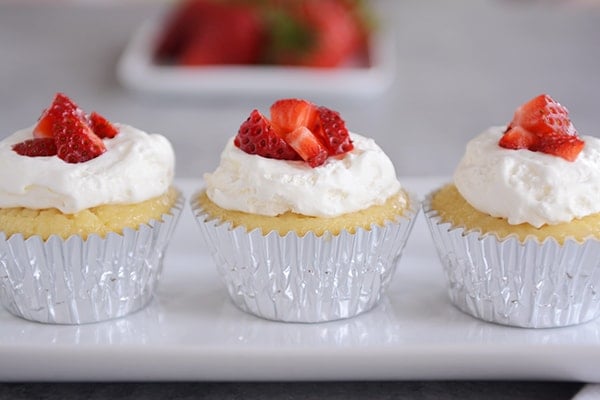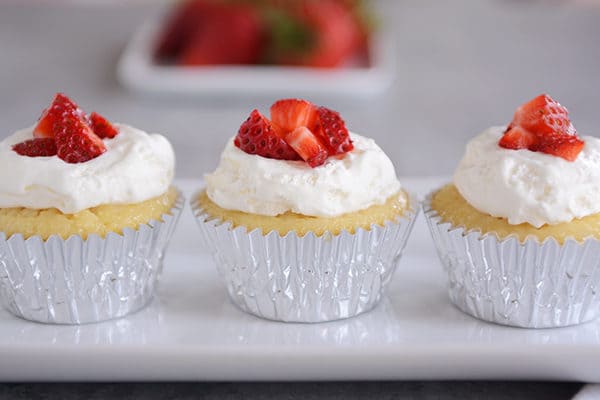 3) Here's my disclaimer (sorry, but we have to talk about it): the cupcakes are a cinch to whip up and bake. And yes, the milk mixture takes about three seconds in the blender.
The topping is as easy as making lightly sweetened whipped cream and plunking a berry on top. It's all so simple! Almost embarrassingly so.
Except that I want to tell you now, because we are friends, that it is a leeeetle bit tedious poking holes in the cupcakes and administering the milk mixture. It just is.
I've made them enough times that I've tried about seven different methods to drizzle, spoon, pour on the milk mixture. It's been messy and annoying, but I finally settled on a way that works perfectly. It just takes a little patience.
3a) I've explained it in the recipe (spoiler alert: it involves a squeeze bottle – link goes to Amazon for a visual but I've found these locally at craft supply stores and also a larger kitchen supply store – and a small offset spatula, FYI) and included a little picture blurb below the recipe.
It's not hard! Just a little time-consuming.
3b) And, this thought just now came to me, I've used a pretty thin bamboo skewer to poke the holes (thinner than a kebab skewer), so I'm guessing if you use something that makes slightly bigger holes, the milk mixture will absorb better and more quickly (just take care not to make holes so big that the cupcake falls apart).
In fact, I'll try that out tomorrow, kicking myself I wasn't brainy enough to think of it before now, when I make 100 of them and let you know how it goes. For a visual, this is the size of skewer I've been using.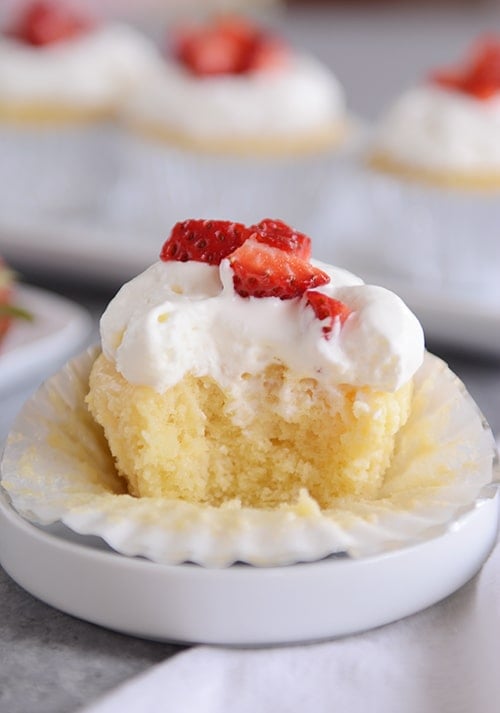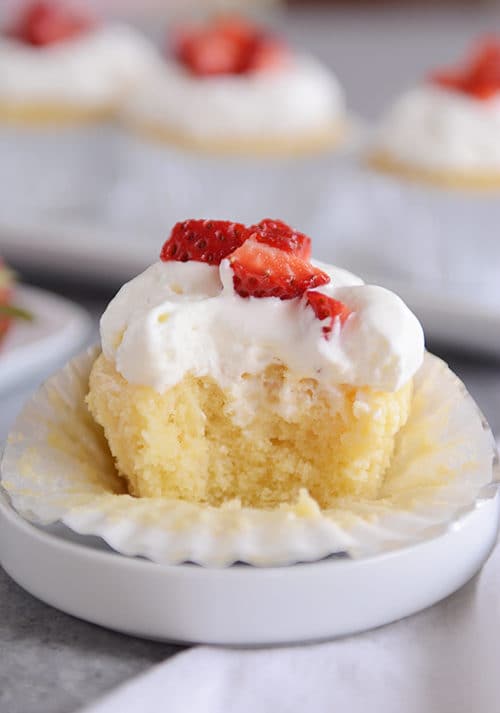 4) All disclaimers aside, these cupcakes are out of this world. Even having made them over and over, I'm still looking for reasons to serve them because they make everyone so insufferably happy.
5) One huge advantage of these lovely little cupcakes is they can be made ahead of time. In fact, they should be made ahead of time. And you know how I feel about make-ahead desserts, right? They make life worth living.
Now go. Read through the recipe. Let me know if you have questions.
And don't stress about #3 up there. Turn on Netflix, grab a stool, and go to town (invite me over! I'll sit and talk to you while you work). It will be so worth it, I promise.
One Year Ago: Whole Grain Pumpkin Blueberry Muffins
Two Years Ago: Cheesy Spinach Stuffed Pasta Shells
Three Years Ago: Chipotle Chicken Skewers with Creamy Dipping Sauce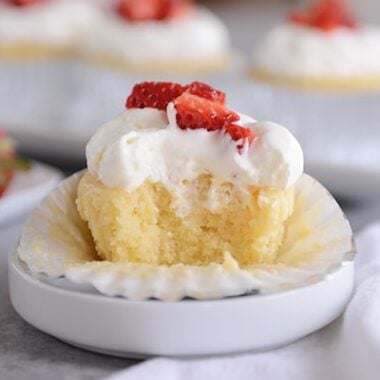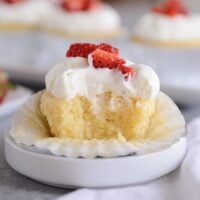 Divine Tres Leches Cupcakes
Ingredients
Cupcakes:
1 ½

cups

(

213

g

)

all-purpose flour

½

teaspoon

baking powder

¼

teaspoon

baking soda

¼

teaspoon

salt

½

cup

(

113

g

)

salted butter

1

cup

(

212

g

)

granulated sugar

1

large egg

1

cup

buttermilk

2

teaspoons

vanilla extract
Milk Mixture:
1 (14-ounce)

can

sweetened condensed milk

1 (12-ounce)

can

evaporated milk

1

cup

heavy whipping cream
Topping:
1 ½

cups

heavy whipping cream

⅓

cup

(

38

g

)

powdered sugar

Dash of vanilla extract

Fresh berries

,

for topping
Instructions
Preheat the oven to 350 degrees F. Line a standard muffin tin with foil liners (don't use standard paper liners; the milk mixture will soak through). This recipe makes about 16 cupcakes so you can line another 4 muffin cups in a second pan as well or bake a second batch.

In a medium bowl, whisk together the flour, baking powder, soda and salt. Set aside.

In a microwave-safe bowl (you can also do this in a pan on the stovetop), melt the butter. Whisk in the sugar and continue whisking until the mixture is no longer warm to the touch. Whisk in the egg, buttermilk and vanilla until well-combined.

Add the dry ingredients to the wet mixture and whisk until the batter is mostly lump-free without overmixing (maybe 20-30 strokes of the whisk total).

Portion the cupcake batter evenly in the tins. Don't overfill! For this recipe, in particular, it is best to have the baked muffins sit slightly below the rim of the muffin cup to help when adding the tres leches mixture. I use my #20 cookie scoop to portion the cupcake batter – about 3 tablespoons batter, or slightly less, per muffin cup.

Bake the cupcakes for 14-16 minutes until the tops spring back lightly to the touch.

Remove the cupcakes to a wire rack to cool completely. When cool, use a thin skewer to poke holes all over (and I mean, all over) the cupcake. Go crazy, but don't poke all the way through the cupcake liner.

For the milk mixture, in a large liquid measuring cup or in a blender, whisk together or blend the sweetened condensed milk, evaporated milk and heavy cream. The milk mixture needs to be drizzled or spooned over the top of each cupcake one at a time. I find it works best to pour the milk mixture in batches into a squeeze bottle (pictured below) and slowly squeeze the milk mixture onto the top of the cupcake while simultaneously pressing the milk mixture into the top of the cupcake with an small offset spatula. This tedious step can probably be sped up by using a thicker skewer to poke the holes. I use a fairly thin skewer which means the milk mixture doesn't soak in quite as quickly. You'll want to use about 2-3 tablespoons of milk mixture per cupcake (depending how soft and soaky you want them).

Refrigerate the cupcakes for at least an hour, or cover lightly with plastic wrap and refrigerate up to 12 hours.

When ready to serve (up to two hours ahead of time but not before that), prepare the topping by whipping the heavy cream, powdered sugar and vanilla extract together until stiff peaks form. Dollop

the sweetened whipped cream on top of each cupcake and finish it off with a fresh berry. Serve immediately or refrigerate for 1-2 hours until serving.
Notes
Leftover Milk Mixture: just a heads up that there will be left over milk mixture. There's no way around it since the ingredients aren't sold in smaller cans, but since many of you have been irked about leftover components in recipes before, I thought I'd let you know that in advance. You can definitely halve the milk mixture recipe and then decide what to do with the half leftover cans of sweetened condensed and evaporated milk (of course you could just double or triple the cupcake recipe and then, problem solved). Don't Skip This Step: I know the milk mixture part of the recipe (spooning it onto the cupcakes) seems a bit labor intensive, but these cupcakes are so worth it. Turn on Netflix or have your kids tell you entertaining stories to pass the time. The method I outline in the recipe (and pictured below) really is the fastest way I've found to do it. I use a really thin bamboo skewer to poke the holes but I'm guessing if you use something thicker, the milk mixture will soak in more quickly (just take care not to poke holes so big that the cupcake falls apart).
Serving:
1
Cupcake
,
Calories:
403
kcal
,
Carbohydrates:
41
g
,
Protein:
6
g
,
Fat:
24
g
,
Saturated Fat:
15
g
,
Cholesterol:
93
mg
,
Sodium:
206
mg
,
Fiber:
1
g
,
Sugar:
31
g
Recommended Products
Follow @MelsKitchenCafe on Instagram and show me the recipes you are making from my blog using the hashtag #melskitchencafe. I love seeing all the goodness you are whipping up in your kitchens!
Recipe Source: inspired by tres leches cupcakes I had at a book group several months ago (Heather, lovely book group hostess, gave me the milk mixture recipe); the cupcake recipe is one I've been working on for a while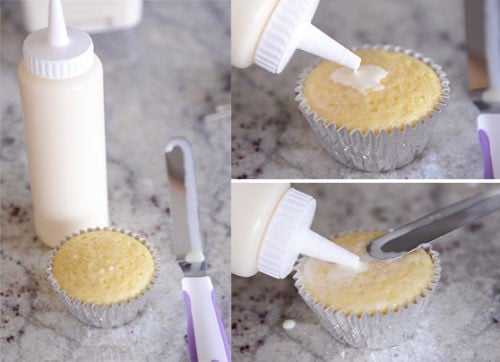 Disclaimer: I am a participant in the Amazon Services LLC Associates Program, an affiliate advertising program designed to provide a means for me to earn fees by linking to Amazon.com and affiliated sites. As an Amazon Associate I earn from qualifying purchases.