Ebelskivers: Puffy Danish Pancakes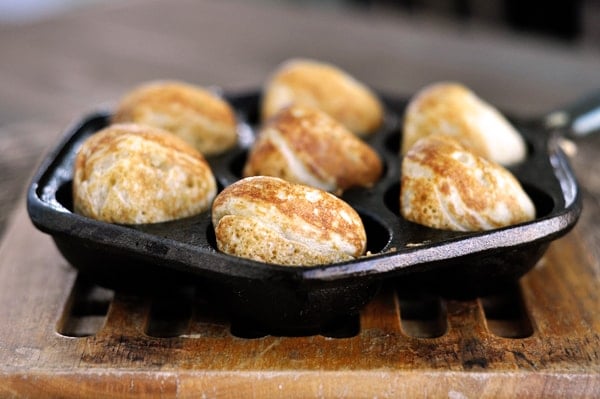 When I asked the question "do you ebelskiver?" on The Facebook last week, I wasn't prepared for the excited response I received. Many of you actually knew what ebelskivers are (we must be soulmates, you and I). Others didn't know but were interested in learning more which I love you for. Trust me. You want to know more about ebelskivers. Years ago, my awesome and crazy Uncle Dan made them for my family when we visited them on one of our yearly cross-country treks from Texas to Idaho. I think I was only nine or thereabouts but I remember thinking my Uncle Dan and Aunt Marilyn had to be the coolest people in the universe to know how to make pancakes that were puffy spheres. To a 9-year old girl with a wild imagination, that was, like, a very stellar super power. They have become a staple in our house ever since (both the house I grew up in and now with my own little family). Although many people reserve them for special brunches or Christmas morning type deals, we eat them quite often on Sunday afternoons when this momma doesn't want to mess with the whole big Sunday meal.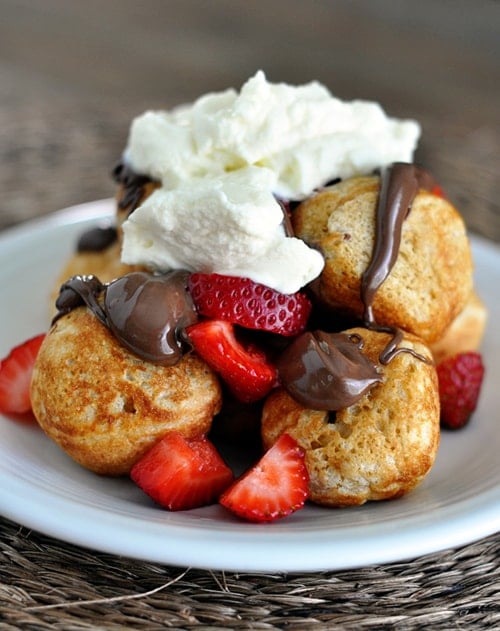 Jackson, my 9-year old (must be the age), has taken an avid interest in ebelskivering (yep, it's a thing) and has become quite proficient at turning them in the pan which leaves me to other important tasks like cleaning out the inside of the nutella jar.
Ebelskivers are a Danish pancake that cook up in a special pan to form a delightfully fluffy ball of breakfast love that can be stuffed with any variety of things (bits of sweetened cream cheese, fruit, nutella or other chocolatey decadence) or just cooked up and drizzled with syrup, dusted with powdered sugar or served with fresh fruit and whipped cream.
Surely you see how the possibilities are endless.
You can go all out or keep it ultra-simple. You'll see from the step-by-step pictures below how the batter goes from a runny puddle to a puffy puff.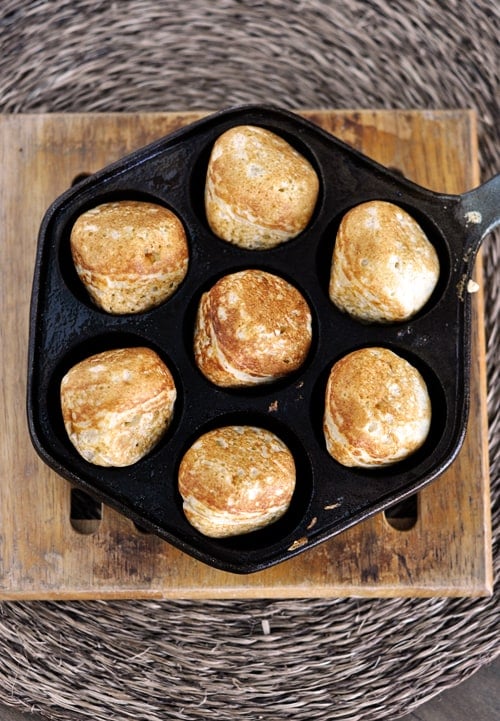 We use a knitting needle to turn the sweet things (appropriate since I've tried and failed to learn how to knit, oh, at least 13 times; this is a far better use for the needles than throwing them across the room in frustration) or metal chopsticks my brother brought back from Korea for me when he was there years ago.
You can see how good I am at repurposing skinny metal items, no?
Chances are if you've known our family long enough, you've eaten ebelskivers at our house. Nothing solidifies friendship like ebelskivering together.
One Year Ago: Cheesy Zucchini Rice
Two Years Ago: Oreo Cheesecake Bites
Three Years Ago: Herb-Roasted Potatoes
I always use at least 1/2 white wheat flour (sometimes more like 3/4) instead of all white flour and they are still absolutely delicious. It's super duper important if using a cast iron ebelskiver pan (like in my pictures) that it is well-seasoned. You can google how to season a cast iron pan - but proper seasoning will make all the difference in the world so that the ebelskivers don't stick.
Ingredients
3 large eggs
2 tablespoons granulated sugar
3 cups buttermilk
1 teaspoon vanilla
1/4 cup plus 2 tablespoons vegetable or canola oil
3 cups flour (see note above)
1 1/2 teaspoons baking soda
1/2 teaspoon baking powder
1/2 teaspoon salt
Directions
In a large bowl, whisk together the eggs and sugar. Mix in the buttermilk, vanilla and oil. Stir in the flour, baking soda, baking powder and salt until just combined.
Pour 3-4 tablespoons oil in a small cup and keep near the stove. You'll need a pastry brush or paper towel to rub oil into the pan between batches.
Preheat an ebelskiver pan over medium heat for 4-5 minutes until hot (the batter should sizzle when poured into the pan - but take care it isn't so hot to burn the ebelskivers). Brush each cup with a tiny bit of oil.
Pour enough batter into each cup to fill about 3/4 of the way. If you are planning on adding a filling (like fruit/jam, etc.) don't fill quite as full. Let the ebelskivers cook for a minute or so until tiny bubbles begin to show on the surface and the edges look like they are setting a bit. Add any filling to the center of the batter at this point and top with a tiny bit of batter to cover.
Using a knitting needle or other similar long, thin tool, push the tip into the middle of the batter to the bottom of the cup and gently lift the ebelskiver so that it turns and the cooked part is lifted out of the pan. The uncooked batter will run into the bottom of the cup.
Let the ebelskiver cook a bit more (it will depend on how hot your pan is - don't let them burn!) and turn again, slightly twisting so the seam from the first turn lifts out of the cup, with the needle so that it begins to form a ball shape (see the step-by-step pictures below). If the cooking process seems confusing, just simply keep turning the ebelskiver so it doesn't burn and so that it cooks evenly on each side.
Again, let it cook for a minute and then turn again so the opening is now on the bottom of the hot pan to cook all the way through.
I like to toss the cooked ebelskivers in a 9X13 pan and keep them in a warm oven (about 175 degrees or so) until they are all cooked. Serve warm with any variety of toppings: syrup, fruit and whipped cream, nutella, powdered sugar, jam. The options are endless!
https://www.melskitchencafe.com/ebelskivers-puffy-danish-pancakes-a-how-to-and-a-giveaway/
Printed from Mel\'s Kitchen Cafe (www.melskitchencafe.com)
Recipe Source: ebelskiver recipe from my Aunt Marilyn; she and my Uncle Dan introduced my parents to ebelskivers years and years ago!