Fantastic (and Easy!) Homemade Bagels
Looking for the perfect from-scratch homemade bagel recipe? Here it is! Chewy and delicious, they'll wow all of the bagel lovers everywhere.
For years now, I have experimented with making my own bagels, mostly because I cannot stand the bagels that come prepackaged in the bread aisle (are those things really bagels?) and I constantly crave the chewy, dense bagels I've had a time or two in larger cities (New York and Chicago) that are absolutely phenomenal.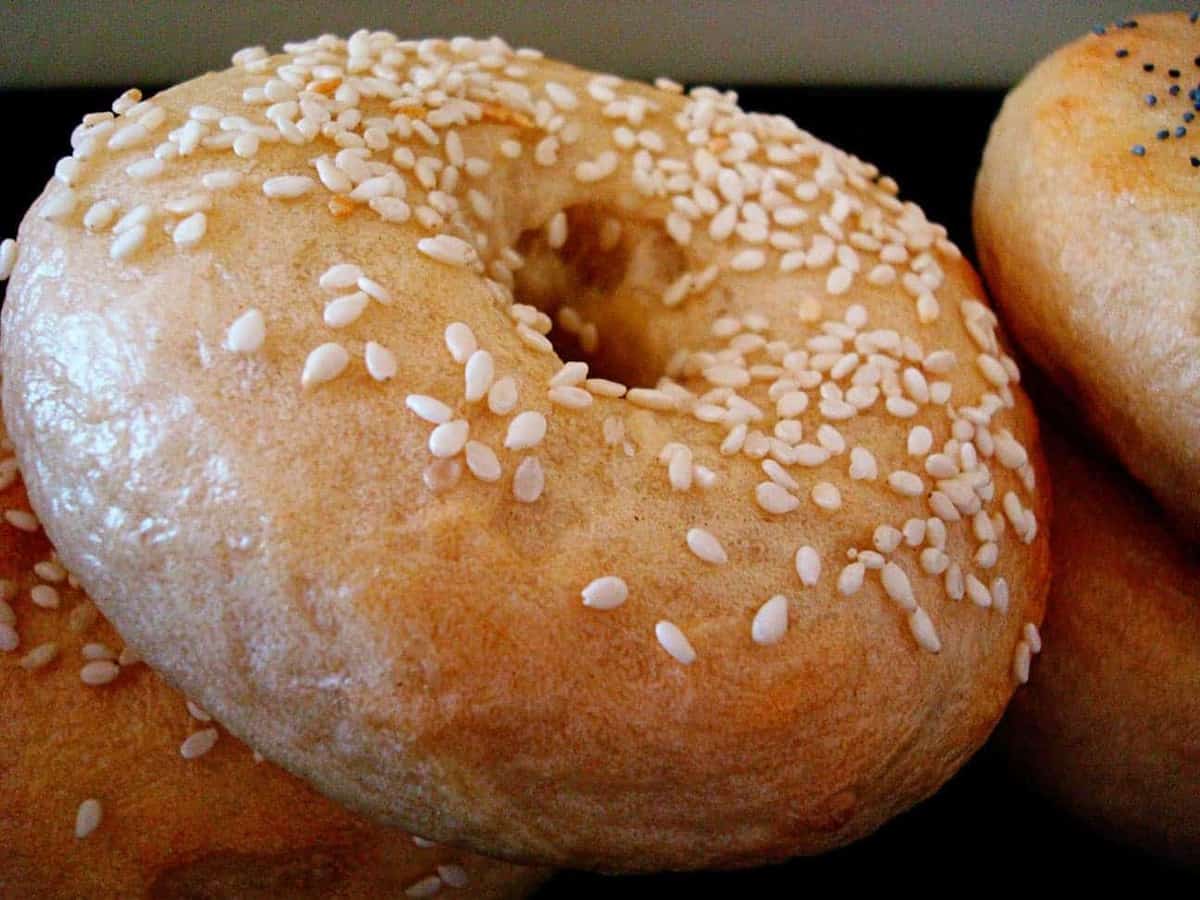 A few years ago, I found a bagel recipe from Emeril that I have used and loved (and converted my sister-in-law, Erin, too) but I am here to say that it pales in comparison to these bagels I made yesterday.
This new and improved recipe comes from King Arthur Flour and there are step-by-step instructions on their blog that make it even easier. A couple of things are different from my old, much-loved recipe.
First, a starter is made the night before which I think greatly enhances the flavor, and bread flour is used instead of all-purpose flour. The result is an extremely chewy, delicious bagel that I could eat at least ten of.
Oh wait…I did.
I don't think I will ever be able to make anything that quite compares to the bagels I have had in New York, but these are definitely worthy of home-baking and have convinced me yet again to make my own instead of shopping the bread aisle for bagels.
I'm on my way to eat another one right now! (And I can't wait to try making them topped with Asiago cheese…oh my!)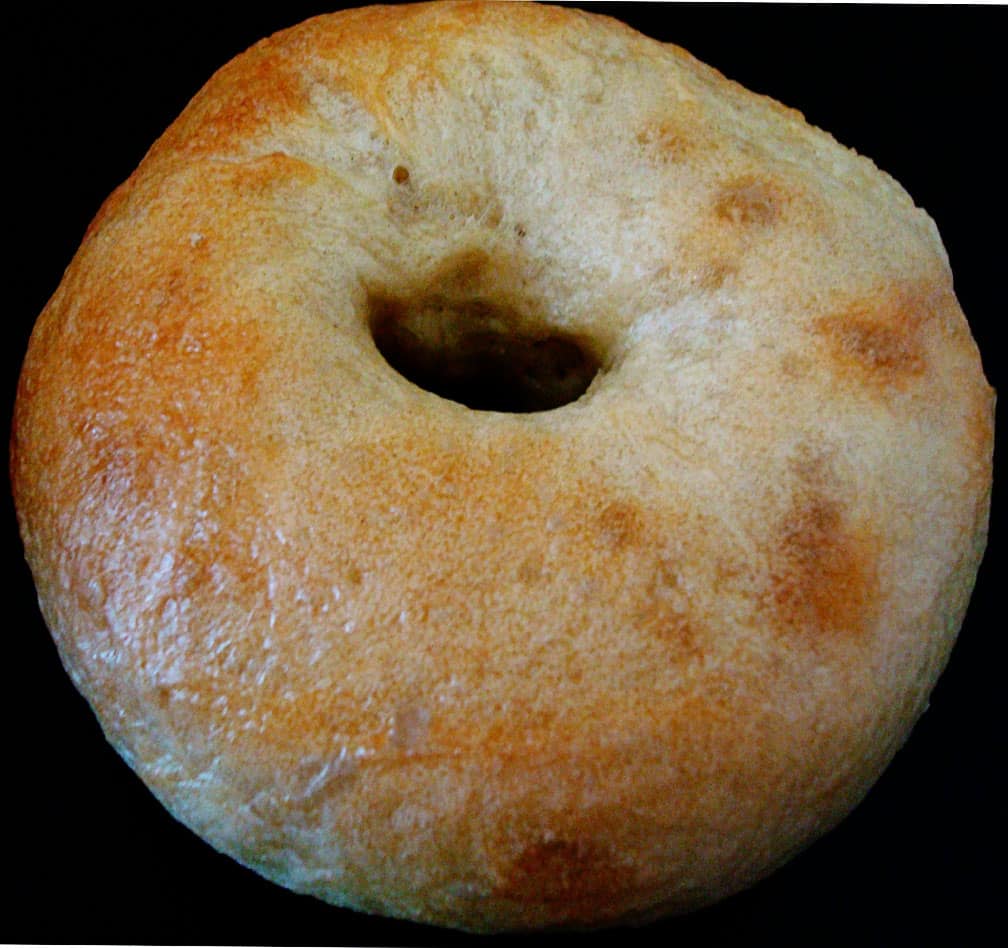 FAQs for Homemade Bagels
Do I really have to make the dough the night before?
The overnight rest helps to add flavor to the dough. If you are in a pinch, you could skip it but I'd definitely recommend it for best results.
How do you store the bagels afterward?
I usually slice the cooled bagels and freeze them. Then I just pull them out as I want them and toast them up or microwave them for a minute or two to freshen them up. 
If I'm going to experiment with added ingredients/flavors, when should I add them?
I'd add in extra ingredients with the last of the flour so that it all gets incorporated and kneaded together. If you are adding an ingredient like chocolate chips that may melt because of the warm dough, fold/knead them in at the very last.
Fantastic (and Easy!) Homemade Bagels
Ingredients
Starter:
½

cup

(

71

g

)

unbleached bread flour

¼

cup

cool water

Pinch

of instant yeast

,

I used active-dry yeast and it worked great
Dough:
4

cups

(

568

g

)

unbleached bread flour

1 ¼

cups

cool water

1 ¾

teaspoons

salt

1 ½

teaspoons

instant yeast

,

again, I used active-dry yeast and it worked great
Water Bath:
Water to fill a 10"-diameter pan about 1" deep

1

tablespoon

non-diastatic malt powder or brown sugar

,

I used brown sugar
Instructions
Combine the starter ingredients in a medium-sized bowl, cover, and let rest at room temperature overnight.

Next day, combine the puffy starter with all of the dough ingredients and knead—by hand, electric mixer, or bread machine—to form a stiff but not dry dough. Since we're using a high-protein bread flour here, you might notice it takes a bit more effort and time to develop the gluten. Place the dough in a lightly greased bowl or large (at least 8-cup) measuring cup, cover, and set it aside to rise for 1 hour. Gently deflate the dough, and let it rise for another 30 minutes.

Transfer the dough to a work surface, and divide it into 12 pieces. (I divided the dough into 10 pieces since I like my bagels a tad big larger.) Roll each piece into a smooth, round ball. Cover the balls with plastic wrap, and let them rest for 30 minutes. They'll puff up very slightly.

While the dough is resting, prepare the water bath by heating the water and malt (or sugar) to a very gentle boil in a wide-diameter (about 10″) pan. A 10″ electric frying pan works well here. Preheat your oven to 425°F.

Use your index finger to poke a hole through the center of each ball, then twirl the dough on your finger to stretch the hole till it's about 2 inches in diameter (the entire bagel will be about 3 ½" across). (Again, mine were a bit larger than this.) Place each bagel on a lightly greased or parchment-lined baking sheet, and repeat with the remaining pieces of dough.

Transfer the bagels, four at a time if possible, to the simmering water. Increase the heat under the pan to bring the water back up to a gently simmering boil, if necessary. Cook the bagels for 2 minutes, flip them over, and cook 1 minute more. Using a skimmer or strainer, or the end of a wooden spoon, remove the bagels from the water and place them back on the baking sheet. Repeat with the remaining bagels.

Bake the bagels for about 25 minutes, or until they're as deep brown as you like. To top with seeds, remove them from the oven after about 15 minutes, spray with water, and sprinkle with seeds. Return to the oven to finish baking. Remove the bagels from the oven, and cool completely on a rack.
Notes
Weight Measurements: I don't know if I have gotten on my "weigh-it" soabox, but here goes…if a recipe gives weight along with measurements, I ALWAYS weigh the ingredients on my very inexpensive digital kitchen scale. Here is why: the 1/2 cup of flour I measured out for this starter was actually 3 1/2 ounces of flour due to how I packed/measured it, so I was able to discard a full 1 1/2 ounces of flour to meet the 2 ounce weight. That is a huge difference and I'm sure my bagels wouldn't have turned out quite as nicely if I hadn't adhered to the weight instead of the measurements.
Serving:
1
Bagel
,
Calories:
178
kcal
,
Carbohydrates:
36
g
,
Protein:
6
g
,
Fat:
1
g
,
Saturated Fat:
1
g
,
Sodium:
341
mg
,
Fiber:
2
g
,
Sugar:
1
g
Recommended Products
Follow @MelsKitchenCafe on Instagram and show me the recipes you are making from my blog using the hashtag #melskitchencafe. I love seeing all the goodness you are whipping up in your kitchens!
Recipe Source: from King Arthur Flour
Other Recipes Like This:
Disclaimer: I am a participant in the Amazon Services LLC Associates Program, an affiliate advertising program designed to provide a means for me to earn fees by linking to Amazon.com and affiliated sites. As an Amazon Associate I earn from qualifying purchases.