Pumpkin Bars
These moist and flavorful pumpkin bars with cream cheese frosting are amazing. They are the perfect fall treat and are sure to please!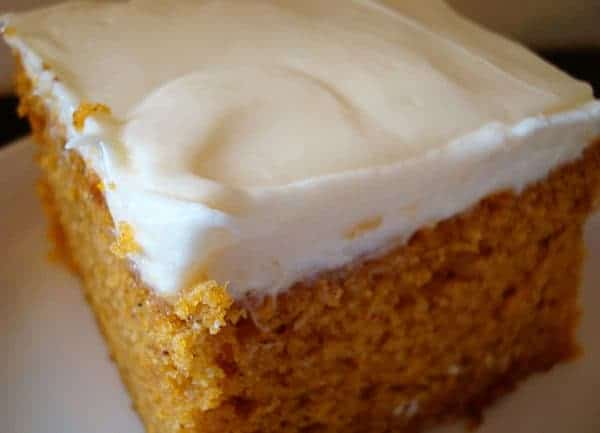 This is a classic Paula Deen recipe that is utterly amazing.
I made these pumpkin bars last fall and loved them instantly.
I recently made them again and decided to substitute applesauce for half the oil in a half-hearted attempt to lighten them up (since they still have plenty of sugar and eggs!). The result? They were still extremely moist and just as delicious as I remembered!
The only difference was they baked up quite a bit higher this time. The first time with the full oil amount, they were a little bit more dense, but equally delicious.
Although this is more a fall recipe than a summer recipe, I will definitely be making these again before "pumpkin season."
The cream cheese frosting is to die for and whether you substitute part applesauce or keep them true to the original, they are sure to please!
Yield: 10X13-inch baking pan

Prep Time: 15 minutes

Cook Time: 30 minutes

Total Time: 45 minutes
Ingredients
Bars:
4 eggs
1 2/3 cups granulated sugar
1 cup vegetable oil (can substitute 1/2 cup applesauce for 1/2 cup oil)
15-ounce can pumpkin
2 cups sifted all-purpose flour
2 teaspoons baking powder
2 teaspoons ground cinnamon
1 teaspoon salt
1 teaspoon baking soda
Icing:
8-ounce package cream cheese, softened
1/2 cup butter or margarine, softened
2 cups sifted confectioners' sugar
1 teaspoon vanilla extract
Instructions
Preheat the oven to 350 degrees F.Using an electric mixer at medium speed, combine the eggs, sugar, oil and pumpkin until light and fluffy. Stir together the flour, baking powder, cinnamon, salt and baking soda. Add the dry ingredients to the pumpkin mixture and mix at low speed until thoroughly combined and the batter is smooth. Spread the batter into a greased 13 by 10-inch baking pan. Bake for 30 minutes. Let cool completely before frosting. Cut into bars.
To make the icing: Combine the cream cheese and butter in a medium bowl with an electric mixer until smooth. Add the sugar and mix at low speed until combined. Stir in the vanilla and mix again. Spread on cooled pumpkin bars.
Recommended Products
As an Amazon Associate and member of other affiliate programs, I earn from qualifying purchases.

Recipe Source: from Paula Deen
Disclaimer: I am a participant in the Amazon Services LLC Associates Program, an affiliate advertising program designed to provide a means for me to earn fees by linking to Amazon.com and affiliated sites. As an Amazon Associate I earn from qualifying purchases.