Three Fabulous Menus for Feeding Large Groups
Do you have a large crowd to feed? Check out this post for THREE fabulous menu ideas for feeding large groups.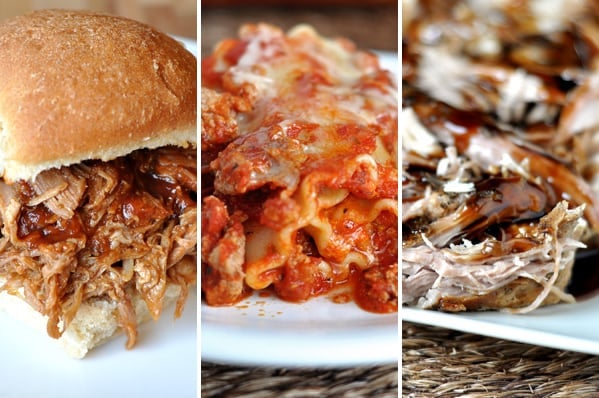 Have you ever been put in charge of planning a menu for a large crowd? You know, like for a family reunion, community or church dinner, birthday celebration, baby or child blessing/baptism, etc? If so, you know that creating and carrying out a menu for a large group can be intimidating and kind of stressful and maybe even slightly annoying. But worry no more, because I've totally got your back. Today, I'm presenting you with three sample menus that will feed (and dare I say, amaze and please) 20 or more people. I've based the amount of food on 20 average-size eaters or a general mix of kids and adults. If you are feeding all adults or all children, you can increase or decrease as necessary.
Each menu includes the recipes and details what can be made in advance. It's all there for you. To simplify your life.
My theory is to create a menu with a few recipes that will knock the socks of your guests. And then completely simplify the rest. For each menu plan, I've chosen recipes specifically because not only are they delicious, but they can, for the most part, be made in advance one way or another.
Make sure to read through the menu plan before taking my word for any of the quantities – your judgment will ultimately be best, but at the very least, the menu plans should give you a great start. I will warn you that my theory is: it is always better to have too much food than not enough. Can I get an amen to that? Clicking on the menu description will pull up a printable .pdf. Have fun!
Disclaimer: I am a participant in the Amazon Services LLC Associates Program, an affiliate advertising program designed to provide a means for me to earn fees by linking to Amazon.com and affiliated sites. As an Amazon Associate I earn from qualifying purchases.