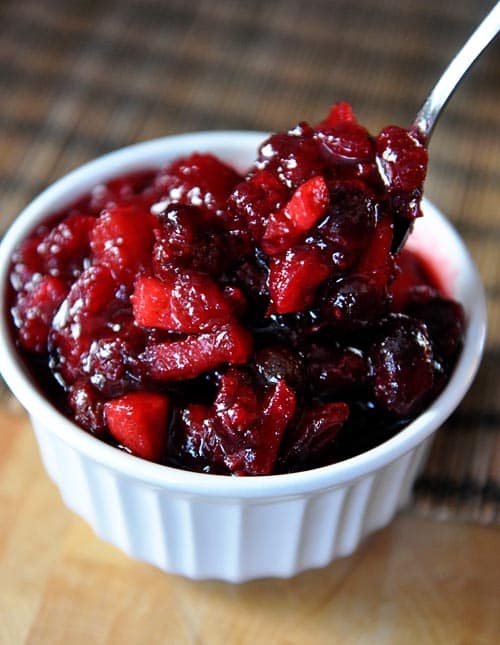 I wasn't planning on posting today. But then I made this gorgeous chutney.
And I couldn't resist telling you. If you don't have plans for a bit of tart cranberry on your Thanksgiving table, I think this one is probably speaking to you…so listen up.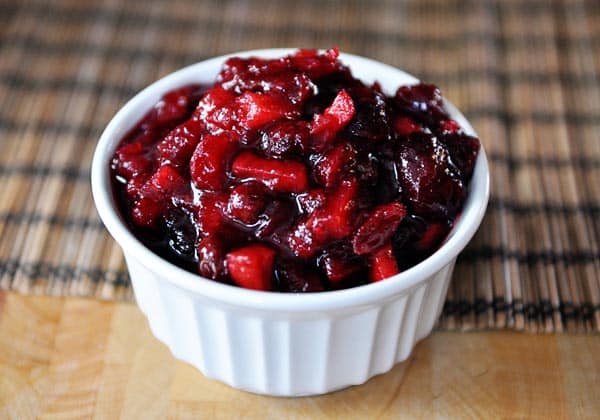 It's a bit outside the cranberry sauce box but oh man, does it work. I've been sitting on this recipe for a year before deciding to make it. Initially I wasn't so sure about the addition of savory notes like onion and celery. My fears were unfounded. Because the cranberries are overpowering (in a good way) in color and texture, the other ingredients absorb the goodness from the cranberries and it becomes the perfect concoction of sweet-tart cranberry sauce, warm spices, and other lovely textures.
It morphs from a boring ol' cranberry sauce to a fantastic cranberry chutney. I ate it with some baked chicken tenders last night and it was heaven. I can only imagine how a little dab will be on turkey. So there you go. Here's my contribution to cranberries at Thanksgiving (many of you have asked if I have a go to cranberry sauce recipe and I'm declaring this as my new fave for 2013).
Here's a link with many of my favorite Thanksgiving recipes if you still need some inspiration and don't forget about the step-by-step menu planning guide.
While I have only made the recipe as is, I have a feeling it is really adaptable. If you want less savory ingredients, try omitting the onion and celery (but I'd leave the apple and maybe add a tad of orange zest).
Ingredients
4 cups fresh cranberries
1 cup raisins or dried cranberries
1/2 cup white sugar
3/4 cup packed brown sugar
2 teaspoons ground cinnamon
1 teaspoon minced fresh ginger root
1/4 teaspoon ground cloves
1 cup water
1/2 cup finely minced onion
1/2 cup chopped Granny Smith apple, peeled and cored
1/2 cup finely chopped celery
Directions
In a medium saucepan, combine the cranberries, raisins, white sugar, brown sugar, cinnamon, ginger, cloves and water. Bring to a boil over medium-high heat, then reduce the heat and simmer over low heat until the berries start to pop, about 5-7 minutes.
Add the onion, apple, and celery; continue to cook, stirring occasionally until the mixture begins to thicken, 5-10 more minutes. Transfer to a container and cool slightly. Refrigerate overnight to allow flavors to meld.
https://www.melskitchencafe.com/fresh-cranberry-chutney/
Printed from Mel\'s Kitchen Cafe (www.melskitchencafe.com)
Recipe Source: from Anna G, a reader who sent it to me all the way back in 2012, thanks, Anna!